Why I'm spending $100 on early Cyber Monday foam roller & massage gun deals
These Amazon & Dick's Sporting Goods deals save you up to 40% on kit designed to treat muscle aches and pains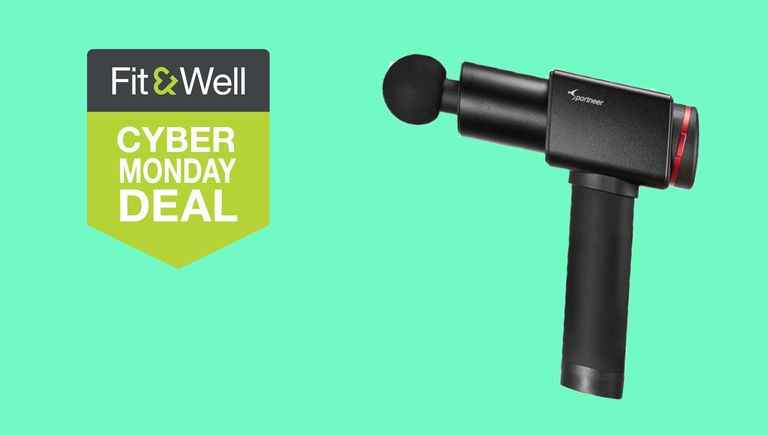 (Image credit: Amazon)
By Jessica Downey published
THESE DEALS HAVE NOW ENDED
The early Cyber Monday deals are starting to appear now and we are seeing deals just as impressive as Black Friday had to offer. There are some very great savings happening right now on massage guns and foam rollers - these are two very important muscle recovery tools that come in handy after a workout and on rest days.
Right now Amazon has reduced the Sportneer Massage Gun to $109.99, down from $129.99, saving you 15% on this deep tissue muscle massager.
Massage guns are similar in effect to the best foam rollers on the market but are more favorable for some since they do most of the work for you with their motorized penetration systems.
This Sportneer muscle massager is especially good for targeting different muscle areas, to varying effects, as it comes with six different attachable heads and six different massage modes to choose from. However, I'm getting the RenPho percussion massage gun and the Triggerpoint Grid foam roller, giving me a complete sore-muscle-saving set for just shy of $100.
Check out all these deals in full below.
Early Cyber Monday Massage Gun deals
Sportneer Massage Gun | Was $129.99 | Now $109.99 | Saving $20 at Amazon
This massage gun will be your new best friend when it comes to relieving and muscle tightness and pains. This device provides a deep tissue massage helping to relieve any muscle spasms, reduce and prevent muscle atrophy, all the while promoting blood circulation. If you need something to help relieve muscle tension and to help boost your overall fitness performance then grab this massage gun now and get $20 off!
RENPHO Percussion Massage Gun | Was $99.99 | Now $69.99 | Saving $30 at Amazon
This Amazon deal is a budget-friendly massage gun option, costing you less than $70! This cheaper massage gun also includes six different heads for different massage effects and offers 20 different speeds to apply to your muscles when in use! Buy one now while you can save 30%!
Not in the US? Don't worry, you'll find the best deals on massage guns in your region below.
Early Cyber Monday Foam Roller deals
TriggerPoint GRID 1.0 Foam Roller | Was $39.99 | Now $29.99 at Dick's Sporting Goods | Saving $10
This foam roller doubles up as an ab workout accessory, it is great for levelling up crunches, bicycles, push-ups and more. After a core burning workout you can jump straight into a deep muscle treatment, working it across various muscle areas of your body. Get one now for $10 less!
321 STRONG Foam Roller | Was $44.99 | Now $26.99 at Amazon | Save 40%
This is lightweight foam roller is great for anyone who likes to have a deep tissue muscle massage tool to hand wherever they are. This product comes with an eBook to ensure you have the best knowledge of this roller so that you can treat your muscles and improve mobility and overall exercise performance.
There are foam roller deals happening outside of the US too. Check what deals are happening in your region...
Another excellent thing about the Sportneer massage gun is that it has a 40-decibel volume meaning that you can feel totally relaxed and zen as you treat your muscles with this massage tool. This is great if you are using it at home and don't want to disturb others or if you are at the gym and perhaps don't want to attract attention as you work this on your muscles. It has been designed for portability and can be transported around with you in its small case included in the deal.
It is a rechargeable device that can last 2-6 hours depending on usage. It also has a 10-minute auto-off function so unnecessary battery isn't wasted if you forget to turn it off yourself.
Now that you have found yourself a handy muscle massage tool for your recovery and rest days why not check out the early Cyber Monday protein deals happening now, or our early Cyber Monday rowing machine guide and get your home gym setup sorted for the new year.
Cyber Monday fitness deals: US retailer quick links
Jessica is Staff Writer at Fit&Well. Her career in journalism began in local news and she holds a Masters in journalism. Jessica has previously written for Runners World, penning news and features on fitness, sportswear and nutrition. She is a keen runner and is currently sweating her way through a 10k training plan. Jessica also enjoys building on her strength in the gym and is a believer in health and wellness beginning in the kitchen - which she loves sharing with others on her healthy living-inspired Instagram account, @jessrunshere. Despite her love for nutritious cooking, she stands by the saying 'everything in moderation' and is eagerly conquering the London food and drink scene!