Activewear for men: What to look for when buying workout gear
A guide to buying activewear for men, from materials to shirts, shorts and compression leggings for the winter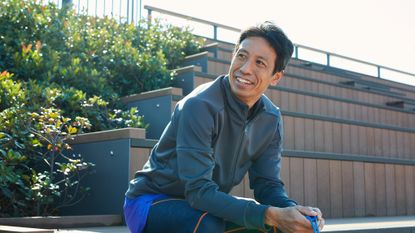 (Image credit: Getty Images)
There's no denying it: the health industry is booming. With fitness becoming such a priority for so many people, likely due to the pandemic, and the increasing awareness of the benefits exercise can bring to both physical and mental health, it was only a matter of time before activewear sales soared. With brands like Nike, Adidas and Under Armour leading the charge, apparel made especially for getting sweaty in has skyrocketed.
However, with so many options to choose from, it can be a bit of a minefield for those shopping for fitness apparel. Our best workout clothes for men and best workout clothes for women guides offer a great start when it comes to choosing what to buy, but men especially might want a bit more detail on what kind of clothes will fit them best. What does "sweat wicking" mean? Why do people wear compression leggings?
Whether it's for a killer HIIT workout, strength-focused weightlifting or more relaxed yoga, here's our guide to everything you'll ever need to know about activewear, how to shop for it, what to look out for and even how to take care of it.
Common activewear materials and fabrics
The one thing you're going to want to look out for when buying activewear is the fabric the garments are made from. Here, it's all about sweat wicking, that is, a material that can pull moisture away from your body as it perspires so it can evaporate and dry just as fast.
Nearly all major sports brands have trademarked their own technologies that do this. Nike's Dri-Fit is probably one of the most well known. It consists of a polyester fabric with a microfibre construction which works to support the body's natural cooling system by taking sweat and dispersing it evenly throughout the surface of the garment to speed up evaporation. Meanwhile, the yoga-focused Lululemon has its Metal Vent tech, and odour and sweat-resistant fabric that's woven into the material through a seamless design.
Not all activewear brands have a special technology built in, though, especially more budget brands. Regardless, most fitness-focused apparel will be made out of synthetic and stretchy materials such as polyester, polyamide or acrylic. In better quality options you might find a cotton and spandex mix but overall you can expect materials to combine durability, elasticity and ventilation for a more comfortable fit as they give a wider range of motion when working out. However, the downside here is that they have a tendency to hang onto the odour from sweating, which could make the clothes harder to get clean. This brings us onto our next topic: wash care.
As the materials used in gym apparel are usually quite different to the conventional fabrics you come across in regular clothes, you might find they need some additional care when it comes to washing due to retained odour that can still linger even after a 60-degree wash.
There is, however, a remedy for this. Recognising the tricky plight of washing activewear for fitness enthusiasts, a few companies have produced detergent and fabric cleaners aimed at this specific audience. Take Lenor's Unstoppables Active in-wash scent booster, Kair's eco-friendly laundry care range and the new bio laundry detergent Gymspin. All these brands have developed special laundry washing technologies to kill the smells that hang around in gym clothes.
Shirts, vests and tops
Other than fabrics, there are a few other important things to consider when purchasing activewear for the upper body. Fit is a major one.
It's worth noting that different tops are better suited to different types of workouts. Runners and cyclists will require something more supportive and flexible than someone who, for instance, just wants to lift heavy weights in the gym. As running and cycling consist of more repetitive movements over longer periods, the right fit can mean dodging a nasty heat rash or chafing. In general, you don't want any clothing that gets in the way of the activity.
Another big question is which sleeve length you should opt for. Your choice should depend on where you'll be doing the exercise. If it's indoors, is there air conditioning? If it's outdoors, what time of year will you be wearing it? Think about the temperature of the environment you'll be performing in and if you're likely to be too cold or too hot. In the latter instance, there's always the option of a vest.
Wearing a vest instead of a t-shirt comes down to personal preference, but we advise going for a vest on the occasions where you're going to be sweating more and for longer periods, for example a 90-minute football game in summer. There's nothing worse than a soaking wet t-shirt stuck to your body when you start to cool down again.
One last thing to consider is the price. How much should you be paying for a good quality gym shirt? Well, how long is a piece of string? Depending on where you shop, you could pick up a gym shirt for between £5 and £100. It's therefore not possible to give an ideal price. Everyone's preferences are different. All we can recommend is to keep within your budget, and invest in the best you can afford.
A better quality shirt will last you longer and probably feel more comfortable due to the materials used, however, there's only so much any gym top can do, so it's probably not worth spending more than £50 on one, in our opinion.
Shorts and the lower body
There's a couple of things you should look out for when you're in the market for a new pair of the best workout shorts. First off, ask yourself how you'll be using them. If you intend on doing lots of dynamic moving and sweating - say, for a run or a yoga class - you might want to go for a lighter fabric with built-in compression (we'll explain this fully in the next section) for added support. Alternatively, if you're looking for something to suit more stationary workouts, such as weight lifting, a slightly thicker jersey material with a looser fit might be better.
In terms of price, you could be looking at anything between £5-£70 depending on the fabric used for the shorts and the tech involved. Beware, however, of marketing spiel in product listings. Many brands are guilty of touting their gym short offerings with the biggest load of marketing bull and made up terminology to justify a hefty price tag. Do yourself a favour and don't fall for it.
Just consider what you'll be wearing them for. Usually, the shorter, lighter fabric shorts can be the most expensive, especially when it comes to running. This might seem a bit backwards but sometimes this can be down to the manufacturer using an incredibly lightweight, and thus expensive, sweat-wicking fabric.
Also, think carefully about pockets before you buy a pair of gym shorts. Often, brands design them with just one tiny back pocket big enough to fit a pound coin. And holding your phone and keys mid run is never fun.
Compression wear
Lastly, let's talk about compression wear – you know, those super tight garments made from spandex-type materials that come in the form of workout leggings or base layer t-shirts. While some might think it's just a way for really ripped people to show off their, err, assets, it does actually have a purpose.
If the science is to be believed, compression gear can help increase blood and lymphatic flow to the limbs it's stretched around, and is therefore said to improve performance and shorten recovery time for wearers when used post exercise.
They might be almost impossible to get on, but once you've slipped into and tried out compression clothing, you'll almost immediately understand their benefits. They'll also help keep you warm when exercising in the great outdoors during those colder months!
Get the Fit&Well Newsletter
Start your week with achievable workout ideas, health tips and wellbeing advice in your inbox.
Lee Bell is a London-based journalist, copywriter, specializing in all things tech and lifestyle. He is also a qualified personal trainer. He started his journalism career a decade ago as a reporter covering the latest gadgets and innovations at tech tabloid The Inquirer. Lee went freelance in 2016 to broaden his expertise, moving into news, reviews and feature writing for a host of national print and online lifestyle titles such as GQ, Forbes, Esquire, Men's Health, Wired, The Metro, and The Mirror. He has an insatiable appetite for travel, Dharma yoga, and the odd outdoor challenge.