Activewear for Women: How to buy sports bras, leggings and more
Looking for activewear for women? Our guide will help you find the best workout wear whatever your shape, style or budget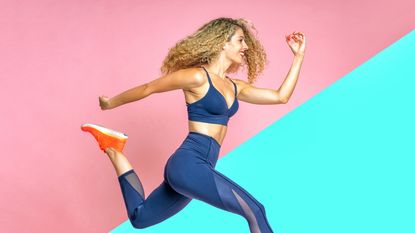 (Image credit: Getty Images)
Get the Fit&Well Newsletter
Start your week with achievable workout ideas, health tips and wellbeing advice in your inbox.
Thank you for signing up to Fit And Well. You will receive a verification email shortly.
There was a problem. Please refresh the page and try again.
The best activewear for women can push you to train harder and transform a good workout into a Personal Best.
More than that, just think how good it feels to pull on new workout clothes. Whether you're a runner, cyclist, weights fan, HIIT addict, gym bunny or yogi, you know that the best exercise clothes can make or break your training. And we are literally spoilt for choice with tons of activewear brands making gym clothes for women that are as stylish as they are functional. You only need to check out our best workout clothes for women and best workout leggings guides to see a smorgasbord of sleek-looking, effective technical gear.
The actual act of getting into your gym gear can create a mental shift and motivate you to exercise, according to a study in the Journal of Experimental Psychology. So if it can keep you motivated, the question is: how much should you spend on activewear for women? The mantra 'buy cheap, buy twice' comes to mind here, but you can find lots of gym gear deals online and in stores, especially with Black Friday coming up.
In this article, we look at all the things you need to consider when thinking about the best activewear for women. We'll cover everything from materials and reflective details, to fit, support, comfort, and – the Holy Grail for women - our pick of the best sports bras for every type of exercise. And while you're here, we recommend checking out our guide to the Black Friday gym clothes deals.
Common activewear materials
The fabric your activewear for women is made from can have a huge impact on your workout. From seamless construction (which means no scratching or chafing) to high tech sweat-reducing material, it can all help – or hinder – your performance.
Runderwear co-founder Richard Edmonds explains: "Seamless and breathable fabrics are the best choice for layers of clothing closest to the skin – they should be a moisture-wicking fabric like polyamide, delivering sweat away from the body and minimizing rubbing or irritation."
Look out for other breathable fabrics nylon, elastane, bamboo, merino wool and ECONYL – recycled yarn made from old fishing nets and ocean plastics. When it comes to yoga clothing, stretchy, loose material is ideal. "Yoga is all about raising the energy, and the clothes that we wear to class should do the same," says yoga teacher and The Re.Store founder Michelle Howard.
And there are plenty of sustainable options, she says. "Buying leggings made from virgin polyester is highly impactful on our environment, while certified recycled plastics like ECONYL use regenerated fishing nets to make yarn.
"The properties in both materials are the same - sweat wicking, quick drying, stretchy and full coverage, but ECONYL comes from a more sustainable source."
Michelle adds: "Look for a 2 way or 4 way stretch with a poly/elastane combination. When shopping for looser clothing, look for organic or recycled cottons with elastane for stretch."
And if you plan to exercise outside in the darker winter months, don't forget to buy activewear for women with reflective (and waterproof) features. Reflective kit is even more effective than fluorescent clothing because it fires light back at the motorist.
Workout tops and shirts
What kind of exercise will you be doing? Your answer will impact the style of top you choose. Tighter tops offer more support and flexibility and don't get in the way when you move so they are a good choice for higher intensity workouts, as well as running and cycling. Looser, over-sized activewear is ideal for a low impact exercise like yoga or pilates.
Howard says: "I would recommend that the more dynamic the class – and the sweatier you'll get – opt for the higher performance clothing like leggings and sports bras. More relaxed practices suit looser fitting clothing. I have encouraged pajamas to be worn in yin and restorative yoga classes!"
A long sleeved top can help you warm up quicker, and works well as an extra layer during a run on a cold day. It can also keep you warm if you're in a very air-conditioned gym or dance studio.
But don't be fooled into thinking that wearing more layers means you'll torch more fat. As exercise physiologist Kirsty Woods explains: "Some people are under the misconception that they will burn more calories and gain more from their workout by wearing lots of layers.
"What actually occurs is they sweat a lot, causing their body to become dehydrated and therefore impeding their performance and stressing the body.
"When the body is stressed it releases stress hormones, which actually inhibit fat burning. Bottom line is exercise in a comfortable environment and outfit to optimize your work out and results."
Lower body and leggings
When shopping for workout bottoms, functionality and style are probably the most important factors. You'll be wearing your leggings a LOT so you want to look as good in them as you feel.
Many running leggings are made with fast drying moisture-wicking fabrics or breathable materials to keep you cool while you work out. Some of the best running tights can even provide compression, and increase blood flow to the muscles (which helps reduce Delayed Onset Muscle Soreness, aka DOMS), keeping legs warm and protecting you from the elements.
Key features to look out for include zip back pocket, leg pockets, and a high waist that doesn't slip down when you move. Flat lock seams give extra comfort and minimize chafing, while a high rise fit (that ends above the belly button) can help with tummy control.
My Urban Trail founder Laura Purcell says: "Having a high waist and bum-sculpting fit makes you feel amazing and secure at the same time."
When trying on workout leggings, try to mimic the exercises you'll be doing in them to see how the fabric feels when you move.
Choosing the right length of legging for you is important – a 7/8 cut is good for petite or shorter women, while if you're tall opt for a longer length.
Laura Purcell adds: "Shorts are a good option for runners and fans of high intensity sports because they keep you cool and allow for freedom of movement, but if you aren't a fan of your legs - and don't want to have to shave or tan them every five minutes - then stick to leggings."
Sports bras
What should you look for in a sports bra? You need one that fits well, is supportive and breathable, so you don't overheat during exertion. The best sports bras will do all this and more.
Another thing to consider is the intensity of the exercise you'll be doing, your bust size, and whether you want compression, encapsulation or both in the bra design.
"Compression bras work by pressing your breasts against your chest to reduce movement," explains Laura Kong-Brown, product development for Runderwear. "They are usually pulled over your head and are a good option for smaller-breasted women.
"Encapsulation bras compartmentalize each breast into separate cups, like normal bras but with extra support. This controls movement across all three planes of the body (up and down, in and out and side to side). Encapsulation bras are typically more popular in women with larger breasts."
For low intensity workouts like yoga, ballet or Pilates, a light support sports bra should be enough. They use stretch fabrics to provide gentle compression to support the breast, while still being breathable.
Medium support bras have more structured support with formed cups and firmer fabrics – ideal for low impact cardio like spinning or a weights session.
For high intensity including running, tennis or HIIT, you'll need (you guessed it) a high support sports bra, which helps present damage to breast tissue. These kinds of bras are also good if you have a bigger bust.
It goes without saying that finding the right size for your sports bra is key. Website Boob or Bust has a great bust size calculator to do DIY measurements; department and some independent stores also often have professional fitters on hand to help.
Ana Paula Dudillieu, senior designer at sports bra maker Shock Absorber (makers of some of the best sports bras), explains how to know if a sports bra fits correctly: "Make sure your breasts are fully contained within the cups and that there's no bagginess. Check that the straps are properly adjusted - they should feel secure with no more than 2 inches of give. The chest band should feel firm but comfortable."
"Your chest expands when exercising so take some deep breaths and see how it feels. If the band lifts rather than sitting flat at the front, the cup size is too small, whereas if the back of the band rises towards your shoulders, the band may be too large."
"Finally, do the bounce test: jump up and down and from side to side, checking that you feel comfortable, supported and secure."
Get the Fit&Well Newsletter
Start your week with achievable workout ideas, health tips and wellbeing advice in your inbox.
Maddy Biddulph is a freelance journalist specializing in fitness, health and wellbeing content. With 25 years in consumer media, she has worked as a writer and editor for some of the bestselling newspapers, magazines and websites in the US and UK.
She is also a qualified L3 personal trainer and weight loss advisor, and helps women over 40 navigate menopause by improving their physical and mental strength. At Maddy Biddulph Personal Training, she runs one-to-one and small group training for menopausal women who want to get fit to ease symptoms and feel like themselves again.