Do vitamin patches work? Everything you need to know
Could vitamin patches be the answer when it comes to getting all the nutrients we need?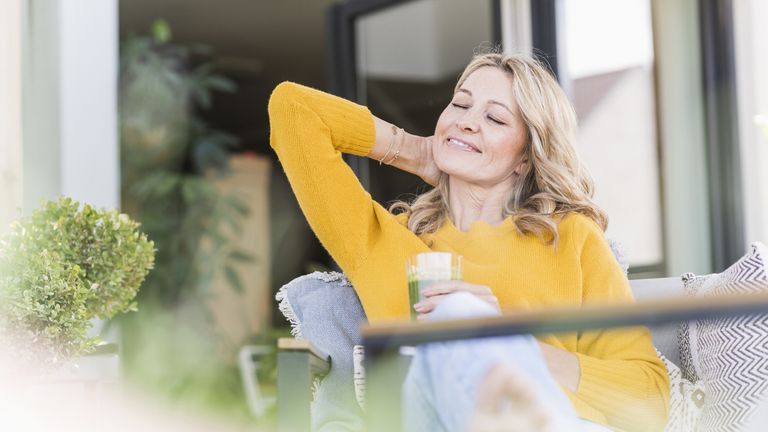 (Image credit: Getty Images)
By Kirsty Welsh published
Vitamin patches have gained the attention of many people looking to ensure they get all the nutrients they need for good health. For some, patches offer a 'quick fix' that saves having to work out how to eat healthily. For others, they are seen as a way of topping up vitamins they are lacking due to health complications. But the million dollar question is: do they work?
Google 'wellness supplements' and you'll get a staggering 300m+ results, covering everything from quick-fix solutions, dietary aids, fitness formulas and celebrity-endorsed products to the latest wellness trends to hit the market.
Gone are the days when a tablet was the only way to get your vitamin fix. Nowadays the options are varied: vitamins can be consumed in all sorts of ways, including capsules, liquid formulas, and oral sprays (such as the vitamin D spray that tops our list of the best vitamins for women over 50). Another trend, which saw a big celebrity following and social media hype a few years ago, was injectable vitamins and vitamins administered by IV drip.
Now there are vitamin patches, which deliver vitamins transdermally (through the skin). If you aren't a fan of swallowing pills and don't like needles, then patches could appear to be a good alternative.
Read on to discover all about this trend that is appearing in health stores around the world and online. Should we rely on multivitamin patches to get our daily quota, or are they simply too good to be true?
What are vitamin skin patches and how do they work?
Vitamin patches are applied like nicotine patches: simply stick one onto your shoulder or back and away you go. These adhesive patches claim to deliver vitamins into the bloodstream through skin pores, using nanotechnology.
Different brands recommend different patch wear durations, but generally they can be worn for eight hours, through the day or night.
Kathryn Danzey is the founder of Rejuvenated health supplements and an expert on vitamins and supplements. 'To maximize the effectiveness of vitamin patches it's important to remember not to apply a body lotion to the area where you are going to fix the patch, and to ensure they are stuck to clean skin,' she advises.
Who are vitamin skin patches for?
If you have a specific health concern or a goal you want to achieve, there is a patch out there targeted to help you. There is a cocktail of supplement patches available, from multivitamin patches to patches that improve overall health. Then there are other that target specific concerns, including those that claim to boost energy levels, combat hangovers, relieve swollen joints and inflammation, tackle acne, support weight loss and help with sleep issues – the options and claims are endless.
'Vitamin patches may be especially beneficial for those who have had gastric bypass surgery,' says Kathryn. 'Vitamin B12 in particular is absorbed in the small intestine. Gastric surgery to remove a section of this area may lead to a deficiency. One way of increasing absorption is by using a transdermal patch.'
Some experts, she adds, argue that patches can be used to prolong and maintain the benefits of certain skincare treatments, such as those that use LED therapy. 'It's important to note, however, that these should be used to complement your skincare routine, not replace it.'
What evidence is there that vitamin skin patches work?
The debate about whether skin patches make a serious difference continues, with little evidence to show how effective they allow absorption, and how blood levels respond. Also, some molecules are too large to absorb through the skin.
'Transdermal skin patches include chemicals referred to as "permeation enhancers" or "penetration enhancers",' explains Kathryn. 'These are designed to increase the permeability of skin by allowing a desired substance to pass through.
'However, the evidence for nutrient absorption through the skin barrier is very limited, and many of the health-related claims are unsubstantiated. The theory sounds excellent but isn't fully backed by clinical evidence.'
Are there other ways of getting all the vitamins we need?
According to the most recent Dietary Guidelines for Americans report published by the US government, our bodies are built to get their nutrients from a balanced diet, and the best sources of vitamins are wholesome, natural foods.
However, supplements can be desirable. 'A healthy, balanced diet is a great start but poor soil quality, intense farming methods and industrial food processing can often leave us needing a nutritional top-up,' says Kathryn. 'My personal preference would be to use supplements in a capsule or drink form.'
If you're looking to go down this route, we've addressed three top concerns where supplements can be beneficial in our expert guides to the best supplements for joints, the best menopause supplements and the best fish oil supplements.
Certain barriers and conditions can also prevent the body absorbing certain nutrients. These include pernicious anaemia, blood pressure medication, anti-depressants, high levels of stress and hormone problems. Kathryn explains: 'In conditions such as pernicious anaemia (which causes vitamin B12 deficiency), it would be necessary to work with your doctor to confirm levels. A monthly injection of B12 might be a preferred option.'
A patch, she concludes, 'may seem like the perfect solution, but the results are inconsistent. Using patches can give variable results.' Whichever vitamin delivery system you opt for, there can be no denying the positive effects on the body of a balanced diet. As Kathryn says, 'It's important to remember that neither a vitamin patch nor a capsule can replace the essential nutrients fruit and vegetables can provide.'
Get Fit for 2021 with Fit&Well
As the sun rises on a brand new year, Fit&Well is here to help put last year behind you and make 2021 your happiest, healthiest yet. Here at fitandwell.com, we'll be bringing you a wealth of workouts, diet plans and expert advice throughout January to help kick-start your health and fitness goals.
Kirsty is an accomplished journalist specialising in the wellness industry. She has previously written for titles including Grazia, Popsugar, Metro.co.uk, Elle UK and the Sunday Telegraph. You'll find her running around Windsor Great Park at 6am most mornings (before her toddler, Clementine Lilac, wakes up), followed by a virtual barre class with the team at Psycle London – where that barre burn is just so addictive. Kirsty loves to stock up on new activewear; because, let's face it, you can never have too many pairs of sculpting leggings. She's always keen to try/endure the latest workouts to come to London. Kirsty also enjoys rustling up nutritious family meals and indulging in her newfound hobby: flower pressing.