Five vegan sources of omega-3: Improve your health, boost your mood and more
These vegan sources of omega-3 fatty acids will keep you on top form, while staying true to your plant-based diet.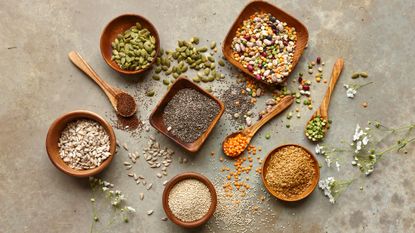 (Image credit: Getty Images)
Omega-3 fatty acids are essential for good health – these clever fats keep our hearts, brains, guts, joints and eyes healthy and even fight disease, according to this Harvard report on omega-3 supplements (opens in new tab).
The body can't make them itself so the fatty acids have to come from our diet, but many of us don't consume enough of them, hence the popularity of the best fish oil supplements.
Fish and red meat are two great sources of beneficial fats and women need only 1.1g of omega-3s a day, while men need 1.6g. If you're vegan or vegetarian you will have to find them from plant-based sources - but don't worry, we've taken the hard work out of that for you, with a list of five great plant-based sources of omega-3. No meat, no fish, no problem. Just integrate these with any of the recipes in our best vegan cookbooks guide, and you'll be good to go.
First: What are omega-3 fatty acids?
Omega-3 fatty acids are nutrients obtained from food that aid in heart health, joint health, boost our mood and reduce risk of inflammation. They come in three types with very technical names – DHA (docosahexaenoic acid), EPA (eicosapentaenoic acid) and ALA (alpha-linolenic acid).
ALA is most common in plant-based sources, such as chia seeds and walnuts, while DHA and EPA are harder to obtain on a vegan diet. As the body can't make these acids naturally, it's so important for those following a plant-based diet to boost their omega-3 intake, in order to give their body the nutrition it needs to work efficiently. Fortunately, we've included sources of all three in the list below.
Vegan sources of omega-3
1. Flaxseeds
If you're after the ultimate vegan source of omega-3 fatty acids, you need to stock up on flaxseeds right now! Flax delivers more ALA omega-3s than any other food in the world, with more than double the recommended daily amount (RDA) in just one tablespoon - and SEVEN times in a single tablespoon of flaxseed oil (the most concentrated natural source of ALA).
What's more, this fatty acid is great for heart health, according to The American Journal of Clinical Nutrition (opens in new tab). Scientists looked at 27 studies involving more than 250,000 people and found that alpha-linolenic acid was linked to a 14% lower risk of heart disease.
Ground flax is easiest to digest – add it to cereal, oatmeal, soups and salads. You can also mix flaxseeds with water to make an egg substitute for vegan baking.
2. Chia Seeds
Eating chia seeds is one of the easiest ways to get vegan omega-3 fatty acids, which are essential for brain health. They are rich in ALA (5.055g per 1oz serving), as well as being high in fiber and plant protein – an important component of a healthy, balanced diet for people who don't eat meat or fish.
US researchers found that eating ground chia seeds every day for seven weeks increased levels of the EPA fatty acid in the blood by 30 per cent, according to a study from the University of North Carolina (opens in new tab).
Mix chia seeds into granola, salads and smoothies or blend with milk or yogurt to make chia pudding. Similar to flaxseeds, you can use them as an egg substitute (when mixed with water).
3. Seaweed and algae
Sushi fans rejoice! Nori – the dried seaweed used to wrap maki rolls – is a great vegan source of omega-3. Not only that, seaweed is one of the few plants that contains both DHA and EPA meaning it packs a powerful essential fatty acid punch.
As well as nori and the seaweed you find in tasty Japanese salads, edible algae chlorella is another excellent sources of plant-based omega-3 fatty acids.
When taken as a supplement, nutrient-dense 'superfood' chlorella is known to improve cholesterol and help rid the body of toxins, according to researchers from the University of Seoul (opens in new tab). Plus it's packed with health-boosting antioxidants, fiber, iron, and vitamins C and B12 (which also happen to appear on our best vitamins list). Add it to smoothies or oatmeal for a hefty omega-3 hit.
4. Walnuts
While most nuts are packed with super nutritious good fats, walnuts are top of the list when it comes to health-boosting properties. Studies have found (opens in new tab) they can lower blood pressure, aid weight loss, improve gut health and even help us age better.
Just one ounce of walnuts contains 2.7g of omega-3s, which is more than double the RDA for women. Keep the skin on the nut, as it's packed with phenol antioxidants.
Add walnuts to salads; bake them into vegan brownies and sprinkle over curries for some texture.
5. Hemp seeds
You might think of CBD oil when you think of hemp, but there's more to this versatile plant. Hemp seeds are a great source of brain-boosting polyunsaturated and essential fatty acids, with a three-tablespoon serving containing more than double your daily omega-3 needs. They are also full of plant protein, fiber, iron and magnesium – nutrients that vegans sometimes struggle to get from diet alone.
Research (opens in new tab) has shown that hemp oil could even help lower blood pressure. A 2014 study (opens in new tab) found the fatty acids found in hemp seed oil makes it great for nourishing the skin and protecting it from inflammation (just like some of our best supplements for joints) and the signs of aging.
Similar to chia and flax, you can add hemp seeds to salads, smoothies and soups.
Maddy is a freelance journalist and Level 3 personal trainer specializing in fitness, health and wellbeing content. She has been a writer and editor for 22 years, and has worked for some of the UK's bestselling newspapers and women's magazines, including Marie Claire, The Sunday Times and Closer. She also manages Fit&Well's Instagram account.
Maddy loves HIIT training and can often be found running on her treadmill or working out while her two young daughters do matching burpees or star jumps. As a massive foodie, she loves cooking and trying out new healthy recipes (especially ones with hidden vegetables so the kids eat them). She makes a mean margarita and has twice won awards in previous staff jobs as the "office feeder".