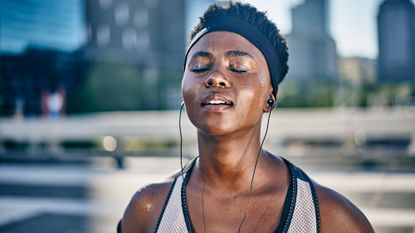 (Image credit: Getty Images)
When it comes to maximising your exercise output, a pair of the best workout earbuds is as essential a piece of kit as the right running shoes or a fitness tracker.
A recent study published in the journal Psychology of Sport & Exercise found that people hit higher heart rates and peak power output when listening to upbeat tunes - which means a playlist of the best workout music might just be your secret weapon.
But how do you know if your high-tech headphones can stand-up to even the sweatiest of sessions? If you're prone to getting particularly sweaty or you exercise outdoors in all elements, then this is as important a consideration as things such as battery life, bluetooth connectivity and sound quality. After all, worrying about your earphones getting wet will only distract you from the task at hand.
Sondre Barkli, global product manager at Bang & Olufsen, confirms that sweat-proof technology is an essential factor to consider when selecting a pair of headphones for use whilst working out.
'When working with consumers to understand what matters to them when looking at products for fitness use, we typically see that the three most important categories are quality sound, good fit, and water resistance,' he says.
Christopher Wallace, ecommerce and digital manager at RHA, concurs. 'Sweat, like any moisture, will impact the vibration of the diaphragm within the earbud (giving you sound effects not intended by the manufacturer). It can also accelerate corrosion of internal components.'
So how can you tell if the earphones you're considering will stand up to a sweaty gym session? The key thing to look for is what's know as the IP (short for International Protection) code.
IP classifications explained
When shopping for workout headphones, you'll often see an IP code listed. This will typically be written as 'IP' followed by two numbers - for example, IP57.
IP solid particle protection: IP0X-IP6X
The first number after IP indicates a model's resistance to being compromised solid foreign objects, such as dust and dirt.
The number range runs from zero to six, with IP1X being the lowest level of resistance and IP6X being the highest. IP0X means that no protection is offered.
Many manufacturers don't test for this, as it doesn't tend to be a major issue with products such as earbuds – unlike resistance to water and sweat. In these instances, the dust-proof rating number will be replaced with an 'X' (e.g. IPX5).
IP waterproof protection: IPX0-IPX9
The model's waterproof rating is indicated by the second number after the IP, which runs from IPX0 to IPX9. Like the dust rating, a low digit means low resistance to moisture whilst higher ratings offer maximum resistance, and IPX0 equals no water resistance.
Wallace offers more insight, advising: 'IPX1 is rated as resistant to dripping water falling vertically, however IPX4 is resistant to splashing water from any angle.
At the top end of the scale, IPX7 to IPX9 ratings offer ultimate protection – at these ratings products can even survive being submerged in water.
IP ratings, sweat protection and workouts
So what does the IP waterproof rating on your headphones mean when it comes to sweat?
Wallace advises: 'Any IP rating which ends with a number greater than (e.g. IPX1 or IP51) should be sweat-proof. However, many regard the standard as IPX4 for water resistance and we'd recommend this as the minimum for real durability.'
He adds: 'Although physical activity isn't directly measured by IP rating, we would recommend that IPX4 be the minimum requirement for gym use or running in the rain, and can be safely wiped down with wet wipes or a wet cloth.'
Further up the scale, an IPX4 water rating can handle water splashes, whilst IPX5 is certified for protection against low pressure jets of water from any angle for three minutes. In terms of working out, these ratings can handle a medium sweaty session such as a run.
Meanwhile, for high-intensity sessions where you typically drip with sweat such as spin or bootcamp, the superior protection offered by IPX7 to IPX9 ratings is the way to go.
And if you're heading to the pool, Wallace adds: 'IPX8 would be the minimum requirement to be considered waterproof for swimming.'
Why choose a higher IP rating?
It doesn't take a genius to work out that earbuds with a higher IP code typically cost more to buy. So why are they worth the investment?
Durability is the answer from Wallace. 'Not only in terms of protection from sweat during use, but also for running in heavy rain (which isn't often considered before purchase) or safe cleaning of the products.'
He adds: 'The ease of running an anti-bacterial wet wipe over your buds is far superior to having to use dry cloths to avoid the risk of water damage.'
B&O's Barkli agrees, advising users of their IP57 wireless earbuds to briefly rinse them under running after each workout, and then use a cotton bud to clean the tips and fins where earwax, sweat and dirt can build up after time.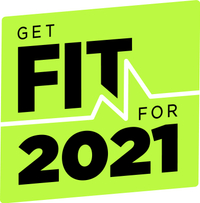 Get Fit for 2021 with Fit&Well
As the sun rises on a brand new year, Fit&Well is here to help put last year behind you and make 2021 your happiest, healthiest yet. Here at fitandwell.com, we'll be bringing you a wealth of workouts, diet plans and expert advice throughout January to help kick-start your health and fitness goals.
Kirsty is an accomplished journalist specialising in the wellness industry. She has previously written for titles including Grazia, Popsugar, Metro.co.uk, Elle UK and the Sunday Telegraph. You'll find her running around Windsor Great Park at 6am most mornings (before her toddler, Clementine Lilac, wakes up), followed by a virtual barre class with the team at Psycle London – where that barre burn is just so addictive. Kirsty loves to stock up on new activewear; because, let's face it, you can never have too many pairs of sculpting leggings. She's always keen to try/endure the latest workouts to come to London. Kirsty also enjoys rustling up nutritious family meals and indulging in her newfound hobby: flower pressing.