'I trained like a professional triathlete for a week and it was brutal'
Find out how our writer fared when she followed pro triathlete Laura Siddall's triathlon training plan for seven days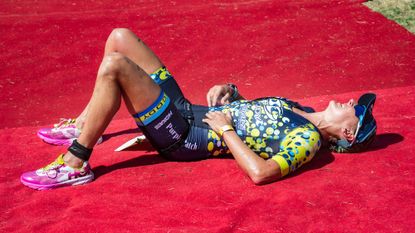 (Image credit: Getty Images)
Get the Fit&Well Newsletter
Start your week with achievable workout ideas, health tips and wellbeing advice in your inbox.
Thank you for signing up to Fit And Well. You will receive a verification email shortly.
There was a problem. Please refresh the page and try again.
When I agreed to train like a professional triathlete for a week, I wasn't really sure what to expect. But, as a fitness professional, the chance to be put through my paces by British triathlete Laura Siddall was too good to pass up.
What this 40-year-old pro athlete doesn't know about triathlons - or should I say, winning triathlons - isn't worth knowing.
She's a four time World Champion (amateur) as well as a five time Iron-Distance Champion. In total she's completed over 100 triathlons, both amateur and professional.
That's her pictured above, looking pretty exhausted after completing the 2018 Challenge Wanaka triathlon in New Zealand. And if triathlons have that effect on even the best athletes, how would I fare, I wondered?
For the uninitiated, a triathlon - the kind you would see at the Olympics - involves a 1.5km swim, 40km bike and 10km run. This normally takes the pros about two hours.
Meanwhile, an Iron Distance triathlon - the kind Laura is more accustomed to - consists of a 2.4 mile (3.8 km) swim, 112 mile (180 km) bike ride and a marathon, which is 26 miles (42.2 km). This could take around nine hours.
I'll just leave that there to sink in.
Laura kindly took me under her wing, penning a week-long triathlon training plan that I attempted to adhere to. I also headed out for a run with the woman herself (wearing my favorite runners from Fit&Well's list of the best running shoes for women) so that I could quiz Laura on everything triathlon related. I even scored a cheeky mention on her Instagram grid...
So what happened when I trained like a professional triathlete for a week? And, what did I learn? Below I reveal all, along with details of the triathlon training plan Laura devised for me...
My triathlon training plan
Laura kindly sent me a variety of triathlon training plan options, incorporating all three disciplines: biking, swimming and running. Below is an example of each one to give you a flavor of just how hardcore professional triathlete training is...
Exercise bike workout
I attempted this mega bike-based workout in the gym, but it's also doable at home if you've invested in one of the best exercise bikes, or else out on the open road.
20 minute warm up
10 x 10 mins @L3 and straight into 2 mins at level FTP. FTP stands for functional threshold power. It's the highest average power (watts) you can sustain for an hour. In between each 10 + 2 minutes, take a three minute rest.
20 minute cool down
Swimming workout
If you want to be a triathlete, you'd better get used to spending a lot of time in your local pool. Here's one of Laura's rather brutal swimming training plans...
400m, 300m, 200m, 100m swim on a 1.40 time-base - this means that each 100m needs to be done in 1 minute 40 seconds.
8 x 25m swim: On every odd number, sprint. On the evens, go easy.
400m, 300m, 200m, 100m swim with buoy on a 1.35 base. The last 25m to be a sprint.
8 x 25m swim: On every odd length, sprint. On the evens, go easy.
400m, 300m, 200m, 100m swim with paddles and buoy - first and last 25m sprint on a 1.30 base.
8 x 25m swim: On the odd lengths, scull. On the evens, go as you please. Sculling uses the front of your arms to propel you through the water. Here's a little video to help explain...
Running workout
The running workouts came complete with timings to adhere to. Here's an example of a 50 minute run workout:
15 minutes at an easy jog to warm up. This must be a slower pace than 5 minutes per km.
3 x 7 mins at 4.30-4.45 km pace with 1 minute walk in between each 7 minute run.
5 minutes super easy jogging to warm down.
Not sure how to time your pace? A device such as a running watch or even one of the best Fitbits can help.
What I learned when I trained like a professional triathlete
Triathlon training takes up a LOT of time
Let's get the awkward stuff out of the way first. I'll hold my hands up and admit, I had to cut many of the workouts short. With a full time job and a busy social calendar - and the small, important matter of needing to sleep - I found that there were simply not enough hours in a day!
One of the bike workouts in the plan was an epic three hours long. If this is triathlete training life, I may have to give up my day job. However, I did my best and managed to squeeze in two hours of cycling on a stationary bike at the gym.
Food is fuel!
When it comes to race day, Laura told me that nothing is off the cards when it comes to food. It's understandable really - a nine-hour workout definitely needs some sustenance!
She explains that on the morning of a race, she opts for overnight oats made with milk, yoghurt, banana, honey and nuts. She also has a black coffee and a hard boiled egg.
Then during the race itself, she continues to take on fuel.
'During the race I use energy gels,' she tells me. 'I take a gel about 15 minutes before the start of the race, then once I am out of the water and on the bike, I have a gel every 20 minutes and the same on the run.
She adds: 'You have to be quite flexible and not necessarily rigid to the 20 minutes. If you feel you are low on energy then just get some calories in, regardless of whether it's 20 minutes or not.'
As for post-race, Laura has 'anything salty' - including 'a massive burger and chips!'
'But you do also want to get in protein and some carbs,' she adds.
Swimming was my weakness
Professionals aside, it's natural for triathletes to excel at one aspect of the sport and struggle with another - and for me, that was most definitely swimming.
I love a swim on holiday in a pool with the sun beating down on me. But a hardcore swim in a gym pool, sticking to a lane… let's just say it wasn't my strong point. I found myself becoming exhausted after just 10 minutes.
As a result, I've since resolved to add more pull-ups and planks to my regular workout routine. Pull ups are great for helping strengthen the upper body, whilst the plank is one of the best workouts for abs (a strong core is key for swimming), and also works pretty much every muscle in your body - again, much like swimming. Make like me and check out our guides on how to do pull-ups and how to do a plank.
Running with a partner is a brilliant motivator
You always hear it don't you? That running with others just adds that element of 'challenge' and encourages you to up the ante a little.
I'm used to long runs, as well as shorter runs (I'm a seasoned 5km gal, having run 5km every day for a month), but I tend to plod along on my own, happily listening to podcasts.
With Laura though, I was put through my paces.
Even during our 'casual' run together, she was checking her fitness tracker to make sure she was matching her assigned speed and heart rate - whether slow or speedy. This certainly made me realize that I need to really work on my run game.
It's not about smashing PBs every day
As much as it would be lovely to say I increased my running speed every time I went out to train, sadly it's not just really feasible.
Laura explained that to improve my half marathon time (currently 1 hour 35 minutes) I need to incorporate some slower sessions into my running routine, as well as shorter speed sessions, throwing in some hill work while I'm at it too.
It makes sense really, as to help the body adapt and become fitter, it needs a variation of runs rather than just a steady slog pounding the street.
The right kit is crucial
As a competitor, Laura knows what kit is best. However, she did make it clear that you don't need to spend a fortune on fancy clothing and equipment to get started with triathlon.
'To start off it's pretty simple; you need a swimming costume, cap and goggles, although you will be given a swim cap on race day. You can rent wetsuits for the race, or buy cheap-ish ones for a start.
'For the run, some good trainers [are all you need]. It's often good to have two pairs if you can, one for training and one for racing, but it really isn't the end of the world.'
Finally she explains that the bike you use for the cycling secion doesn't need to be flashy.
'I did my first triathlon on a hybrid road/mountain bike, so any bike is good to start with,' she says, adding that a helmet a also a must.
Sleep is everything
It's the glue that holds us together and I found that during my training week, I really did sleep like a baby. Hardly surprising - I was shattered!
However, Laura admits that sleep is one of the aspects of her job that she finds the hardest.
'I've never been a good sleeper, but that's not really an excuse for not working on something that is so key to our performance. Sleep is one of our biggest performance enhancers. That's not just in sport, but in working life too, in order to be able to make the best decisions and perform in our jobs and family lives.' Amen.
She adds: 'For athletes it's equally important as we put our bodies and minds under training stresses. I'm not one for napping in the day, although many friends and athletes do, or they lie in bed all day resting.
'I just try to get as much sleep as I can each night. I try to shut down the laptop and find a good book to read in bed instead. I also write three things I'm grateful for at the end of the day to try to wind down in a good place. I've tried meditation too for a while as a recovery aid during the day. Also, when I go for a massage that's my time to switch off!'
Training like a triathlete - my final thoughts
Training like a triathlete is next level fitness, and in doing so I have gained a whole new level of admiration for people who take on these mammoth challenges.
The time you need to devote is intense, and it's also mentally challenging. I planned my meals around my workouts and rather than training fasted like I usually do, I needed energy hits before training to keep me going through hours of hard work.
Whilst I'm unsure if a triathlon is for me, one thing is for sure, I will 100% be pushing my body that little bit further in everything I do now. What doesn't challenge you won't change you, after all!
Laura Siddall is an ambassador for MINI, showcasing the MINI Countryman and the small SUV's versatility to take on all the terrain her training requires, with the space to fit all her equipment.
Get the Fit&Well Newsletter
Start your week with achievable workout ideas, health tips and wellbeing advice in your inbox.
Lucy is a freelance journalist specializing in health, fitness and lifestyle. She was previously the Health and Fitness Editor across various women's magazines, including Woman&Home, Woman and Woman's Own as well as Editor of Feel Good You. She has also previously written for titles including Now, Look, Cosmopolitan, GQ, Red and The Sun.
She lives and breathes all things fitness; working out every morning with a mix of running, weights, boxing and long walks. Lucy is a Level 3 personal trainer and teaches classes at various London studios. Plus, she's pre- and post-natal trained and helps new mums get back into fitness after the birth of their baby. Lucy claims that good sleep, plenty of food and a healthy gut (seriously, it's an obsession) are the key to maintaining energy and exercising efficiently. Saying this, she's partial to many classes of champagne and tequila on the rocks whilst out with her friends.