What to look for when buying a training shoe: Upper, sole, fit and more
How to find the best cross training or gym shoe suited to your needs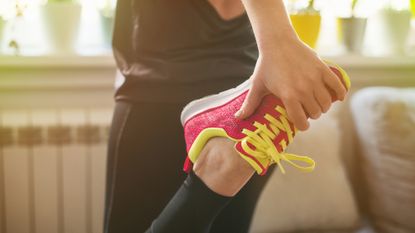 (Image credit: Getty Images)
Workout shoes – also known as cross training or gym shoes - are made for all types of exercise, mostly weight lifting, but differ somewhat from most other types of sports shoes on the market, which are mostly aimed at runners.
Running trainers tend to have more of a curve to the sole to mitigate heel strike when they pound the pavement during a race or a jog. You can check out our guides to the best running shoes for men and best running shoes for women, if that's what you're after. But a workout or gym shoe is more flat, especially at the heel, to add extra stability to cope with the excess pressure of lifting weights.
So if you do more CrossFit-style or weight-based training then you're going to need some proper workout shoes. They'll give you an improved grip and support so you can workout more safely and with greater effectiveness, helping you to maximise your training time. Our guide to the best cross training shoe can help.
However, when it comes to shopping for workout shoes, it might not always be immediately obvious which shoes to go for. Many brands don't explicitly say in product descriptions that a particular shoe is made for the gym instead of running. And so, to help with that, here's everything you need to look out for when shopping for the perfect workout shoe.
Workout shoe construction: The upper
The upper section of a workout shoe is the fabric portion of the shoe that's sewn or glued to the midsole and encases your foot. This also includes the toe box, which - as the name suggests - is the space made for your toes.
Unlike running shoes, workout shoes shouldn't be too roomy around your toes as this could affect the support you receive from the midsole. However, if the toe box feels too tight you can often end up with blisters, so it's worth finding something that will strike the right balance.
The uppers of a workout shoe are usually made of breathable mesh fabric. This is important as it'll help keep air to your feet and avoid sweating. Look for fabrics that are lightweight, waterproof and breathable. For example, the On Cloud X gym shoes have a knit-weave upper, which makes them especially light and breathable without affecting the level of cushioning throughout. This ensures the trainers feel comfortable and agile during runs, hops, skips, jumps, etc.
Many workout shoes also usually also have elements stitched on for reinforcement. Take the Nike Metcon 5 shoes, for example, which feature a special abrasion-resistant material on the upper for gripping ropes during cross training-type workouts.
Workout shoe construction: The sole
The sole part of a workout shoe is made up of three sections: the insole, midsole and outsole. The insole provides the sushionign for the feet, the midsole provides the bulk of the cushioning for the heel and the outsoles are usually made of a harder material as this is the part that hits the ground during exercise.
When it comes to workout shoes, the main thing to look out for is the curve of the sole. If it's not flat, then it's probably a running shoe. You also want to check it has lots of support within the midsole, as this is what will bring you the stability that you need during a workout, whether that's during a CrossFit class or a session in the weights room. So be sure to look for something with a firmer outsole.
This will give you the stability you need while on the gym floor. Take for instance the highly cushioned SuperRep workout shoes by Nike, which have been designed to provide support for high impacts during fast-paced HIIT and circuit classes.
For the outsole, you're ideally wanting to see something that offers a lot of grip. The last thing you'll need during a HIIT class is slipping around.
Fit and support
Without being patronising, one of the most important things to keep in mind when buying a workout shoe is the fit. All shoe makers differ in size, but with workout shoes it's best to ensure a more snug fit for added support as opposed to a slightly more loose fit that you'd opt for when purchasing running trainers (due to the way your feet swell over long periods of running).
If you plan on doing lots of lifting, you might want to ensure that the shoes also have a pronounced heel that's slightly elevated, stronger, flatter and less flexible than those found in running shoes. Some shoes, such as the Nike Metcon range, come with a heel insert to give you that extra support while lifting.
As for those who have flat feet, bunions or pronations, London-based celebrity osteopath. Anisha Joshi, recommends opting for shoes that offer extra support and more solid structure.
"Cushioned shoes allow for greater shock absorption," he explains. "This is a vital shoe choice if you are on your feet a lot. Leather or rubber soled shoes give less 'bounce' than cushioned soles. I advise my customers who have flat feet to opt for a more flexible style."
Pricing
As for pricing, a good pair of workout shoes will probably set you back around £100 / $140. But it's usually possible to find them in the sales if you dig around. Many of the popular brands update their flagship gym shoes every year or so, so older generations can usually be picked up for cheaper despite there being minimal differences.
As for anything under £50 / $70, we'd recommend you steer clear. While they might do the trick for a few months, they'll probably fall apart much quicker than a premium pair. And the support might not be there. Your best bet is to look in the sales if you're on a budget.
Get the Fit&Well Newsletter
Start your week with achievable workout ideas, health tips and wellbeing advice in your inbox.
Lee Bell is a London-based journalist, copywriter, specializing in all things tech and lifestyle. He is also a qualified personal trainer. He started his journalism career a decade ago as a reporter covering the latest gadgets and innovations at tech tabloid The Inquirer. Lee went freelance in 2016 to broaden his expertise, moving into news, reviews and feature writing for a host of national print and online lifestyle titles such as GQ, Forbes, Esquire, Men's Health, Wired, The Metro, and The Mirror. He has an insatiable appetite for travel, Dharma yoga, and the odd outdoor challenge.