Zwift for runners: 7 ways the virtual app makes treadmill sessions more exciting
'Dreadmill' factor, be gone! Zwift for runners - or Zwift Run, as it's formally known - promises to transform your indoor running sessions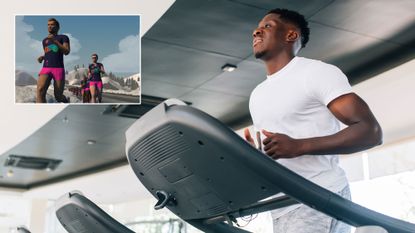 (Image credit: Getty Images/Zwift)
If you're sick and tired of boring treadmill sessions, Zwift for runners just might change all that.
There is no question that a treadmill is a game-changing training tool for runners, providing the opportunity to train indoors uninterrupted for hours at a time in any weather.
But one common criticism levelled at even the best treadmills is that sessions on them can become a tad boring. After all, unless you have a TV screen in front of you, the views of a white wall can be uninspiring when you know you still have 45 minutes of running left to complete your workout. That's where Zwift comes in.
If you're already familiar with the virtual fitness app, you may automatically associate it with cycling. It launched in 2014, primarily with a range of unique virtual 3D world cycles that took at-home training on a turbo trainer or one of the best exercise bikes to new and never-before-seen levels.
However, more recently the company launched Zwift Run (opens in new tab), a treadmill-based running version of the training app. Aimed specifically at treadmill runners, it's designed to motivate users to get on the running machine and take their training to a level it would not reach without the app - bringing many other benefits with it.
Not convinced? Here's seven reasons Zwift for runners will transform your treadmill sessions...
1. You can meet friends
If you thought running on a treadmill in your garage meant a lonely slog, think again.
Zwift provides the opportunity for you to meet up with other runners in its virtual Watopia world. When you run, whether it's a set training run or just exploring the world for 10,000m, you'll see other runners on the roads and cyclists whizzing past you.
Zwift's handy Meetup feature means you can invite fellow Zwifters to run with you at an arranged time.
You can invite up to a 100 people if you are feeling super-social, and if you are the run leader you control the pace, slowing it or speeding it as you wish.
While running you can chat and catch up with other runners in-game or over WhatsApp – the next best thing to doing it in real life.
2. You can race around the world
Another unique feature of Zwift Run is the ability to join group runs and races at any time of the day or night.
There is a huge choice of group runs you can join, all at different speeds so you can pick one appropriate for your skill level or the amount of energy you wish to expand in your workout. They range from run/walk pace upwards.
There are also multiple races of varying distances every month. These are free to join and a good opportunity to push yourself against competitors from across the globe.
3. It comes with ready-made training plans
It's easy on a treadmill to just hit 'start' and run at your selected speed for 30 minutes then jump off. But after a few sessions of this, your motivation dips to 'can't be bothered' and after that it can become hard to get back on the belt.
This is where Zwift Run's training plans come in. You can access a range of structured workouts aimed at all levels of runners, meaning you can follow the programme towards an end target, whether that's a marathon or 5k race.
Plans last from a couple of weeks to up to 18 weeks, and are created by running experts. And if you can't find a workout to suit you, you can even build your own custom workout or browse workouts submitted by other users.
4. You can see virtual sights
In the current climate where foreign travel is severely restricted for many, Zwift's virtual world runs offer the next best thing for runnings.
Currently there are eight virtual worlds to run in, including virtual representations of London and Yorkshire in the UK, Richmond (Virginia) and New York in the US, Paris and other locations in France, and Innsbruck, Austria. A variety of routes are available within each location.
There's also the fictional world of Watopia, where you can run up volcanoes and underwater.
5. You can update your avatar
A cool in-game feature is that you build up points in Zwift in order to buy new kit for your avatar.
You may think this sounds pointless, but once you have been running for a while, the thought of putting your virtual self in a new virtual T-shirt becomes strangely motivating.
6. It integrates with Strava
For Strava users, Zwift handily uploads your workout to the platform as soon as you have finished, meaning you can see the stats and share it with your followers.
7. It's fun!
Perhaps the most important reason for taking part in Zwift Run is that it makes treadmill running fun - three words that don't often go together.
Motivation to step on the treadmill is a common issue for many runners, so a platform like Zwift that introduces other runners and things to look at, albeit virtually, is a huge boost when you're stuck indoors and feeling uninspired.
Getting started with Zwift for runners
Ready to give it a go? To get started on Zwift Run, there are a few pieces of essential kit you will require:
Any treadmill will work for Zwift Run, whether it's one in your own home or at your gym.
This is required to access the app so you can see where you are running and view all your data as you run.
This can be a phone screen, but ideally it will be a tablet, computer or television screen if you can line it up in front of your treadmill as they have more space to show all of your metrics and information.
Zwift Run (opens in new tab) is free to download and use (Zwift Cycle is $14.99/£12.99 a month), and is compatible with Apple and Android devices.
The Zwift RunPod (opens in new tab) is a small device that attaches to your shoelaces. It tracks your cadence, speed and distance and relays it back to the app via Bluetooth. Other running sensors/foot pods also work with the app, including models made by Garmin, Stryd and Polar.
It can be wrist-based or chest belt-based, and is not essential to your workout, but Zwift can display your heart rate on-screen, so it's a useful metric to have access to while you train. Take a look at our list of the best heart rate monitors if you're keen to invest.
This is an optional extra to make your treadmill data even more accurate. The Zwift Runn (opens in new tab) device simply clips onto your treadmill belt and analyses the speed using an optical sensor, relaying speed, incline and cadence data back to the app.
Howard is a freelance health and fitness journalist and copywriter. He has written for publications including ShortList, Runner's World, Trail Running, Women's Running, Red Bulletin, Wareable and Cycling Weekly. He enjoys nothing more than lacing up his trail shoes and heading out to explore new trails. He's run ultramarathons everywhere from the French Alps and Canadian mountains to the Welsh coast and Peak District. When not running, he's usually found hitting his local MTB singletrack trails or on a quest to find the country's best cinnamon bun.