How to use a treadmill: a personal trainer's expert guide
Not sure how to use a treadmill - or how to get the best workout? Our expert explains all, including how to get started, form, settings and more...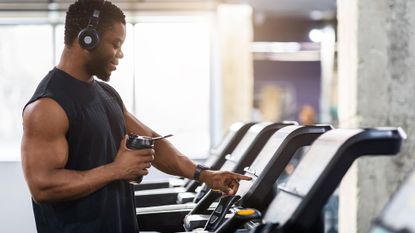 (Image credit: Getty Images)
Knowing how to use a treadmill properly and safely is of paramount importance for anyone who's committed to a monthly membership fee at their local gym.
That's because you won't find many gyms that don't have a selection of treadmills as part of their cardio equipment. In fact, treadmills have significantly increased in popularity with the introduction of studio-based classes that integrate their use in class settings.
That's why I've compiled this comprehensive guide on how to use a treadmill, covering everything that - as a personal trainer - I believe you need to know.
The treadmill - or running machine, as it's also known - is a stationary device that can be used for walking, running or climbing. It consists of a continuous moving belt that's either powered electrically or manually by the person using the machine.
Treadmills have many benefits, including convenience - which explains why so many have chosen to have treadmills in their homes for personal use too (take a look at Fit&Well's pick of the best treadmills if you're considering following suit, and be sure to check the Black Friday treadmill deals pages to pick one up for cheap).
As well as the convenience, using a treadmill allows you to have complete control over your running environment, including factors such as speed, incline and pace - which in turn allows you to follow a more structured training program. If you're training for a specific event you can replicate most conditions, whether that's hills, a flat course or an undulating mix.
And of course, there's the weather. Running on a treadmill allows you to avoid any extreme weather conditions, which means your workout will always be safe and effective, especially for those with limited mobility or injuries.
Finally, there's the physical benefits: a treadmill session promises a full-body cardio workout. According to information from Harvard Medical School, treadmills "can target the key muscle groups that older adults need to strengthen to improve balance and endurance, such as quadriceps, calves, glutes, and hamstrings".
What's more, research published in the International Journal of Research in Exercise Physiology compared 10 of what are generally considered the best exercise machines for weight loss, including treadmills, elliptical machines and rowing machines. The results found that participants burned more calories and had higher heart rates when using a treadmill than on any of the other cardio machines.
For those who don't feel comfortable running in public, a treadmill is also a great option to start your running journey and gain confidence. If that sounds like you, let's dive into more detail on how to use a treadmill safely and effectively to get the most out of your workouts.
How to use a treadmill: components of the machine
When it comes to getting to know a treadmill there are many parts that will be consistent no matter what machine you're using. They include:
A belt: This is the part that moves when you run, and is connected to the frame with handlebars.
A screen and controls: This is where you typically get most variation from machine to machine, with touch screens, fans, live television, access to the internet, Bluetooth connectivity or connectivity to external apps. All treadmills will keep you informed of your distance and overall time at a minimum, but others can track metrics such calories, watts or heart rate.
Storage wells: You should also find a collection of wells, where you can store items such as water bottles, mobile phone or locker keys.
Safety features: These are perhaps the most important component of all. Most treadmills will come with a safety cord that can be clipped to your clothing which automatically shuts off the belt if it comes unattached. There may also be an emergency stop button.
How to use a treadmill safely
Although there are some similar considerations to be made when running on a treadmill as running outdoors, there are some additional points that you should bear in mind when using a running machine. I've listed these in order below:
Before you step onto the treadmill, ensure that the belt is stationary and the safety clip is attached to the treadmill (if one exists).
When you step on the treadmill, place your feet on the frame to the sides of the belt whilst holding the handrail.
Turn on the treadmill using either a quick start button or selecting a program. Ensure the speed is one you can comfortably maintain when you step on the belt. If you're unsure, begin with a walking pace.
Start and finish each workout with a minimum five minute warm up and cool down.
Once you get moving and feel stable, remove your hands from the rails and increase the speed to your desired pace.
To come to a stop, place your hands on the handrails and feet on the frame to the sides of the belt. Hit the stop button and allow the belt to come to a complete stop.
How to use a treadmill with correct form
When it comes to your running form here are a few pointers to keep in mind:
The most important is to be as relaxed as possible
Relax your shoulder, and draw them away from your ears
Drive the arms back, as if putting a hand in a packet on the hips
Keep your breathing relaxed, drawing the air into your stomach to reduce tension in the upper body
Running coach and footwear consultant Emma Kirk-Odunubi also adds: "Always think about not overreaching with the lead leg on a treadmill to make the stride longer. Instead, drive out the toes to create more power."
How to use a treadmill: key functions explained
It's always best to speak to a trainer or consult a manual for the specific model of treadmill you're using but here's a quick overview of some of the key functions, you'll find on all machines and how to utilize them:
Speed: This will be displayed either as kilometers (kmph) or miles per hour (mph). While gym treadmills may go up to a maximum speed of 14mph, some machines made for home may max out at 10mph. Being able to control your speed is useful for interval sessions which will help you to increase fitness and overall running speed.
Incline: The treadmill will display incline as a percentage, which relates to the grade of the hill. If you're not specifically doing a hills session, Kirk-Odunubi suggests to "always run on a 1 or 2% incline as it mimics outdoor running, plus actively helps reduce impact further on joints."
Pre-set programs: Many treadmills will come with programs for specific goals built in. By inputting information such as your height, weight and age, you will get more accurate data from your training sessions. The treadmill will automatically adjust the speed and incline at set points, leaving you to focus on running.
That concludes my guide on how to use a treadmill safely and effectively. You should now feel confident in stepping onto the running machine, running with correct for and using the various functions to get the most out of your treadmill workouts.
With so many benefits and with the machine being so versatile, a treadmill workout might be the perfect addition to your training schedule to help you to reach your goals.
Get the Fit&Well Newsletter
Start your week with achievable workout ideas, health tips and wellbeing advice in your inbox.
Fitness professional, Liv Cycling ambassador and Fit&Well Awards 2021 judge Elle has 15 years' experience working in the fitness space. She has a degree in Exercise Science, plus Level 3 Personal Trainer, Level 2 Exercise to Music and Level 2 Gym Instructor qualifications. Nowadays she pours all her exercise expertise into her blog, Keep It SimpELLE, where she shares inspiring and informative advice to help her clients and readers on their fitness journey. She also offers one-on-one training and on-demand workouts. Her favorite ways to work out include cycling (on an indoors exercise bike for more structured workouts), running, kettlebells and bodyweight workouts.