Build upper body strength in just 30 minutes with this no-equipment workout
You won't get bored with this short bodyweight workout to carve out some lean muscles in your shoulders, arms and abs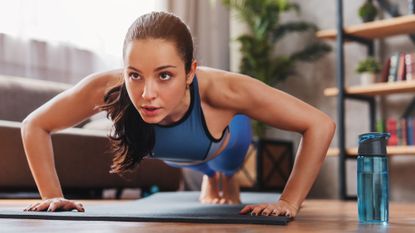 (Image credit: Getty )
You don't need masses of weights, a gym membership, or a few hours spare to build upper body strength. Bodyweight workouts can be just as beneficial for toning up your muscles and we've got a 30-minute, no-weights workout that proves it.
If you're looking to increase muscle hypertrophy in your upper body, put on some of the best workout clothes for women, or for men, roll out one of the best yoga mats, and prepare to get sweaty.
Containing no repeat exercises, no equipment, and just your own bodyweight, this workout by Austria-based Anna Engelschall, otherwise known as @GrowingAnnanas, is bound to get your upper body all fired up. The focus of this workout is to build muscle at home completing a range of different exercises for 50 seconds and then resting for 10 seconds.
As Engelschall says: "Who's ready for upper body day? Today's 30-minute toned arms workout is all about defining and toning our arms, shoulders, and abs. Get ready to feel the [burn] in your upper body with these bodyweight-only, no-repeat killer exercises."
Try Engelschall's 30-minute, weight-free workout
This workout contains just under 20 exercises that incorporate a wide range of strength-testing moves, along with a heavy dose of push-ups and planks.
So, if you are unsure of how best to complete these exercises, check out our handy guides on how to do a push-up properly and how to plank before taking on this 30-minute workout.
But before getting stuck up, roll out your yoga mat and warm up your muscles by completing a warmup. For this, you'll need to complete eight different moves for 30 seconds each. We've listed the moves below.
Arm circles
Side Pulses
Pull downs
Elbow circles
Kneeling rocks
Plank push back
Wrist circles
Wrist side rocks
And for the workout, you'll be completing 19 exercises for 50 seconds each, with a 10-second rest and reset in between.
Thankfully, Engelschall shows you how to perform these exercises and while you're resting she runs through how to complete the next move, so you can get yourself into position before your 50-second timer begins.
But just remember: the key to this workout isn't how many reps you can do. It's about focusing on your form and going at your own pace. Any movement is good movement, especially if your form is on point. Here are the exercises to complete:
Push ups on knees
Back extension pull down
Push up + pull down
Superman hold
Plank row
One arm plank right arm
One arm plank left arm
Hand release push ups
Kneeling pull down
Alternating pull down
Reverse fly pulses
Side plank dips (left side)
Side plank reach through (left side)
Side plank dips (right side)
Side plank reach through (right side)
Lower plank leg raises
Bear plank knee taps
Shoulder taps
Bear walk + push up
While these exercises use just your body weight, you could always add some extra resistance, by investing in the best adjustable dumbbells and the best resistance bands to help you take your workout up a notch.
After you've finished the workout — and if you're feeling up to it — Engelschall then goes on to suggest a six-minute finisher round. This follows the same framework as the previous rounds, with 50 seconds on and 10 seconds off. The moves include:
Frogstand. If you are unable to do this, Engelschall recommends trying a modified version of this exercise, with one foot on the floor.
Low plank hold.
Push-up toe taps
High plank hold
Push up and shoulder taps
Low push-up hold
It's then time to warm down. We've spoken before about how important stretching is. And research published by Harvard University reinforces this point. Along with keeping the body's muscles supple, strong, and healthy, it can help to increase your range of motion which can help you to keep exercising at your fullest capacity.
So make sure to follow Engelschall's warm-down routine, holding each stretch for 30 seconds and resting for 10. Here are the warm down moves.
Child's pose
Chest opener
Neck stretch to the right
Neck stretch to the left
Back stretch
Cobra ab stretch
Or, look this way for more stretching exercises that can help you avoid injury and ensure you remain healthy and mobile.
Becks is a freelance journalist and writer with more than 7 years of experience in the field. She writes health and lifestyle content for a range of titles including Live Science, Top Ten Reviews, Tom's Guide, Stylist, The Independent, and more. She also ghostwrites for a number of Physiotherapists and Osteopaths.
Health has been a big part of Becks' lifestyle since time began. When she's not writing about the topic of health, she's in the gym learning new compound exercises. And when she's not in the gym, she's most probably reading.