Burn 450 calories in just 45 minutes with this joint-friendly walking workout
This workout is perfect for getting your daily steps and burning calories without leaving the house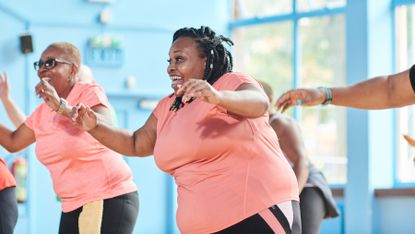 (Image credit: Getty)
If you love how easy it is to go outside for a walk to get your heart rate up and burn calories without exercising at a high intensity, then you will probably feel at a loss when it rains. This is where an indoor walking workout will be useful and this 45-minute routine can have you taking around 5,000 steps and can burn up to 450 calories.
If you're a regular walker then you're probably used to putting on some of the best shoes for walking before heading out the door. But this indoor workout can be completed wearing no footwear at all and it's joint-friendly for anyone in need of a low-impact style fitness routine.
The workout comes from, BurpeeGirl, an online fitness instructor who creates regular easy home workouts to follow along on YouTube. You will alternate between performing a step-based exercise for twenty seconds followed by ten seconds of a fast-paced walk on the spot.
The timing intervals used for this walking session form a Tabata-style workout. Tabata is a great way to raise the heart rate in a short period of exercise time, this can help you burn more calories and work towards losing weight if this is a goal of yours.
Watch the BurpeeGirl's 45-Minute Walking Tabata Workout
While lots of people like to use some of the best fitness trackers to check their post-workout stats or how many steps they have taken in a day, this isn't necessary to get a good workout done.
The BurpeeGirl estimates that people will take around 5,000 steps completing her routine and can burn up to 450 calories afterward. This is dependent on an individual's body composition and fitness capabilities, but as long as you are constantly moving your body during this routine you will gain results.
If you do suffer from joint pain there are things to help with pain relief like the best supplements for joints that you can take on the daily to ease stiffness. But exercise is really important as it build up strength and flexibility. If you try this walking style workout and find it easy enough to complete, then it's a good idea to try adding in some weight to the routine as this will allow you to begin light and work up to a heavier weight once your strength develops.
When it comes to walking based exercise, you aren't limited. You can complete this gentle walking exercise routine on its own or with some weights or you can even have some ankle weights attached to you as you take your stride on one of the best treadmills.
Moreover, your diet can also aid the strength of your bones and joints. Dairy and green leafy vegetables are supposed to be good for the health of your bones as much as sources of vitamin D are recommended too. This vitamin has been linked with lowering inflammation so it's worthwhile getting yourself some of the best vitamin D supplements if you live somewhere that lacks consistent sunlight.
Jessica is an experienced fitness writer with a passion for running. Her career in journalism began in local news and she holds a Masters in journalism. Jessica has previously written for Runners World, penning news and features on fitness, sportswear and nutrition.
When she isn't writing up news and features for Fit&Well covering topics ranging from muscle building, to yoga, to female health and so on, she will be outdoors somewhere, testing out the latest fitness equipment and accessories to help others find top products for their own fitness journeys. Her testing pairs up nicely with her love for running. She recently branched out to running 10Ks and is trying to improve her time before moving on to larger races. Jessica also enjoys building on her strength in the gym and is a believer in health and wellness beginning in the kitchen. She shares all of this on her running Instagram account @jessrunshere which she uses for accountability and for connecting with like-minded fitness lovers.