Revealed: How Catherine Zeta-Jones stays fit and healthy in her 50s
The Hollywood star maintains glowing skin and a trim, toned physique through diet and exercise - here's how...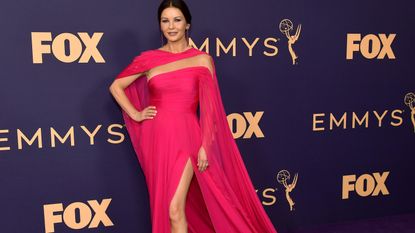 (Image credit: Matt Winkelmeyer/Getty Images)
At the age of 51, Catherine Zeta-Jones is a picture of health - but how does the Hollywood star keep herself in such great shape?
Whilst many of us struggle with trying to lose weight over 50, the Welsh-born actress has maintained a strong, lean physique as she moves into her sixth decade - and unsurprisingly it's down to a varied approach to working out and a good, balanced diet full of healthy fats, protein and vegetables.
The star recently revealed exactly what she eats every day in a new video, with porridge, salads, chicken and fish (possibly cooked on one of the best health grills) all playing a role.
Catherine also regularly posts insights into how she likes to keep fit on her Instagram account, with yoga moves, paddleboards and dance sequences regularly making an appearance.
Let's dive into more detail on exactly what healthy eating and exercising over 50 looks like for CZJ...
Catherine Zeta Jones's diet
The star recently revealed everything she eats in a day in a Harpers Bazaar video - and seasonal eating plays a major role.
"In the winter hours, I'm a porridge girl," she said of what she eats for breakfast, which she has with bananas and blueberries. Then when the summer season arrives she'll switch to granola, yoghurt and fruit.
The star makes a point of stressing that she always eats breakfast and swears by three meals a day. Her approach is a sound one, considering a recent study found that skipping breakfast means you ultimately end up consuming more calories during the course of the day - and also miss out on vital nutrients.
Salads are also central to the CZJ diet. "I have a salad with every meal other than breakfast because I just adore it," she revealed, sharing that her favorite salad mix includes spinach, arugula, pine nuts, farm tomatoes - and a chunk of blue cheese, for good measure.
So what gets served alongside those salads? Lean protein and veggies, according to Catherine. "Accompanying my salad would be some grilled chicken, grilled cod, or sometimes a stuffed eggplant - something light that doesn't weigh me down too much."
From time to time she also indulges in a fillet mignon, served with a mushroom sauce and lots of sautéed vegetables.
Earlier this year the star also said that she keeps trim by 'drinking lots of water, maintaining her PH balance and not drinking alcohol.'
Catherine Zeta-Jones's fitness regime
When it comes to working out, Zeta Jones likes to mix things.
In an interview with W magazine earlier this year, she revealed that her exercise routine involves "swimming, tennis, Peloton, my home gym and tap dancing."
It's no surprise to see Peloton in there - the makers of one of the best exercise bikes on the market have a host of other celebrity fans, including soccer star David Beckham, musician Alicia Keys and even POTUS himself, Joe Biden (who had some issues trying to take his personal Peloton to the White House).
Meanwhile, swimming, tennis and dancing are all great sporty options that give a good cardiovascular workout. Swimming is a particularly good activity for the over 50s because it's a low impact exercise, meaning it's easier on the joints - which can start to suffer as we age due to wear and tear or old injuries.
But we're not talking about a leisurely splash around the pool - Catherine likes to get her heart rate up. Speaking to the Telegraph last year, she said: "If I become a little lethargic or lax in the physical part of my life, I get stressed. So I swim. I have one of those pools where I can swim against the tide.
Known for her Oscar-winning performance in the movie Chicago, the star also revealed: "When I moved house, I put down tap boards and made a tap-dancing space."
A scroll through Zeta-Jones's Instagram account also shows that the star can regularly be found out on the water doing a spot of paddle boarding (a great workout for abs) or doing yoga-style stretching exercises on the deck of a yacht (naturally).
This week the actress has also announced how her lifestyle brand, named Casa Zeta-Jones, has moved into the activewear and sneakers market - underlining her commitment to fitness. If you're looking for some new activewear yourself, here's our guide to the best workout clothes for women.
Get the Fit&Well Newsletter
Start your week with achievable workout ideas, health tips and wellbeing advice in your inbox.
Sarah is a freelance journalist who writes about fitness and wellbeing for the BBC, Woman&Home and Tech Radar. During lockdown she found her love of running outside again and now attempts to run around 50 miles a month. When it comes to other fitness, she loves a sweaty cardio session – although since she's been working out from home she's sure her downstairs neighbors aren't too happy about it. She also loves to challenge herself - and has signed up to do hiking holidays, intense bootcamps and last year she went on her dream activity holiday: paddle boarding around deserted islands in Croatia. On her rest days, she loves to recover with a simple yoga flow session – the perfect antidote to her active fitness schedule.