Exercising over 50: the best activities to do - and what to avoid
It's important to keep exercising over 50 and beyond - but you may have to change your program. Here's everything you need to know...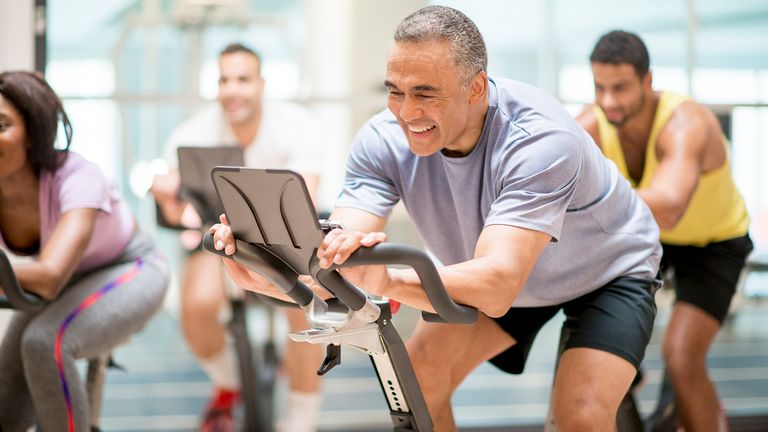 (Image credit: Getty Images)
By Kirsty Welsh
Exercising over 50 can often bring with it a whole new set of challenges that you might not have had to consider in your twenties, thirties or forties.
Whether you're starting a new workout regime or looking to maintain your existing activity levels and all-round fitness, there's plenty of things to consider and adapt to.
One aspect that changes as we age is the length of time it takes our bodies to recover. A 2016 study published in the journal Medicine & Science in Sports & Exercise, which compared triathletes in their twenties and fifties, found that the older athletes experienced slower protein synthesis—the process by which muscle cells regenerate—than the younger group.
Decreasing flexibility is another common issue related with ageing, with loss of mobility various felt in joints such as the hips, knees, wrists, ankles, trunk, elbow and shoulders. Regular exercise is a key line of defense in this respect, often supported by taking the best supplements for joints.
Then there's the issue of age-related wear and tear. Your body has been through a lot by the time you reach your fifties, and niggles caused by old injuries or unaddressed physical issues can impact your ability to exercise effectively.
Monique Eastwood, celebrity personal trainer and founder of virtual training program the Eastwood Movement Method, highlights some of the other challenges that come with exercising over 50.
'As our bodies enter their 50s, there are many changes occurring within them. We are losing muscle mass and bone density and our sleep patterns are all over the place,' she says.
'This can have a knock-on effect on our energy levels and how we feel emotionally in our daily lives. Our metabolism is slowing down as our hormones are now changing too.'
However, despite the challenges that exercising over 50 presents, it's more important than ever to keep moving your body as you age. Research by the University of Berkeley found that long periods of inactivity leads to rapid tissue deterioration in older adults. And, as stated above, older muscles do not recovery as quickly as younger muscles - leading the researchers to urge the importance of older populations staying active, 'because the evidence is that for their muscle, long periods of disuse may irrevocably worsen the stem cells' regenerative environment.'
However, the researchers also warned that in the elderly, too rigorous an exercise program after immobility may also cause replacement of functional muscle by scarring and inflammation.
So what's the best approach to exercising over 50? We've compiled this comprehensive guide detailing the best types of activities to try, what to avoid, and expert tips for continuing to move your body safely into your fifties - and beyond...
Exercising over 50: best activities to try
Strength training
Whether you use free weights (such as the best adjustable dumbbells or kettlebells), resistance bands or even use your own bodyweight, strength training is hugely beneficial for the over 50s.
'Strength training will help maintain lean muscle mass, which can otherwise decline with age,' says Samantha Robbins, a personal trainer and wellness coach at Gympass. 'It will enhance quality of life as movement will be easier, it also promotes healthy joints and bones and can even improve cognitive skills.'
If you're new to strength training, we advise working with a fitness professional in the first instance to help you perfect your form and avoid injury. We've also got a wealth of articles that can help you kick-start your strength training regime. For a beginners guides to various weight training approaches, see our features on how to lift weights, how to deadlift properly, how to do pull ups and dips and resistance bands vs weights.
Once you've mastered the basics, target specific body areas with our guide to the best workouts for arms (including bicep and tricep workouts), our squats challenge (which will work your butt, legs and core), and our four-week bodyweight workout plan (featuring the TRX Home2 suspension trainer).
HIIT
It's important to keep any exercise routine varied, so build in a couple of weekly HIIT workout (that's high intensity interval training).
The benefits of HIIT are myriad, according the Eastwood. Sessions that involve plyometrics workouts (essentially jumping exercises) help build strong bones by laying down more calcium, whilst the fact that it's a cardio workout is good for building a healthy and strong heart and lung capacity. What's more, high intensity intervals help to burn calories throughout the day - whilst actually increasing muscle mass.
'The power moves are needed to maintain your muscles, and by encouraging them to work hard, you are therefore building new muscle mass,' says Eastwood.
She adds: 'The multidirectional moves are excellent for our brain's stimulus, and your endorphins will be flooding your body after each session - that's so important when you enter your 50s and beyond.'
Swimming and cycling
At any stage of life, it's always important to pay attention to your body, especially how it's responding to exercise. So if you find that you're suffering from joint pain once you enter your 50s, it could mean you need to modify your workout routine.
'If joint pain is a concern, try switching to low impact cardiovascular activities include swimming and cycling,' Robbins advises. Worried about losing the benefits of those high-intensity sweat sessions? Don't be.
'Light cardio training maintains heart and lung health, can help lower blood pressure, and boost your mood,' says Robbins. It can also be a fun, sociable experience - look for group spin sessions or aqua aerobics classes.
Alternatively, if you'd prefer to work out alone and in the comfort of your own home, consider investing in one of the best exercise bikes (or even the best elliptical machines, which also offer a low-impact cardio workout).
Brisk daily walks
A brisk walk has an array of health benefits – like cycling and swimming, it's easy on your limbs, and is also a great way to zone out with some music or a podcast. 'Getting outside in the elements boosts our mood and strengthens our legs and butt muscles whilst burning calories by firing up our metabolism,' says Eastwood.
Plus if you're looking to shed a few pounds, walking to lose weight can be a great place to start.
What's more, an English Health Survey study showed that people who regularly walk briskly for half an hour five days a week are likely to have a lower BMI than people who are less active.
Balance work
'One of the senses we lose as we age, unless challenged, is balance,' explains Meade. To combat this, incorporate simple posture exercises into your workout week, which will increase flexibility, improve posture, and aid sleep and relaxation.
Yoga and Pilates are highly recommended, especially towards the end of your day to help you truly switch off (we've picked the best yoga mats, in case you don't already own one.)
Alternatively, Meade suggests: 'Try simple exercises like standing tall with your arms at a 90 degree angle from the body, horizontal with the shoulders. Spin from left to right up to 21 times. Do not do this without help if you are already challenged! You can also practice standing on one leg and doing bird/dog pose for trunk stability.'
For more moves to try, take a look at our guides to flexibility stretches and yoga over 50.
Exercising over 50: expert tips
Be sure to move every hour
It's important to avoid long periods of inactivity. 'Sitting for long periods negates an hour in the gym, ' warns Lucinda Meade, a physiotherapist at holistic fitness specialists TwentyTwo Training. 'When you sit for long periods, your muscles start to break down and deliver fats into the bloodstream.'
Therefore, be mindful of being active throughout the day. For example, when you've been sitting for a period of time, get up and move above. A fitness watch such as the Apple Watch can help by sending you stand reminders every hour.
Breathe deeply
Make sure you're breathing correctly while exercising. Meade explains that 'breath holding and shallow breathing negatively affect your mood and therefore your ability to exercise effectively.' Long, slow and deep breaths are the way forward.
Mix things up
Variation is key, so try and combine a mixture of different forms of exercise throughout the week so you don't get bored. 'Exercise is vital for longevity because it stimulates your protective superoxide dismutase (SOD) system and reduces chronic inflammation, which is a key part of ageing,' says Meade.
Look after your knees
One of the most problematic injuries relating to exercise are those that impact the knees.
'Make sure that they don't fall in or out, putting stress on the joint,' advises Meade. 'For a few people, their natural biomechanics may mean that running is not a good option. If you have any doubts, get [your knees] checked out by a professional.' Runners should also ensure they're wearing shoes with suitable support - take a look at our guides to the best running shoes for men and the best running shoes for women.
Robbins adds: 'Try switching squats for a glute bridge, which recruits the same muscle groups as a squat but can be easier on the (knee and hip) joints.'
Exercising over 50: what to avoid
Long runs
You may want to think twice about signing up to a marathon if you are new to running. 'Long runs will stress our bodies,' warns Eastwood. 'They raise cortisol levels, put a lot of stress on our joints with the long term repetition, and also strip away muscle mass.'
Stick to shorter distances, or alternatively Eastwood suggests that 'fast walking can be more beneficial in the long run and less ageing.'
Heavy weights
Unless you are a seasoned weight trainer or you're working out with a PT, avoid lifting heavy weights. Using these without proper instruction and good technique can have significant negative effects.
Eastwood clarifies: 'Your musculoskeletal system will not be ready for the effort put upon it and this could cause injury and set you back with your training regimen and any other movement program.'
Plus, heavy weight lifting should always be approached with caution if you have high blood pressure.
Pushing yourself too hard
Eastwood explains why this is so crucial. 'At this age we should avoid putting too much stress on our joints, especially if we don't have the muscles or ligaments to support them. The fact is, our bodies are ageing so too much wear and tear is probably not a good idea. It's now all about balance and listening to our body's needs, as those needs may be changing each year.'
The same old routine
No matter what your age, your body needs variety. 'You might want to switch up your routine if you've been doing the same type of exercise every day. If you enjoy swimming, you also need to do weight bearing exercise that challenges your bones,' Meade recommends. Take a look at our list of perfect exercise pairings for ideas.
Fear of exercise
The final word goes to Meade, who explains we should combat any fears around starting a new program of exercise over 50. 'If we're basically well, our bodies are strong and they heal. The important thing is to prepare your body and be aware. Don't throw yourself into explosive movements or long lever exercises; always start small and build up.'
Kirsty is an accomplished journalist specialising in the wellness industry. She has previously written for titles including Grazia, Popsugar, Metro.co.uk, Elle UK and the Sunday Telegraph. You'll find her running around Windsor Great Park at 6am most mornings (before her toddler, Clementine Lilac, wakes up), followed by a virtual barre class with the team at Psycle London – where that barre burn is just so addictive. Kirsty loves to stock up on new activewear; because, let's face it, you can never have too many pairs of sculpting leggings. She's always keen to try/endure the latest workouts to come to London. Kirsty also enjoys rustling up nutritious family meals and indulging in her newfound hobby: flower pressing.