Develop your abs and build a stronger core with this 10-minute bodyweight workout
Work your abdominal muscle, challenge your core, and build a stronger trunk with this weight-free, no-repeat ab workout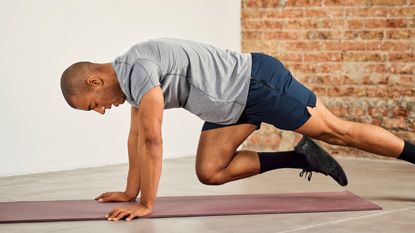 (Image credit: Getty Images)
If you're looking to build core muscle, you've probably already ticked off loads of the best workouts for abs. But you may also be looking for more variety than endless sit-ups and crunches to keep things interesting, which is where this 10-minute bodyweight core workout can help.
This short equipment-free routine, developed by YouTube fitness duo Tiff x Dan, helps strengthen your abs and builds your core without weights. It's an intense but quick routine you can do from anywhere, even when tight on time.
This makes it an ideal option when you're busy, traveling, or want a core-strengthening finisher for your regular workout. There are 20 ab-focused exercises, so you'll do each for 30 seconds with minimal rest to fit them all into a 10-minute session.
All you need to do is roll out a yoga mat if you have one for some support during the floor-based exercises. Dan demonstrates each move, so follow along to practice your technique, avoid injury, and get the most from your training.
Watch TIFF x DAN's 10-minute ab workout
The aim is to do as many repetitions as possible before the 30-second timer beeps, but focusing on your form is still important. This is especially true if you're new to ab workouts like these, as it's easy to arch your back accidentally rather than engage your core.
If you want to develop your technique, our guide to the best core workouts for beginners is a great way to learn the foundations of the practice, whether you're looking to build practical or visible muscle.
Your core comprises many major muscles, including your rectus abdominis (the six-pack muscle), your internal and external obliques, and your quadratus lumborum. This is why many people also use core workouts like Tiff x Dan's to develop a six-pack.
However, to get visible muscle near your midsection, you must also reduce body fat around your stomach. You can't spot-target specific areas, so it's also important to use high-intensity routines like a HIIT workout for fat loss to hit your goals sustainably.
And when you're finished training for the day, you can help your muscles repair by investing in one of the best protein powders for weight loss. Plus, you can blend the supplement into a post-workout smoothie for a drink you'll actually enjoy.
Get the Fit&Well Newsletter
Start your week with achievable workout ideas, health tips and wellbeing advice in your inbox.
Becks is a freelance journalist and writer with more than 7 years of experience in the field. She writes health and lifestyle content for a range of titles including Live Science, Top Ten Reviews, Tom's Guide, Stylist, The Independent, and more. She also ghostwrites for a number of Physiotherapists and Osteopaths.
Health has been a big part of Becks' lifestyle since time began. When she's not writing about the topic of health, she's in the gym learning new compound exercises. And when she's not in the gym, she's most probably reading.