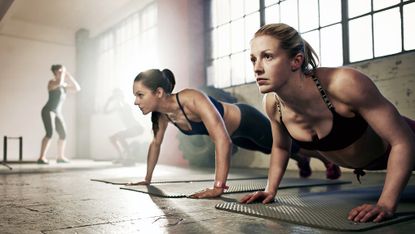 (Image credit: Getty Images)
Get the Fit&Well Newsletter
Start your week with achievable workout ideas, health tips and wellbeing advice in your inbox.
Thank you for signing up to Fit And Well. You will receive a verification email shortly.
There was a problem. Please refresh the page and try again.
Do you feel stuck in a workout rut, doing the same old form exercise week-in, week-out? We're here to help.
Whether you've been using one of the best fitness apps for at-home weight training, hitting the local park for an outdoor sweat session or doing group exercise classes online, if you're feeling fatigued then it's time to switch things up. Because, as the saying goes: a change is as good as a rest.
"Often when you start a new way of working out, you're spurred on by sudden and significant changes in your body" says personal trainer Jen Skym, who points to things such as increased stamina and strength or a general sense of wellness that comes thanks to all those endorphins released when you exercise.
"But before long, your body will get used to doing the same moves and your muscles will stop responding to the exercises in the same way, until you eventually reach a plateau," she adds. "That's when it's time to shake things up and get out of your comfort zone with a new workout."
Here, our experts reveal the exercise swaps that will give you the breakthrough you need to reach your fitness goals.
Exercise switch-up #1: Running > Boxing
You love: Running
"Regular running provides the body with consistent weight-bearing exercise that can help improve and maintain bone-mineral density, and reduce the risk of developing osteoporosis," says Alastair Crew, head trainer at David Lloyd Clubs. "Studies have also shown that this kind of aerobic exercise can relieve symptoms of stress and depression."
However, Alastair says runners often tend to neglect upper-body training and have little strength in their arms, which can make them more vulnerable to injuries.
"Incorporating strength training into your routine will help bulletproof your body against injury and help you run faster and more efficiently."
Try adding: Boxing
Boxing offers high-intensity conditioning that's easy on the joints and targets the upper body, explains Sarah Gorman, creative director at Spn.fit.
"It's an excellent total-body workout," she says. "Not only are you getting upper-body strength training, plus muscle tone and definition, it's also a major cardio workout – boxers never stand still!"
She adds: "Boxing is also a fantastic de-stresser – you're exercising the mind as well as the body, and it's great for improving hand-eye coordination."
Exercise switch-up #2: Weight training > yoga
You love: Weight training
Lifting weights is a great fat burner that builds strength and muscle mass, says PT Jen. "As you get stronger and build muscle, you burn more calories. But it's easy to get preoccupied with losing weight at the expense of good technique, which can lead to injury."
And if you're stressed out, then putting your body under further stress with intense cardio can spike cortisol levels. Too much of this stress hormone means the body gets confused and starts storing fat instead of using it as energy. Meaning your weight – and stress levels – stay high.
Try adding: yoga
Adding yoga to your exercise routine could be the secret to breaking through your workout wall, says yoga teacher Carolyn Cowan.
"Doing the same thing over and over can get us very 'stuck' and very bored. Yoga elongates and opens up the muscles, whereas weightlifting contracts them.
"Often we can be very external in fitness and too focused on the end goal. Yoga is gentler on the body than intense cardio and it teaches you to relax, so it's a total mind-body workout."
If you're new to the practise, see our guide to the best yoga mats to help you get started at home.
Exercise switch-up #3: Zumba > HIIT
You love: Dance classes
Doing high-energy dance classes like Zumba or Beatz is brilliant for getting the heart rate up and blasting calories. Plus, because it's fun and often set to pumping pop songs, you're more likely to come back each week," says dance teacher Jayne Attwood.
"It's a really good place to make friends, but sometimes it can be hard to find a whole hour spare to dedicate to exercise." What's more, dance classes typically thrive off the energy in the room - which, in the current climate, is difficult to replicate. Leaping about your living room isn't quite the same.
Try adding: HIIT
Too busy to exercise? A good HIIT workout (AKA high-intensity interval training) burns fat in as little as 15 minutes.
"The idea of HIIT is to push your body as hard as possible for a short blast, followed by a recovery interval (usually 20 or 30 second reps with a rest period of 30 seconds)," explains Jen Skym, who specialises in pre and post-natal HIIT workouts. "This raises your metabolism and increases your muscles' ability to use oxygen, which helps to burn calories."
Jen adds: "You get the benefits of traditional cardio, but in less time, so it's a far more efficient way of working out. Shorter blasts of exercise mean longer recovery times, too."
Exercise switch-up #4: Team sports > Crossfit
You love: Team sports
Team sports aren't just a fun way to get fit and hang out with your mates; research has found that they can also enhance feelings of belonging and peer bonding, which are crucial for good mental health.
Mikki Austin, player/coach at the UK's Surrey Storm netball club, explains: "One of the main reasons why I've played at an elite level for almost a decade is the team aspect. While training is hard, the one thing that pulls you through is that you're not doing it alone.
"It's a way to socialise without alcohol and is really good for releasing stress or anxiety," she says. "But not everyone has the time to devote to training and matches, especially if they have children."
Plus, with Covid-19 disrupting both elite and social sports, team pursuits are very much on the back burner at the moment.
Try adding: CrossFit
If you love the social side of team sports, but find it hard to commit to the unsociable hours - or currently can't play because of Covid - then CrossFit might be worth a try. "This class-based workout cherry-picks the best, most effective aspects of lots of different sports – from cardio and heavy weights to mobility work," says Chris Cothliff, CrossFit coach at Odin RX Fitness.
"Classes are done in a group setting, so they're great for making friends and cheering each other on in the same way as team sports. CrossFit is also really good for increasing strength, heart health, muscle mass and improving mobility."
Many CrossFit gyms across the globe have now adapted to the current climate, adopting Covid-secure practices to ensure group classes are safe for all. And, if you're still not ready to go back to the gym, various outlets offer CrossFit sessions online. See crossfit.com for more details - and make sure you have the correct footwear with our pick of the best cross training shoes.
Exercise switch-up #5: Spinning > Swimming
You love: Spinning
"Spinning (whether done in a class or at home on one of the best exercise bikes) is great for torching calories and improving heart health," says health and wellness coach Israel Rivera. "But if you spend all day sitting at your desk, then it may not be a great exercise choice for you," he warns.
"We're hunched over our keyboards, and then doing the same in a spin class, hunching over our handlebars, tensing our shoulders and keeping our hips flexed while seated.
"Bad posture and riding technique are often culprits of lower-back and shoulder pain. All the more reason to strengthen our upper back muscles, stretch our legs, hips and upper body," says Israel.
Try adding: Swimming
The solution? Swimming, which "uses almost all the muscles, without placing stress on the body and is a great cardiovascular workout," explains Anna Payne, founder of Scotland's Merbabies Swim School.
"As our bodies have such a high water content, we're quite buoyant when we swim, so body weight doesn't impact activity in the same way that it does on land. Equally as we age, swimming will not 'wear out' your body over time in the way other sports might."
Anna says swimming has huge mental-health benefits, too – research in 2018 by Swim England found it reduced the symptoms of anxiety and depression for 1.4m people.
Anna adds that swimming for half an hour three times a week can lower stress levels, raise mood and improve sleep.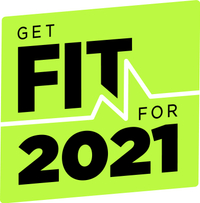 Get Fit for 2021 with Fit&Well
As the sun rises on a brand new year, Fit&Well is here to help put last year behind you and make 2021 your happiest, healthiest yet. Here at fitandwell.com, we'll be bringing you a wealth of workouts, diet plans and expert advice throughout January to help kick-start your health and fitness goals.
Get the Fit&Well Newsletter
Start your week with achievable workout ideas, health tips and wellbeing advice in your inbox.
Maddy Biddulph is a freelance journalist specializing in fitness, health and wellbeing content. With 25 years in consumer media, she has worked as a writer and editor for some of the bestselling newspapers, magazines and websites in the US and UK.
She is also a qualified L3 personal trainer and weight loss advisor, and helps women over 40 navigate menopause by improving their physical and mental strength. At Maddy Biddulph Personal Training, she runs one-to-one and small group training for menopausal women who want to get fit to ease symptoms and feel like themselves again.