Looking for a knee-friendly workout? Try this 30-minute HIIT calorie burner
You can burn up to 350 calories with this low-impact workout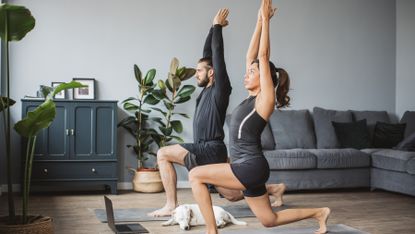 (Image credit: Getty)
It can sometimes be tricky finding a workout that is friendly on the joints, helps you get a proper sweat on, and burns fat at the same time. Fortunately, you can still burn calories without lots of jumping and burpees. You can use this 30 minute all standing HIIT workout.
Anyone who has experienced joint pain will know how it can interfere with your everyday life and will limit what kind of exercise you can manage. As well as taking some form of pain relief, such as one of the best supplements for joints, low-impact workouts can also help you out as they help keep joint stress low while you exercise.
This 30-minute workout, shared by personal trainer Eleni Fit, includes a mixture of cardio-based movements all performed standing up. This means there is no jumping down to the ground. If you like to have as much support beneath you as possible when working out, then it's worthwhile placing one of the best yoga mats under your feet to provide extra cushioning as you move through the exercises.
Eleni is also a qualified Pilates dynamic reformer instructor and a yoga teacher, so she is well clued up on the importance of strengthening muscles around the joints and the most appropriate movements for this.
She wrote in her caption that 'this knee-friendly workout is intense so do make sure you have some water nearby' (you can find one from our roundup of the best water bottles for the gym). Throughout the session, you will work on an exercise for 50 seconds and take 10 seconds rest in between.
The rough measure of calories you can burn doing this workout is 350 calories, which is pretty impressive for just 30 minutes of exercise. But it's important to note that this will depend on how much you put into the routine, body composition, and fitness level.
If you want a more personalized and accurate measure of how many calories you are burning when you exercise, some of the best fitness watches offer this alongside various other fitness metrics tailored to you.
Low-impact cardio workouts are also a great way to improve muscle and joint strength. Cardio will increase your heart rate, which gets your blood pumping and encourages your lungs and heart to function more effectively to deliver oxygen to your muscles, helping your body take on more strenuous activities without tiring.
You can always use some of the best resistance bands in your joint-friendly workouts to add an additional force. The resistance will help with strengthening your muscles but isn't as demanding as using heavyweights.
Jessica is an experienced fitness writer with a passion for running. Her career in journalism began in local news and she holds a Masters in journalism. Jessica has previously written for Runners World, penning news and features on fitness, sportswear and nutrition.
When she isn't writing up news and features for Fit&Well covering topics ranging from muscle building, to yoga, to female health and so on, she will be outdoors somewhere, testing out the latest fitness equipment and accessories to help others find top products for their own fitness journeys. Her testing pairs up nicely with her love for running. She recently branched out to running 10Ks and is trying to improve her time before moving on to larger races. Jessica also enjoys building on her strength in the gym and is a believer in health and wellness beginning in the kitchen. She shares all of this on her running Instagram account @jessrunshere which she uses for accountability and for connecting with like-minded fitness lovers.