NHS Weight Loss Plan: How to log your workouts, food diary and more
The NHS Weight Loss Plan is the UK government's free app to aid you on your weight loss journey. Here's how it works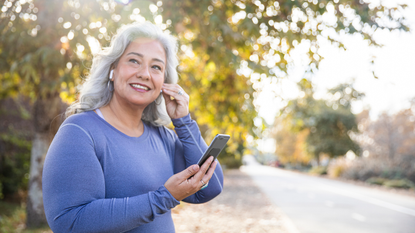 (Image credit: iStock)
The UK government's new Better Health initiative is an attempt by Prime Minister Boris Johnson to curb the UK's mounting obesity problem. the initiative is said to be inspired by his own health difficulties in hospital, as complications arose due to his weight.
As well as encouraging GPs to prescribe cycling as a treatment for obesity-related complications, as part of the Better Health initiative the NHS has developed an all-new app. The NHS Weight Loss Plan is free to download on both the Apple App Store and Google Play Stores.
But how exactly is an application on your phone supposed to aid weight loss? We show you what's inside the app and how to use it to start logging your calorie intake, BMI and exercise routine.
Eventually, you might find the app doesn't give you enough information about your own body: You might want to look for other metrics to improve, such as your heart rate and sleep cycles. Should that be the case, our Best Fitness Tracker guide is the place to be for you.
NHS Weight Loss Plan: Is it for me?
The NHS Weight Loss Plan is a totally free app, so there's no barrier to entry as long as you own a smartphone. It's a 12-week programme designed to help you record the food you eat, encourage you to do more exercise and track your progress.
Many people try and lose weight without keeping food diaries, but without recording your progress, your programme might not have enough structure to show consistently good results. In one study of nearly 1,700 participants, those who kept a food diary lost twice as much weight as those who did not.
When you first log into the app, you're asked to enter your height, weight, age and a few other vital stats. The app will use this to calculate your body mass index, or BMI, an approximate measure of a "healthy" weight.
It's not perfect – it doesn't take lots of muscle into account, for example, so big rugby players would be considered "overweight" despite being very fit – but it is a very good indication of where the average person lies. If you're considered "overweight" or "obese" and you've never kept a food diary before, it's likely you could benefit from the app's content.
NHS Weight Loss Plan: How does it work?
The NHS Weight Loss Plan gets you thinking about your diet, eating less junk food and consuming more healthy stuff, in addition to charting your workouts over the course of 12 weeks. By the end of the 12-week period, it's hoped you'll have lots of information and the tools to continue living a healthy lifestyle, having snapped out of some bad habits that were holding you back.
Browsing through the "discover" section of the app, we can see the NHS Weight Loss Plan has plenty of advice, from simple ways to get your five-a-day to choosing healthier takeaways. It's got a "Movement Motivation" section to keep your exercise plan on track, and advice on how to deal with common weight loss pitfalls, like weighing yourself too often.
However, the core section of the app is the diary. This allows you to input your weight at the start of the week and keep track of what you eat and drink. You have simple "tickboxes" to represent your five a day, which you can add as you consume them, and you add in your total calories for that day and include any exercise you did. At the start of the next week, you put in your weight again and are able to measure your progress week-to-week.
It's not the most high-tech fitness app we've ever seen, but as a free piece of software, the NHS Weight Loss Plan is a perfect "first fitness diary" for people who perhaps have tried to change their lifestyle before, but haven't gone about it in a structured, logical way.
NHS Weight Loss Plan: What happens after?
If you manage the whole 12 week plan, congratulations! If you've seen noticeable improvements by only measuring your calories, body weight and BMI, the next step is to add more information.
Purchasing a fitness tracker, such as one of our best cheap Fitbit deals or even a smartwatch, will provide you with heart rate, sleep data and lots more. Even if you're only just starting the plan, this additional data can be very useful, showing your disturbed sleeping patterns after consuming late-night junk food, or tracking your heart rate during a run.
If you purchase a Fitbit, consider the company's matching Fitbit Aria scales, which automatically sends your weight and BMI to the Fitbit app, so there's no more need to input the information manually.
Shop the best Fitbits below:
Matt Evans is an experienced health and fitness journalist and is currently Fitness and Wellbeing Editor at TechRadar, covering all things exercise and nutrition on Fit&Well's tech-focused sister site. Matt originally discovered exercise through martial arts: he holds a black belt in Karate and remains a keen runner, gym-goer, and infrequent yogi. His top fitness tip? Stretch.