Peloton wearable bands leak – here's everything you need to know
Peloton could be releasing a digital heart rate armband in the very near future. Here's all the info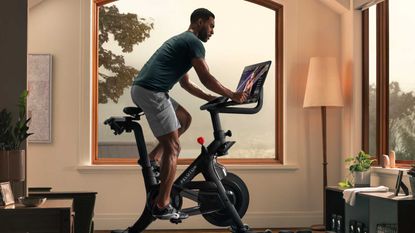 (Image credit: Peloton)
Just when you think the Peloton empire couldn't get any bigger, news has been leaked that they could be moving into the wearables market - with a heart rate monitor for the arm.
Some of the best heart rate monitors, worn on the wrist or chest, detect the number of beats our heart takes per minute, allowing us to understand the benefits of exercise - and this new wearable from Peloton could do the same.
According to Bloomberg the wearable could come in two different sizes and will be compatible with Peloton's spinning bikes and treadmills. While of course, the heart rate monitor will also pair with the Peloton app.
The news hasn't been officially confirmed by Peloton yet, but the brand bought out a fitness wearables company called Atlas Wearables last year. Atlas are known for making heart rate tracking devices - so it looks very likely.
However, a Peloton spokesperson told CNBC that the company's research and development team is "always working on ideas, and we have no updates to announce at this time."
Peloton currently sells a $49 chest heart rate monitor, but this new heart rate armband is set to go further - tracking how intense the user's workout is and also featuring a small screen on it.
The fitness company currently offers an array of home workout options - with the Peloton bike, which was their first offering and was in high demand during the pandemic. Peloton has since introduced the Peloton Tread, which along with the bike, can be synced to its fitness app for live workouts. There are 14 spinning classes streamed live every day, plus an archive of past ones you can revisit, conducted by Peloton trainers.
Last week Peloton was hit with reports that their bikes were a target for hackers. The report released by McAfee flagged a "flaw" the cybersecurity company's team had uncovered in Peloton's software that left users potentially to attacks. The report found that it was theoretically possible for hackers to use the bike's screen to watch and listen to riders via its camera and microphone, and install bogus apps onto the machine which might then prompt users to enter their personal details.
However, it's important to note that the report was specifically referring to the Pelton+ bike, the brand's advanced $2,495 machine that is more typically found in gyms and hotels - and not the standard Pelton bike (which has a spot on our list of the best exercise bikes).
Sarah is a freelance journalist who writes about fitness and wellbeing for the BBC, Woman&Home and Tech Radar. During lockdown she found her love of running outside again and now attempts to run around 50 miles a month. When it comes to other fitness, she loves a sweaty cardio session – although since she's been working out from home she's sure her downstairs neighbors aren't too happy about it. She also loves to challenge herself - and has signed up to do hiking holidays, intense bootcamps and last year she went on her dream activity holiday: paddle boarding around deserted islands in Croatia. On her rest days, she loves to recover with a simple yoga flow session – the perfect antidote to her active fitness schedule.