Fiit vs Peloton: which home workout app is best for you?
They're two of the best fitness apps around, but which comes out on top - Fiit or Peloton?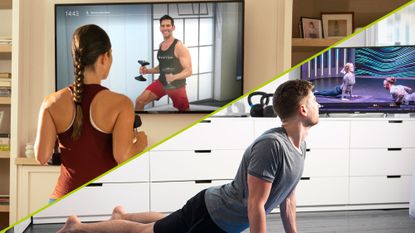 (Image credit: Peloton / Fiit)
With gyms closed and many of us in lockdown, home workouts have never been more in demand - prompting a surge in downloads of the best workout apps.
Fiit and Peloton are two leading names in home fitness apps that have unsurprisingly seen a surge in members since the start of the pandemic - a testament to their first-rate live classes and on-demand sessions with trainers who know how to work you hard from behind a screen.
Both have legions of dedicated fans, with Peloton even producing a range of branded clothing for its users to show their allegiance. But if you're considering joining up, how do you know which app is right for you?
Below, we weigh up Fiit vs Peloton from a variety of angles to help you decide...
Fiit vs Peloton: Range of workouts
Both apps offer a wide variety of classes, including strength, cardio and stretching classes.
Classes on Fiit come in 10, 25 and 40 minute sessions, ranging from beginner to advanced. Most classes can be done without equipment, but they do have specific classes incorporating items such as kettlebells, dumbbells and resistance bands.
The app has also recently added barre classes, ballet-inspired workouts that are low-impact but high intensity. Their 10-minute abdominal and stretching classes are also great if you're having a rest day or want to add on a class after a longer one.
Meanwhile, as makers of the Peloton Bike, Peloton is perhaps best known for its spinning classes. The company also recently released a treadmill, Peloton Tread. As a result, there's a wealth of bike and tread sessions available, ranging from low-impact to bootcamp.
However, you don't need to own one of their machines to join - any stationary bike or running machine can be used. If you're considering purchasing one, we've picked the best exercise bikes and the best treadmills for home use.
A neat option in the Peloton app is their audio running classes – almost like a running PT in your pocket as you train outside.
The options don't end there though, with HIIT, strength, yoga and even meditation sessions available. Cardio classes last between five and 30 minutes, while strength classes run up to 45 minutes. Both cardio and strength offer options with or without weights.
Fiit vs Peloton: Instructors
As you can imagine both apps have smiley, bouncy instructors who train alongside you, offering encouragement and motivation along the way.
You'll probably recognise many of the Fiit app instructors from Instagram – their master trainer is Adrienne Herbert, who was a PT and fitness influencer before she joined Fiit, while Cat Meffan is known for her yoga and Gaby Allen is a fitness influencer who appeared on Love Island UK.
The Peloton app meanwhile has a wide variety of male and female American and English instructors who, once again, are motivating and encouraging.
Becs Gentry, who instructs a lot of the audio running classes, is very clued up when it comes to pace, intervals and form. So, if you're looking for a running coach or you're new to running she'll ease you in gently and have you running at your best ability in no time. But there are a range of personalities to choose from, so you're sure to find your favorites.
Fiit vs Peloton: Fitness tracking
Both apps have heart rate monitors that are available to buy separately. They pair with the apps and help you track your HR and calories as you work out.
Both apps also connect to the best fitness trackers such as the Fitbit (Versa 3 or 2, Versa, Versa Lite, Ionic or a Sense) watches and Apple Watch, to help you measure metrics such as distance travelled and calories burned.
Fiit vs Peloton: User experience
The layout for the Fiit app is very easy to navigate. When you sign up to any challenges, such as their current Winter Burn program, your progress is highlighted first, then you can scroll down for a selection of different classes to choose from. If you have a favorite teacher you can also choose a class based on who you prefer teaching you.
All their on-demand classes are filmed in a studio, which gives it a professional feel. You can also sign up to live classes throughout the day and compete against other users or schedule a class with a friend, which adds a nice touch of interactivity - especially at the moment.
The Peloton app is quite a similar layout, giving you a simple class choice when you first open the app, while you can also easily click to explore different programs, collections and the live class schedule. Once you click into a class category choice it's easy to filter by instructor, class length or level.
Once you start a class, you'll see the instructor fill the screen, with other info such as leader boards visible on the right of the screen. If you're streaming it via the app on your phone you can easily connect to your TV with Chrome, giving you a more integrated experience.
Fiit vs Peloton: Value for money
Prices vary for the Fiit app depending on how often you pay. A yearly subscription offers the best value for money, working out at £10 a month - although you do have to pay £120 up front. (For non-UK users, the prices convert to your local currency on checkout.) If you prefer to pay monthly it's £20 a month, but you do have the option to opt-out whenever you want.
Either way, it's definitely most cost-effective than a gym membership or paying for individual studio classes, and represents great value for money. A 14-day free trial is also available.
The Peloton free trial offer is slightly more generous: anyone can get 30 days absolutely free. After that you'll pay $12.99 (plus tax) / £12.99 each month.
Alternatively, if you're already a Peloton Bike or Tread user, then access to the Peloton app is included in your All-Access Membership ($39.99/£39 a month), the subscription fee you pay on top of the cost of the bike or treadmill. This option allows you to set up multiple profiles for your household so you can all access content on your Bike/Tread or via the Peloton App.
Fiit vs Peloton app: Verdict
Both apps have well-thought-out layouts and a large selection of classes to choose from, so you're unlikely to get bored of doing the same class every week.
If you have a home gym set-up including a bike or treadmill (or you're planning on purchasing one of theirs), then Peloton is probably the app you'll benefit from the most – because as well as cardio, strength and yoga you can jump into one of their spinning or running classes. The audio running sessions are a great addition too.
However, if you're new to fitness or don't have much space, then the Fiit app is great - as all you need is your device and a clear space to be able to do a full workout, in less than an hour, wherever you are.
Get the Fit&Well Newsletter
Start your week with achievable workout ideas, health tips and wellbeing advice in your inbox.
Sarah is a freelance journalist who writes about fitness and wellbeing for the BBC, Woman&Home and Tech Radar. During lockdown she found her love of running outside again and now attempts to run around 50 miles a month. When it comes to other fitness, she loves a sweaty cardio session – although since she's been working out from home she's sure her downstairs neighbors aren't too happy about it. She also loves to challenge herself - and has signed up to do hiking holidays, intense bootcamps and last year she went on her dream activity holiday: paddle boarding around deserted islands in Croatia. On her rest days, she loves to recover with a simple yoga flow session – the perfect antidote to her active fitness schedule.