Running: This phone-holding workout vest is 100% better than an armband
The Freetrain V1 and Freetrain VR workout vests keeps your phone, keys and other items safe. Our writer took it for a spin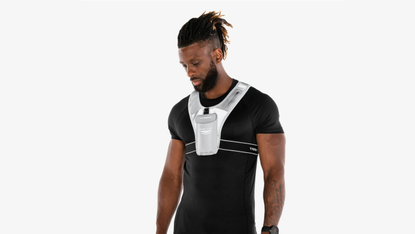 (Image credit: Freetrain)
I've been trying to find a good solution to hold my phone during workouts for ages. I've used several different armbands through the years, as my phone changed in size with every upgrade. These were never a good solution: for running, I always felt a slight imbalance, especially as my phones got bigger, while for strength training, bands were extremely impractical when practicing upper-body resistance work. The last thing I wanted was a tight cuff around my bicep and tricep.
In pockets, my phone and keys bounced around my running shorts, and would occasionally fall out during tricep dips or crunches. I would also occasionally be caught out when the only clean workout kit I had was pocketless.
The only thing I hadn't tried yet was a specialist training vest. So when I began to test the Freetrain VR vest, I was fervently hoping my long search was over – and it is.
Freetrain VR vest: First impressions
The Freetrain vest comes in two varieties: the all-black Freetrain V1 vest, and the reflective Freetrain VR vest, both £29.99. The all-black one certainly looks a bit more "tactical", but the VR vest is designed to be reflective, so you can run at night in safety. Given that it's winter and night starts around 4pm these days, we opted to test the reflective VR model. Other than the aesthetics and materials, both vests are identical in design and function.
The vest sports a simple but elegant one-size-fits-all design. The canvas vest goes over your head, while an elastic strap which can be tightened or loosened goes under the arms. Your phone and/or credit card goes in a pocket in the centre of the vest, while a zip-pocket on the left shoulder acts as storage for a key.
The genius bit is that the centrally-located phone pouch is fastened to your chest by a canvas flap at the bottom and a popper button at the top. If you want to change the running app or workout playlist, or answer a text, you can simply undo the popper-button and your phone will flap free, revealing the usual touch-screen-friendly plastic interface you might find on an arm band.
Freetrain VR vest: Performance
I took it on one of my usual short running route, once at lunchtime and again later in the evening, in the dark, to test its reflectiveness. It feels a little awkward, not to mention conspicuous at first – like a baby-bjorn for your phone – and it felt very tight.
However, one thing I couldn't feel was any bouncing around on my chest. My phone was positioned smack-bang in the middle of my solar plexus, and it honestly felt very liberating to have both arms at equal weight or not to be reflexively checking my pockets. The popper-fastened pouch is a neat way to provide access to your phone on the fly without making things fiddly, and it was incredibly intuitive to use on the go.
Typically for the UK, I was rained on halfway through my night run, but my phone was hardly the worse for wear thanks to the Freetrain's water-resistant outer coating. I'd tried a few cheap reflective straps before (one I'd broken within minutes, when taking it off wrong after my first run), but it felt comforting to have a secure, reflective chest piece to see me through the rainy London nights in safety.
Freetrain VR vest: Verdict
I loved the Freetrain's design and function. That initial tightness and unfamiliar feeling subsided quickly: by the end of my first 25-minute run, I had almost forgotten it was there, which is really the highest praise I can give it after all this talk about conspicuous armbands throwing me off my gait.
I've not tested it out during a resistance training session yet, but I think this might be the outdoor pull-up solution I've been waiting for. I would not use it in a free-weights-heavy, gym-based environment though: any time you're pressing a weight away from your chest, or clutching a kettlebell or med ball to your abdomen, you risk putting pressure on or damaging the phone. The pouch is a snug fit, but it's not a hard case, and it won't stand up to the weight of a barbell.
For most people, their phone, key and maybe their card will be all they need to take with them on a run, but as an asthmatic, I always have an inhaler on hand during a run. Without an additional pouch, it inevitably ends up in my pocket, and there was no extra storage on the Freetrain. However, even though I would have liked another pouch, I understand for the majority of users, phones and keys are all you need.
If you're still using an armband, or, even worse, your pockets, it's time to ditch it in favour of a workout vest. Placing your phone directly in your centre of gravity was a game-changer for me, and it will certainly do the same for you. And based on my first go-round with the VR, I can highly recommend the Freetrain line of vests.
Liked this?
Get the Fit&Well Newsletter
Start your week with achievable workout ideas, health tips and wellbeing advice in your inbox.
Matt Evans is an experienced health and fitness journalist and is currently Fitness and Wellbeing Editor at TechRadar, covering all things exercise and nutrition on Fit&Well's tech-focused sister site. Matt originally discovered exercise through martial arts: he holds a black belt in Karate and remains a keen runner, gym-goer, and infrequent yogi. His top fitness tip? Stretch.