Stainless steel vs plastic water bottles: what's best for your workout?
Weighing up the pros and cons of stainless steel vs plastic water bottles? We're here to help...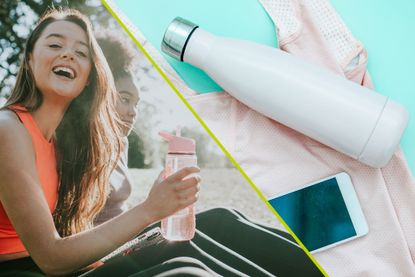 (Image credit: Getty Images)
Get the Fit&Well Newsletter
Start your week with achievable workout ideas, health tips and wellbeing advice in your inbox.
Thank you for signing up to Fit And Well. You will receive a verification email shortly.
There was a problem. Please refresh the page and try again.
With so many water bottle options on the market nowadays, how do you know which one to choose? There are many questions people generally ask, but one of the most prevalent ones is stainless steel vs plastic bottles: which is better? And ultimately, what's the best water bottle for the gym?
Further questions inevitably follow. What is the most environmentally-friendly? What's the most durable option? Are they both dishwasher safe? And so the list goes on…
One thing's for sure: with the fight against single-use plastic very much alive and well, investing in a reusable bottle of some description is a must.
To save you from water bottle exhaustion, we've put together a handy guide to choosing the best bottle for you, which will hopefully quench your thirst for knowledge (see what we did there?) once and for all.
Stainless steel water bottles: the pros
Can handle hot and cold drinks
Many stainless steel bottles on the market today have a major advantage over their plastic competitors in terms of keeping drinks both cool or hot, depending on what you store inside - just look for a bottle with thermal lining. This can be particularly handy when you're out adventuring - check out our edit of the best water bottles for hiking if that's your bag.
If you often find yourself constantly replacing your water bottle due to accidentally dropping them, fear not. Stainless steel bottles are durable, robust and many are leak-proof - you can expect them to last for a significant period of time without any wear or tear, presuming you follow all the care instructions.
Many stainless steel water bottles are free of BPA (a chemical often found in reusable food and drinks containers that has health risks associated with it) so it's always advisable to seek out an option that is free from BPA.
Owning a reusable water bottle is obviously a great step in the right direction when it comes to reducing plastic consumption, but many major players in the stainless steel bottle have committed to make a difference in other ways, too.
For example, S'well - a brand focussed on ridding the world of single-use plastic bottles - has partnered with Unicef, committing $1.4million since 2017 to help provide clean and safe water to the world's most vulnerable communities. In 2020, S'well's focus was on supporting water programs across Madagascar – a country where nearly 50% of the population lacks access to clean drinking water.
Stainless steel water bottles: the cons
If your stainless steel bottle has a thermal lining, then it will most likely require you to wash by hand. If you are a regular exerciser, this adds to your list of chores as you have to factor in daily cleans - and can't take the easy option of sticking it in the dishwasher.
Another potential negative to bear in mind is the fact that stainless steel is a lot heavier material than plastic, so be prepared for the fact that your handbag or gym kit will be more bulky. Although we'd argue that the added weight only adds to your workout - right?
One of the issues many customers complain about after purchasing a stainless steel bottle is the metallic casing can alter the taste of the beverage contained within it. One solution for this is to invest in a trusted market-leading brand, but that comes with a hefty price tag.
Another issue customers have pointed out is that the steel area of the screw-on lid can rust. We would definitely advise caution in keeping that area extra clean with a thin brush when washing, or you can opt for a drinks bottle brush specifically targeted at cleaning stainless steel bottles.
Plastic water bottles: the pros
When searching for a reusable plastic bottle, the main thing to consider is to pick a durable, shatter-resistant material, which ideally makes use of sturdy plastic polypropylene and is also BPA-free, as it goes without saying that many plastic bottles aren't as robust as stainless steel bottles.
The major plus point for choosing plastic over stainless steel is the fact that you don't need to factor in extra cleaning time. The majority on offer are dishwasher-safe, which is a winner in our eyes.
Plastic water bottles are notoriously more lightweight, so you won't ever fear the bottle weighing your kitbag down.
Whilst a stainless steel bottle can set you back $30 / £20, you can pick up plastic water bottles for a fraction of this price - from as little as a couple of bucks.
There are endless options for water consumption with plastic bottles. Choose from a traditional screw-on cap, a flip-up nozzle with a straw, a rotating collar, push button lids, and clip and lock mechanisms to avoid leaks. Some options even feature a hydration tracker, so you can keep an eye on how much water you consume per day.
Plastic water bottles: the cons
Don't retain low temperatures
A plastic bottle won't keep your drink cool for long - although you can keep your beverage chilled for longer by adding ice cubes to your bottle. Look for styles with a wide neck if you plan on doing this.
If you like vibrant prints and colourful designs, over time these can appear faded after regular dishwasher cleaning. Also, depending on which cap design you go for, these can be broken easily with wear and tear. We recommend opting for a traditional screw top design to maximise the lifespan of your bottle.
Some can be a tad on the flimsy side
You have to really do your research to find a sturdy plastic water bottle, as so many models can feel flimsy and can crack with one accidental drop on the floor. Finding one that doesn't leak or spurt water out when you open up a certain cap design can be tricky, as many users have reported in the past.
Stainless steel vs plastic water bottles: final thoughts
After factoring in all of the above, it's easy to see how each bottle material has its positives and negatives. If you prefer to keep your drinks nice and cool (or, conversely, hot), then stainless steel is always going to be the more favorable choice.
However, if you prefer a lighter option that you can carry in your bag without adding to your load, then plastic is a winner. Plus, the price tag is often more appealing - despite the designs on offer not being quite as Instagram-friendly.
Whatever your choice, you are helping to win the fight against single-use plastic, but just remember to fill your water bottle up at home before heading to the gym - as, due to Covid-19, free water-filling stations are currently few and far between.
Get the Fit&Well Newsletter
Start your week with achievable workout ideas, health tips and wellbeing advice in your inbox.
Kirsty is an accomplished journalist specialising in the wellness industry. She has previously written for titles including Grazia, Popsugar, Metro.co.uk, Elle UK and the Sunday Telegraph. You'll find her running around Windsor Great Park at 6am most mornings (before her toddler, Clementine Lilac, wakes up), followed by a virtual barre class with the team at Psycle London – where that barre burn is just so addictive. Kirsty loves to stock up on new activewear; because, let's face it, you can never have too many pairs of sculpting leggings. She's always keen to try/endure the latest workouts to come to London. Kirsty also enjoys rustling up nutritious family meals and indulging in her newfound hobby: flower pressing.