Strengthen your whole body in just 30 minutes with this no-equipment workout
You don't need weights to build full-body strength, just this 30-minute bodyweight routine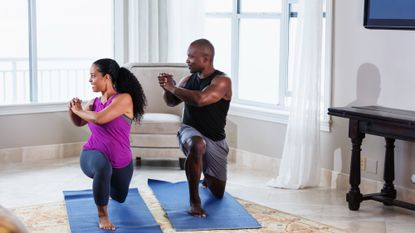 (Image credit: Getty Images)
If your week is looking a little busy and you think you might need to skip the gym, not to worry, you don't need to skip your workout altogether.
This 30-minute bodyweight routine from NASM-certified personal trainer Sydney Cummings Houdyshell requires absolutely no equipment but still promises to give you a full-body workout.
While you won't need weights like kettlebells for this workout, if you're working out on a hard floor or experience sore joints it's worth investing in one of the best yoga mats for a supportive, comfortable and grippy underfoot experience.
If you're looking for more of a challenge, copy Cummings Houdyshell and add a light or medium resistance band into a few of the moves near the end of the routine to increase the load on your muscles, but this isn't mandatory.
For this workout you'll do three exercises in a row for 30 seconds each, then take a short rest before repeating for three rounds of each circuit. The aim is to focus on a particular muscle group or body part in each three-move circuit.
Watch Sydney Cummings Houdyshell's 30-minute workout
If you want to get the most from your training, it's important to focus on your form. Fortunately, Cummings Houdyshell demonstrates each of the moves, so you can practice your technique before starting.
The routine begins by working the lower body with movements such as lunge hops before moving onto upper body and core movements. It also uses isometric exercises such as squat holds, plank holds and v-sit holds.
Isometric moves are designed to hold your body in a set position and work a specific muscle—your muscles are contracted, but there is no movement in the joints. This makes them a great option to create muscular endurance and stability.
But these movements can be quite different to how we use our bodies in everyday life, which is why you'll likely feel sore the next day. This is known as delayed-onset muscle soreness (DOMS) caused by tiny tears in your muscle fibers.
To help your muscles repair and grow after a tough workout, it's important to help your body recover, either by giving yourself a quick massage with a foam roller, or taking a post-workout shake with one of the best protein powders for weight loss.
Lois Mackenzie is a fitness writer producing news, features, buying guides and reviews for Fit&Well and sister site Coach. She is an avid runner and hill walker, and can often be seen sporting her trusty waist lead as she trains for her first marathon with her two border collies in tow. Lois has a Master's in Digital Journalism from Strathclyde University and was previously a senior SEO reporter at Newsquest Media Group.