Trail shoes vs running shoes: what's the difference and do you need both?
The running shoe market can be a confusing place. Here, we break down the differences between trail running shoes and road running shoes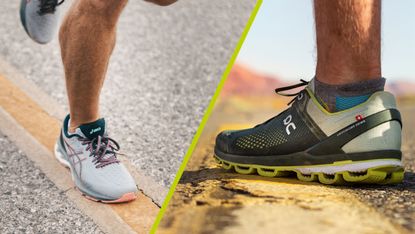 (Image credit: Unsplash (Jakob Owens & Kristian Egelund))
The running shoe market is growing year by year, and 2020 in particular has seen a huge growth in sales.
Brands such as On have reported a 200% increase in ecommerce sales, and Hoka One One's sales increased 75% during lockdown.
This is great for running, but if you are making your first foray into the running shoe market it can be an overwhelming and bewildering place. The sheer number of shoes available, via different brands, styles and types make it difficult to know where to start.
So we have broken down two of the main running shoe categories to help you make your decision: trail running shoes and road running shoes. The aim is to help you decide if you need to buy one for both types of terrain, or two separate pairs.
Most importantly, though, your choice of shoe should put a smile on your face whether you are running on road or trail.
For our money, the best running shoes for men right now are the Nike Air Zoom Pegasus Turbo 2, whilst our pick for best running shoes for women are the Brooks Ghost 12.
Meeanwhile, coming out top in our edit of the best trail running shoes are the On Cloudventure, which are great on rocky trails - but can also double-up for the road, too.
Confused? Read on to understand more about the difference between trail and running shoes...
When do you need road running shoes?
Road running shoes are designed to absorb the impact of harder asphalt surfaces such as pavements and roads. The midsole – the section that features most of the shoe's cushioning – is usually designed to cushion the foot on hard ground, and return a degree of energy to help boost your stride as you run.
The shoes themselves are generally lightweight, and constructed from breathable or meshed material that aids in releasing any build-up of heat. Many are now designed with one-piece uppers made from a single piece of material, with a sock-like fit that wraps tightly around your foot.
Some are designed for shorter distance running, such as 10k or 5k races, shedding all excess weight to help you shave off those precious few seconds. Others are intended for longer distances, such as half marathons or marathons. These will have more cushioning and bounce to provide support over 26.2 miles.
The latest cutting-edge technology that is becoming increasingly popular in the running market is carbon-fibre plates. Famously used in Nike's groundbreaking Air Zoom Alphafly Next% by Kenyan runner Eliud Kipchoge in his historic sub-2hr marathon in 2019, a carbon-fibre plate is built into the sole, and is designed to provide a significant energy return, acting almost like a spring.
The carbon plate addition proved so popular other shoe brands quickly released versions of their own models with different types of carbon within the midsole. These are aimed at runners wanting to go as fast as possible.
When do you need trail running shoes?
Compared to road running shoes, trail shoes are designed with more grippy soles to help take you off the pavements and into the fields and fells. They are designed to be grippier, longer-lasting, weatherproof and cushioned to help take you over whatever the trails throw at you, be it gravel, rocks, puddles or slippery tree roots.
The soles are often made with thicker, more durable rubber (often made by Vibram or Continental), which often wraps around the edges of the shoe for added grip. The uppers usually feature protective measures to stop tears from brambles and thorns.
They are often waterproof (some are constructed from Gore-Tex) to keep your feet dry when a downpour hits or you have to wade through a stream.
If you ever decide that you want to get out into nature and leave the roads behind, trail shoes are for you.
Can you buy one pair of running shoes for trail and road?
There are certain models of running shoes that are suited to both. Generally, they will be trail shoes that you then use on the roads rather than taking a pair of road shoes on the trails.
This is largely down to grip – many road running shoes have little, if any, grip as it is not required when running fast on concrete. However, when you are on the trails it's all about the grip. Most trail running shoes have 'lugs' on the soles. These are knobbly protrusions that help power you through muddy or slippery terrain.
These lugs can vary from a minimal grip of 1mm or up to a stud-like 8mm on inov-8's game-changing Mudclaws, which are designed for the absolute wettest, boggiest, claggiest running conditions. The longer the lugs, the less suitable they are for running on the roads, as they can be uncomfortable on flat, hard surfaces.
Trail shoes are also designed to offer more stability on uneven ground. The chances of turning your ankle on a rut or hidden rabbit hole are high when you're crossing fields and forests, so trail shoes are designed to offer stability to your ankles thanks to stiffer construction around the heels. This also means that the more you run off-road, the stronger your ankles will get, resulting in lower chances of injury.
Get the Fit&Well Newsletter
Start your week with achievable workout ideas, health tips and wellbeing advice in your inbox.
Howard is a freelance health and fitness journalist and copywriter. He has written for publications including ShortList, Runner's World, Trail Running, Women's Running, Red Bulletin, Wareable and Cycling Weekly. He enjoys nothing more than lacing up his trail shoes and heading out to explore new trails. He's run ultramarathons everywhere from the French Alps and Canadian mountains to the Welsh coast and Peak District. When not running, he's usually found hitting his local MTB singletrack trails or on a quest to find the country's best cinnamon bun.