Ativafit 55lb adjustable dumbbells review: A reasonably priced option for your home gym
The Ativafit 55lb adjustable dumbbell set is a compact option that will challenge any fitness regime.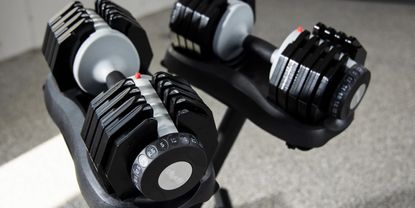 (Image credit: Ativafit)
A mid-range option with a small circumference and quick and simple adjustment design.
Reasons to buy
+

Easy to use

+

Has a variety of weight options

+

Comfortable soft-grip handle
Reasons to avoid
-

Design isn't as premium looking as other models

-

Button adjustment can be fiddly
Get the Fit&Well Newsletter
Start your week with achievable workout ideas, health tips and wellbeing advice in your inbox.
Thank you for signing up to Fit And Well. You will receive a verification email shortly.
There was a problem. Please refresh the page and try again.
The Ativafit 55lb adjustable dumbbells are reasonably priced, easy to use and comfortable in the hand. There's a lot to like about the model, particularly the comfortable grip of the bar which feels like it melts into your hand.
If you wanted to pick fault with the design, you could argue that it takes a little while to change the weight. You have to press a red safety button then turn a weight dial for it to change over – other dumbbells, like the Core Home Fitness bells, allow you to switch weight with a simple flick of the wrist.
But these weights are $100 cheaper than most premium designs, so what you lose in workout time you make up for in savings. As such, these could be the best adjustable dumbbells for you if you're looking for an adaptable set that doesn't cost the earth.
Ativafit 55lb adjustable dumbbells: Price
At $379.99, these dumbbells are cheaper than a lot of adjustable models – for comparison, a set of 55lb NordicTrack dumbbells will set you back by $499. If you're looking for something that's even more budget-friendly, you could pick up a pair of adjustable screw plate dumbbells for $100, but these are incredibly fiddly to change.
Ativafit dumbbells aren't available directly through the retailer in the UK but you can buy them via Amazon. A 25kg set will cost you around £325.99 and the lighter 20kg set costs £239.99.
Ativafit 55lb adjustable dumbbells: Weight range
We tested the Ativafit 55lb adjustable dumbbell set, which has a maximum weight of 55lb/25kg per dumbbell, giving you a total of 110lb/50kg across both the weights. The weight range goes up in increments of 5.5Ib/2.5kg (giving ten weights in one dumbbell) allowing for a versatile workout across everything from upper body to lower body exercises.
There are several other options in the collection. In the US, you can pick up anything from a beastly pair weighing 71.5lb/32.4kg to a much lighter 27.5lb/12.4kg. In the UK the range is a little more limited, but you can pick up either a 44lb/20kg model or a 55lb/25kg option.
Ativafit 55lb adjustable dumbbells: Design
The aluminium cradle and iron weight plates are coated in black, giving these bells a slick look. The only hint of colour comes from the light grey central plastic barbell, which unfortunately looks a bit cheap. That said, the central rubber coating feels like it melts into your hand and it's definitely more comfortable than some other models we tested, like the Bowflex 552 or Core Home Fitness dumbbells.
The iron weights plates are also pretty slim compared to the hefty looking Bowflex 552i and cumbersome Core Home Fitness. The dumbbells look super compact in their cradle, and aesthetically pleasing. Measuring L16.7in/42.4cm x W7.6in/19.3cm x H8in/20.3cm, they can fit snugly in the corner of the room or under a sofa.
Ativafit 55lb adjustable dumbbells: Set-up and features
There is no set-up for these, you simply lift them out of the box and away you go. Everything sits neatly in the cradle, then for weight changes you need to press the little red safety button with one hand and turn the weight dial with the other hand (at the same time).
The Dial-Tech system cannot change weights unless you perform these two actions, but it takes no more than a few seconds to complete. A click of the red button tells you when the weight has been adjusted, and you simply lift the dumbbells out of the cradle to use them. This is a relatively straightforward process, but not quite as simple as the mechanism of the Core Home Fitness dumbbells, which you change with a twist of your wrist.
The weight variation on the Ativafit dumbbells allow for some great progression with upper body exercises – we managed to take our tricep extension up by 2.5lb/1.1kg. However, there's unfortunately a lot of noise when using these. The weights are evenly distributed along the barbell, but they rattle a fair bit when you remove them from or insert them into the cradle, and also when performing moves. The loose plates in the cradle just don't seem secure, whereas the Bowflex 552i sit tightly in their base when not in use.
This set also comes with a wall planner, showing diagrams of different dumbbell exercises to try at home. It's double-sided but bizarrely has the same moves on both sides. Saying that, you still get 40 exercise suggestions which are split into upper body, core, back, lower body and total body. The diagrams are well-drawn characters, featuring two parts to each move and giving information about the muscles worked. This could come in really handy for beginners, or anyone who's stuck in a rut and in need of a bit of inspiration.
Ativafit 55lb adjustable dumbbells: Verdict
These are a super compact piece of kit to have at home. Smaller than some of the other cradle options on the market, they would suit someone with limited space. We loved playing around with the weight increments and seeing how many reps we could perform at higher weights until we had to switch back down. Thanks to the quick adjustment dials, this was made as simple as possible. It's just a pity that they rattle so much and are awkward to get back into the cradle.
Ativafit 55lb adjustable dumbbells: User reviews
On Amazon, the dumbbells have been given 4.5 out of five stars, with users praising the model's sturdiness. Happy customers write that the model feels very compact and that the weight-changing mechanism is easy to use.
However, there are a handful of negative reviews on Amazon too, with people complaining that plates became detached during use. Others have noted (as we did when testing) that they 'clank' noisily during workouts.
Ativafit 55lb adjustable dumbbells: Alternatives
Arguably the most popular adjustable dumbbells on the market, the Bowflex SelectTech 552i offers an impressive 15 sets of dumbbells in one, compared to Ativafit's 10 sets. This is a top-tier option though and costs around $400/ £429.
If you're looking for something more budget-friendly, try the Amazon basics 40-pound adjustable set. They look very much like a traditional set of dumbbells and come in a handy portable case housing two hand barbells weighing 3lb/1.3kg each, plus four 5lb/2.27kg weight plates, four 2.5lb/1.13kg weight plates and four threaded collars coming in at 0.5lb/0.23kg each. This gives you a total weight of 38lb across both dumbbells (the portable case is the extra 2lb in weight).
Get the Fit&Well Newsletter
Start your week with achievable workout ideas, health tips and wellbeing advice in your inbox.
Vicki-Marie Cossar is a UK-based freelance journalist who has more than 20 years experience writing across the topics of health, fitness, fashion, beauty and wellbeing. She was formerly responsible for the Life & Style section of Metro's features department (now called Trends) and currently writes Metro's weekly Wellbeing supplement.