Bulk Natural Pure Whey Isolate review
Our Bulk Natural Pure Whey Isolate review covers everything you need to know about this digestible powder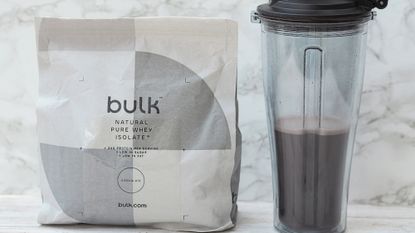 (Image credit: Future)
The Bulk Natural Pure Whey Isolate delivers a pretty pure shot of protein in a digestible form. It receives mixed reviews on taste and texture but is a popular choice as a whey protein isolate for anyone serious about their protein intake, especially if they want to avoid the harder to digest whey concentrate.
Reasons to buy
+

Only six ingredients

+

Gentle on the stomach

+

Available in four sizes
Reasons to avoid
-

Strong stevia taste

-

Only three flavors

-

Not available in US
If you've been looking for a Bulk Natural Pure Whey Isolate review to help you decide if it's the right choice for you, we can help. The main aim of the Bulk Natural Pure Whey Isolate is that it contains just six essential ingredients and has no whey concentrate—just whey protein isolate, which is considered to be easier to digest.
Because of the emphasis on fewer ingredients, its a stronger contender for the best protein powder for weight loss. It is flavored with stevia, a plant-based sweetener that you'll either love or loathe, depending on your individual taste, so be sure you're on board with stevia before you buy.
The flavor and texture aren't for everybody, but most people agree that it's decent value for money and that it is easily digestible—good news for anyone who finds whey concentrate hard on their stomach. As an added bonus, the company is taking steps to make its packaging more sustainable.
Bulk Natural Pure Whey Isolate: price
As with other protein powders, the price varies depending on the size and flavor you buy. The larger bags have a higher upfront cost and are more difficult to store, but work out less per serving.
The Chocolate edition we tested retails for £34.99 for a 500g bag, working out at £2.17 per 30g serving. The price per serving reduces for the 1kg and 2.5kg bags, and the largest 5kg bag retails £244.99, at a cost of £1.48 per serving.
Bulk Natural Pure Whey Isolate: nutrition
The nutritional values per serving differ depending on which of the three flavors you opt for; Chocolate, Strawberry, or Vanilla. We tested the Chocolate powder, so we've listed the nutritional information for this flavor per 30g serving below:
Protein: 24g
Carbohydrate: 1.5g
Fat: 0.3g
Bulk Natural Pure Whey Isolate: texture
When we tested the Bulk Natural Pure Whey Isolate, we mixed it with both water and separately with oat milk, shaking it for 30 seconds (as we do with all protein powders we test).
It didn't mix quite as quickly as some of the others, taking the whole 30 seconds to be fully blended. We found the texture slightly thin when mixed with water, and although smooth, it was a little chalky in consistency.
Bulk Natural Pure Whey Isolate: taste
You're probably not going to like Bulk Natural Pure Whey Isolate if you don't like stevia. Some folks are simply more sensitive to it than others, and we found the stevia so overpowering, both at the time of testing and afterwards as an aftertaste, that it obscured the chocolate flavor when mixed with water.
It improved when we tested it mixed with oat milk, but we still found it excessively sweet. We tried adding some extra cocoa powder, and found that it helped to neutralise the sweetness and make it more chocolatey, but didn't address the aftertaste.
This protein powder was transformed, however, when we made it into protein energy balls, combining it with oats, cocoa powder, peanut butter, chia seeds and chocolate chips. The stevia flavor vanished and we were left with a great pre- or post-workout snack with just enough of a protein kick.
Bulk Natural Pure Whey Isolate: user reviews
The six ingredients of the Bulk Natural Pure Whey Isolate earn it plenty of favorable reviews, with reviewers enthusiastic about the lack of artificial flavorings or sweeteners—one goes so far as to describe it as "mega mega sexy". They report that it doesn't cause bloating unlike some whey concentrate powders.
The main criticisms refer to the flavor and texture. "Very, very sweet and almost impossible to drink with water", complains one, and others describe the taste as "synthetic."
Bulk Natural Pure Whey Isolate: verdict
The Bulk Natural Pure Whey Isolate divides opinion when it comes to the taste. Although many find it perfectly palatable, we felt that anyone who doesn't like stevia (both its taste and aftertaste) probably won't enjoy it.
However, it contains pure whey isolate, rather than whey concentrate which can cause bloating, so would be a good choice for those with a sensitive digestion, and it has a limited number of ingredients (this also means it's only available in chocolate and strawberry so far).
Also consider
Optimum Nutrition Gold Standard 100% Whey Protein
If you are looking for a high quality whey protein powder but want to regulate your own sweetness or use it in savory dishes, consider the Optimum Nutrition Gold Standard 100% Whey. It's made from a mix of whey protein isolate, hydrolyzed whey protein isolate, and whey concentrate and has a neutral flavor that works well in cooking or with flavor drops.
The Protein Works Vegan Protein Extreme
If you're all about the chocolate but prefer a plant-based protein powder or a chocolate protein powder that doesn't contain stevia, go for The Protein Works Vegan Protein Extreme. The consistency is less appealing but it has no stevia and a decent chocolate flavor.
Get the Fit&Well Newsletter
Start your week with achievable workout ideas, health tips and wellbeing advice in your inbox.
Patricia Carswell is a freelance journalist, specialising in health and fitness. She has written for a huge variety of national newspapers and magazines, including Healthy, Top Santé and Women's Fitness, and writes a monthly column for British Rowing's content hub. She's the founder and host of rowing blog and podcast, Girl on the River, where guests have included Sir Matthew Pinsent and multiple Olympian Frances Houghton MBE.
She won Rowperfect's Rowing Blogger of the Year several years in a row, the Endurance Award in the MyProtein Blog Awards and was runner-up in the Sports & Fitness Category in the UK Blog Awards in 2017.
She keeps fit by rowing, walking and swimming, and is at her happiest when on or in the water.