The Protein Works Vegan Protein Extreme review
The Protein Works Vegan Protein Extreme review: a superior vegan protein powder available in a wide choice of flavors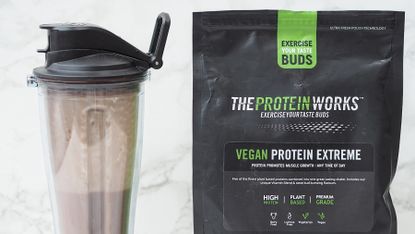 (Image credit: Getty)
The Protein Works Vegan Protein Extreme powder is made from five different plant-based sources of protein and packed with nutrients including vitamins, minerals, and even digestive enzymes. It scores better on taste than on texture and comes in a huge variety of flavors - a useful source of protein for vegan athletes.
Reasons to buy
+

Mix of protein sources

+

Nutrient packed

+

Large number of flavors
Reasons to avoid
-

Only ships from UK

-

Contains soy

-

Consistency quite grainy
The Protein Works Vegan Protein Extreme is a high-quality source of plant-based protein that is made up of five different sources of protein and is available in plenty of flavors (we tested the chocolate silk). It packs a punch when it comes to protein content and would provide a useful boost of protein in a plant-based diet.
The taste is mild, pleasant, and not overpowering and scores highly with most reviewers, making it one of the best protein powders for weight loss, although anyone who likes sweet and strongly-flavored shakes might find it a touch on the bland side. Unlike some plant-based protein powders, it is sweetened with sucralose rather than stevia, which means there is very little aftertaste.
Where it falls down a little is on texture which we found somewhat claggy compared with whey powders (although vegan protein powders often struggle to achieve a smooth consistency). Here's how it fared during testing.
The Protein Works Vegan Protein Extreme: price
The price ranges from $45.31/£22.32 for 500g (1lb) to $250.06/£123.19 for a substantial 4kg bag. If you swoop in while The Protein Works have a sale on you might get a 500g bag for around $22.66/£14.50 or a 4kg bag for $137.53/£87.99.
The Protein Works Vegan Protein Extreme: nutrition
Per serving:
Protein 28g
Carbohydrate 2.1g
Fat 0.7g
It's useful to note that these values vary slightly depending on what flavors you go for.
This protein powder compares well for protein content with other powders we tested which mostly contained around 24g per serving (and although it has slightly more carbohydrate than some other protein powders it's still pretty low carb).
Protein is important for building and repairing muscle and tissue, and the Recommended Daily Allowance (RDA) of protein is 0.36g per lb of bodyweight (so if you weigh 150lb you should be shooting for 54g of protein per day). Although with a bit of care you can hit that target on a vegan diet - a cup of cooked lentils, for example, would contain around 18g of protein - it can often be useful to boost it with a protein powder on a day when you're eating less protein.
The Protein Works Vegan Protein Extreme: texture
As with all our protein powder reviews, we tested The Protein Works Vegan Protein Extreme by mixing it with water and shaking it for a full 30 seconds (we also tested it with oat milk as many users prefer to mix protein powders with some form of milk).
It mixed in well within about 10-15 seconds, and by 30 seconds it was almost entirely mixed in. I did notice that there was some chalky residue on the side of the container after mixing.
I found the consistency thick and rather claggy. The texture is always the biggest challenge with vegan protein powders, so I had expected it to be less smooth than a whey powder. Because the powder contains flax there were also some grainy bits which appeared to be unmixed bits of flax seed. Considering The Protein Works claim to be the 'smoothest most pure Vegan shake on the market today' I was slightly disappointed.
The Protein Works Vegan Protein Extreme: taste
I was pretty impressed with the flavor of Vegan Protein Extreme (I tested the chocolate silk version). Although it could have been more chocolatey (it was improved with the addition of a bit of cocoa powder), it was still quite mild and pleasant in flavor. It is sweetened with sucralose which provides a fairly neutral sweet taste. The flavor improved markedly when I mixed it with oat milk.
I also tried Vegan Protein Extreme mixed into a chocolate chia pudding (I added cocoa powder to make it more chocolatey) and this worked well from a flavor point of view, although the texture was a little dry.
The Protein Works Vegan Protein Extreme: user reviews
Reviewers who like this protein powder (and that's most of them) rave about the flavors. "Tastes like heaven", says one. Many praise it for its texture, too (that was its weakest point, in our view, so it's worth noting it's down to personal preference with texture). Some reviewers also appreciate the high protein content per serving and the addition of digestive enzymes.
There are a few gripes about flavor and texture from those who didn't rate it highly. One reviewer who had previously bought a different vegan protein powder from the same company noted that Vegan Protein Extreme's, "much finer powder made for a much needed improvement in texture and consistency and the taste was sugary and sweet. HOWEVER there was still an undeniable grainy dirt like taste which wasn't quite masked". A few other reviewers consider it quite expensive, though most believe it's worth the investment.
The Protein Works Vegan Protein Extreme: verdict
The Protein Works claim to make "the best shakes on the planet". While I wouldn't quite agree with this level of hyperbole, Vegan Protein Extreme is an impressive product. It contains an unusually high level of protein per serving and this goes without saying for both vegan and non-vegan powders. It offers generous servings of vitamins, minerals and digestive enzymes, so it really delivers as a food supplement.
It scores well on taste (although I'd have liked it a little more chocolatey), and there's a huge range of flavors available so you're sure to find one you like - or go for the unflavored version. The consistency is pretty thick, though you can water it down to a level that's less gloopy if you don't happen to like that.
It's certainly not the cheapest but the ingredients are good quality and you're getting a lot of nutrition for your buck. Be aware it contains soy - a common allergen. It's not currently available in the US so you'd need to order from the UK which may involve extra shipping costs.
Also consider
Huel Complete Protein
An alternative option worth considering is the Huel Complete Protein supplement. This product is also plant-based, contains 20g of protein and just 105 calories per serving. If you can blend this into a drink using a Nutribullet, or another one of the best blenders, it can rustle up a pretty smooth shake.
Optimum Nutrition Gold Standard 100% Whey Protein
If you're not vegan and struggle with the taste and texture of most powders, consider Optimum Nutrition Gold Standard 100% Whey Protein unflavored, which has a smooth consistency and can be transformed into both sweet and savory dishes by adding your own flavors.
Patricia Carswell is a freelance journalist, specialising in health and fitness. She has written for a huge variety of national newspapers and magazines, including Healthy, Top Santé and Women's Fitness, and writes a monthly column for British Rowing's content hub. She's the founder and host of rowing blog and podcast, Girl on the River, where guests have included Sir Matthew Pinsent and multiple Olympian Frances Houghton MBE.
She won Rowperfect's Rowing Blogger of the Year several years in a row, the Endurance Award in the MyProtein Blog Awards and was runner-up in the Sports & Fitness Category in the UK Blog Awards in 2017.
She keeps fit by rowing, walking and swimming, and is at her happiest when on or in the water.