WaterRower Natural review: a stunning and surprisingly versatile rowing machine
Handsome it might be, Fit&Well's WaterRower Natural review shows the rowing machine is more than just a pretty face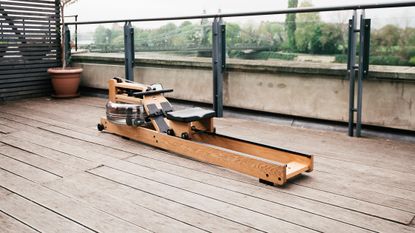 (Image credit: WaterRower)
Even in the age of iFit and Hydrow, the WaterRower Natural holds its place as the best rowing machine. It looks beautiful and offers plenty of scope for progression for beginners and intermediate rowers alike. Getting one is a true investment in your long term health.
Reasons to buy
+

Beautifully designed

+

Water gushing in the tank makes a lovely sound

+

Can be stored upright
Reasons to avoid
-

S4 Performance Monitor is basic

-

No workouts or classes
Get the Fit&Well Newsletter
Start your week with achievable workout ideas, health tips and wellbeing advice in your inbox.
Thank you for signing up to Fit And Well. You will receive a verification email shortly.
There was a problem. Please refresh the page and try again.
In this WaterRower Natural review, we'll explain how to set up and work out with this superb indoor rower and discover what makes this stunning cardio machine so irresistible.
It might have been a few years since its original release, but the WaterRower Natural is still among the best rowing machines in the world (at least we think it is). And that is even though many modern rowers come fully equipped with large monitors and grant users access to online classes and workouts.
The WaterRower Natural offers something different: the sensation of rowing on open water, only in your living room. Not just that, but water provides a one of a kind resistance that will make WaterRower workouts challenging, no matter how skilled you are.
WaterRower Natural review: Price and features
The WaterRower Natural is available to buy now directly from WaterRower US and WaterRower UK and through selected third-party retailers for a recommended retail price of $1,095/£1,049.
The dimensions of the WaterRower Natural are (height x length x width): 53 cm x 209 cm x 56 cm. Weight without water is 30.5 kg. Maximum user weight is a substantial 315 kg, or 695 lb.
The WaterRower Natural is available in a range of sustainable hardwoods, including ash, cherry, club, oak and walnut.
Accessories and bundles are also available to buy at WaterRower. The Connected Experience Bundle (ComModule, Tablet Arm & Holder) allows you to connect to a range of WaterRower apps, including WaterRower Connect, WaterRower.TV, CITYROW Go and more.
WaterRower Natural review: Setup and build quality
One of the many reasons people love WaterRower is that it practically comes preassembled, unlike many home cardio machines nowadays. When you order a machine this expensive, you don't want to waste time putting it together; you want to use it straight away.
Apart from having to put the water in the tank – the amount of water required is clearly marked on the side of the tank – the WaterRower Natural is ready to go as soon as it lands on your doorstep. Assuming people won't work out on their doorstep, WaterRower added a couple of castor wheels to the WaterRower Natural so it can be trollied around the house conveniently. The wheels are on the same side where the tank is, making it all the easier to lift and move the machine.
Better still, the WaterRower Natural can be stored upright when not in use, although according to some people – this reviewer included – it looks pretty enough to be left out in the open. Should you want to keep it slightly out of sight, just tip the rower over and push it against a wall.
One slight criticism – and probably the only criticism we can offer – is that to sit the WaterRower Natural against the wall properly, it needs to be turned around when in an upright position, and that's a bit of a faff. It doesn't have to be turned around, though, but admittedly, the machine feels a bit more in the way facing the wall.
WaterRower Natural review: Workout performance
The WaterRower Natural doesn't use fancy magnetic or air resistance. Instead, it uses water resistance. Essentially, the harder people row, the harder it is to pull the oars, making water the perfect adjustable resistance there is for indoor rowing.
However, what makes water resistance really special is the way it sounds. Modern rowers are either loud (air resistance) or quiet (magnetic resistance), but the WaterRower Natural chooses a third option: it creates a sound similar to what you'd hear if you rowed on open water.
This swirling sound is as soothing as it is motivating. We often found ourselves wanting to do a WaterRower session so that we could listen to the sound it makes. Especially for people living in a dense urban environment, it's strange and refreshing to hear water gushing around in the tank. It's like having a little personal stream running under the floorboards of the living room.
As soothing as they are, WaterRower workouts are just as challenging as any other rowing workout. As it's explained on the WaterRower website, rowing "uses 84% of total muscle mass at every stroke", so be prepared for a full-body workout when using the WaterRower Natural. Intense it may be but rowing has minimal impact on the joints and the lower back, and if anything, the movement strengthens them both without overexertion.
The second – and final – criticism we've got to offer is that the S4 Performance Computer is relatively simple. It measures the basic stats (e.g. strokes/minute, speed, etc.) but not much else. It might motivate some people to see how many calories they burned, but it's not necessarily the sensory stimulation that gets most people going nowadays.
That said, the minimalist monitor is in line with the overall minimalist approach of the WaterRower Natural rowing machine, and there are tablet holder bundles available, should you require more entertainment.
WaterRower Natural review: Verdict
The WaterRower Natural is a brilliant home gym equipment. It offers style without sacrificing substance; it makes you work hard without pushing your limits too much. It looks and feels premium, yet it's also subtle and blends in well in its environment. As long as the environment consists of premium furniture and expensive drapes.
If you're looking for a premium rowing machine that will last long and won't fail to challenge you in years to come, you can't go wrong by getting a WaterRower Natural.
WaterRower Natural: Also consider
Looking for something more modern? The NordicTrack RW900 brings studio-style classes to your home and makes the transition from beginner to advanced rower way easier. The large screen is as immersive as it is practical, and thanks to the foldable design and quiet operation, this rower will complement any home gym/living room.
No rowing machine review is complete without mentioning the Concept 2 Model D rower. This rowing machine is now widely used by professional athletes (and CrossFit people) in gyms and clubs worldwide. The Model D is way louder than the WaterRower, but it comes apart and can be stored easily.
Get the Fit&Well Newsletter
Start your week with achievable workout ideas, health tips and wellbeing advice in your inbox.
Matt has been writing about fitness for a number of years across various Future titles including Fit&Well and T3. PR reps describe him as 'nice guy' but his family members beg to differ. He's always looking for new ways to improve his overall fitness and wellbeing, and is particularly fond of home workout - mainly lifting weights. At any given point, his home is overrun with fitness equipment, running shoes and wearables. And he loves it.