MiHigh Sauna Blanket review: I used it for a month, and it changed my self-care for good
The infrared MiHigh Sauna Blanket allows you to enjoy all the benefits heat therapy brings, just in the comfort of your own home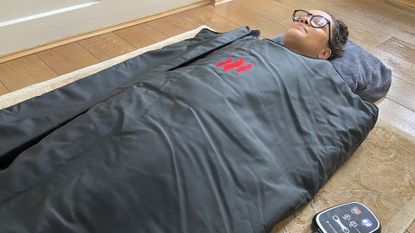 (Image credit: Becks Shepherd)
Adding the portable MiHigh Sauna Blanket to your at-home recovery arsenal is a good idea if you're short on time but looking to max out on relaxation and rest. Soothing aches and pains, detoxifying your skin, and reducing stress, you can enjoy all the best bits of a sauna anytime and anyplace.
Reasons to buy
+

Relaxation

+

Soothe aches and pains

+

Easy to use
Reasons to avoid
-

Limited access to the controller

-

Sweaty clean-up

-

Pricey up-front cost
Warming, soothing, and stressbusting, there's a lot to like about the portable MiHigh Sauna Blanket. According to the makers, using the at-home infrared sauna (which works by heating the body directly, rather than the air) can also detoxify your skin, boost your mood, aid recovery, and increase blood flow. It also professes to help you have a better night's sleep and burn up to 600 calories.
So, what's the twist? Well, there doesn't seem to be one. After a week's worth of deadlines, three full-body workouts, and one 10k run, I opted for a 60-minute sweat session in the MiHigh Sauna Blanket and the results were surprising. My delayed-onset muscle soreness (DOMS) had gone, my tight and achy back had suddenly vanished and it left my body sweat-ridden yet supercharged for the fresh week ahead.
Coincidence? Who knows. But to triple check, I added the at-home sweaty sauna experience to my rest day set-ups three times a week over the next month. Here's what I thought.
MiHigh Sauna Blanket review: price & features
Currently priced at $520/£399, the MiHigh Sauna Blanket is most definitely an investment product. For the price, you'll get an infrared sauna blanket, a controller to help you manage the heat, and a carry bag. To enhance your at-home sauna experience, you can pay $130/£99.99 more for an Experience Kit. This kit includes a sweat-absorbing towel, three microfiber towels, one spray bottle, and a headband to stop perspiration from dripping into your eyes.
While the upfront cost might seem high, when compared to other infrared sauna blankets, the MiHigh is one of the most affordable. Coming with nine different temperature settings, a controller, and a carry bag, it seems to be a solid entry-level introduction to the world of heat.
MiHigh Sauna Blanket review: material and design
The design of the MiHigh Sauna Blanket is quite smart, yet simple. Measuring 70.8 inches/ 180cm long, it is crafted with six layers. The exterior is made up of non-toxic polyurethane leather, the inside is where the low electromagnetic fields (EMF) FAR infrared heating sits. While the middle (where you slide in) is made up of a waterproof layer, to guard against sweat. This seems to be the standard model of most sauna blankets.
Once you've enjoyed a sweat experience, you can open up the blanket with its Velcro panels and lay the infrared sauna flat to help it cool down and clean. The only color this product comes in is black, with the red MiHigh logo and branding along the bottom of the blanket.
MiHigh Sauna Blanket review: features
It's simple to work the MiHigh Sauna Blanket. Just roll it out, plug it in and set your two chosen functions. This includes the temperature and how long you wish to sweat for (either 30 minutes or 60 minutes). Let it warm up for five-10 minutes, wrap yourself fully clothed, and lay back and relax. It really is that easy.
Thankfully, the blanket comes with an auto-shut-off function which means you don't have to lift a finger. Just make sure you've either got the controller next to you, so you can see how long you have left, or have a clock in viewing distance so you know when your time is up.
MiHigh Sauna Blanket review: temperature
The temperature of the MiHigh Sauna Blanket varies between one to nine – which is 95 degrees Fahrenheit/ 35 degrees Celsius to 167 degrees Fahrenheit/ 75 degrees Celsius. This might sound hot, but it's actually cooler than the general Finnish sauna which ranges between 176 degrees Fahrenheit/ 80 degrees Celsius to 212 degrees Fahrenheit/ 100 degrees Celcius. However, because the blanket heats the body instead of the air, the infrared sauna allows you to have a more intense sweat session just at a lower temperature.
You can use the sauna's controller to dial up the heat or turn it down.
MiHigh Sauna Blanket review: experience
Here's a disclaimer: I'm one of those people who prefers to be more hot than cold. But even I found it a bit strange wrapping myself up in clothing to bathe in my own sweat for 30-60 minutes.
But while the feeling of peeling off my sweat-sodden clothes doesn't fill me with joy, the MiHigh Sauna Blanket won't be gathering dust in the corner. Why? I could feel many of the wellbeing benefits instantly. It helped to relax my mind and body – due to the fact that lying in a sauna blanket forces you to sit still and focus solely on this form of thermotherapy. Plus, I could feel a noticeable difference in how quickly my DOMS eased off, compared to when I didn't use the blanket. This might have been a placebo effect, but after researching the benefits – the science doesn't lie.
MiHigh Sauna Blanket review: the science
Before trying out the MiHigh Sauna Blanket, I had some questions. Firstly, what are the benefits of a sauna blanket? Is it safe? Or is it just another wellness fad that will come and go?
According to science, there seems to be multiple benefits. One 2015 journal concluded that along with helping recovery, they provide a 'comfortable and relaxing experience'. A second 2015 research article confirmed that the use of infrared heat at a temperature of 50ºC 'improves recovery' and performance. While a 2006 journal suggested that low levels of infrared may result in beneficial effects on skin texture and wrinkles by increasing collagen and elastin.
MiHigh Sauna Blanket review: user reviews
On the brand's website, the MiHigh Sauna Blanket has received a total of 4.86 out of 5 stars from 641 reviews. A total 557 reviews gave the blanket five stars, while the remaining 79 reviews awarded four stars. One happy customer praised it for improving body aches and pains, while another five-star reviewer claimed 'everyone should have one'.
However, it seemed that the product lost a star because of the same queries over its 'heaviness', the lack of sweating on lower heat settings, and the positioning of the controller at the bottom.
One user said: "I would have given it five stars if the controller was accessible from the top. Having the controller at the bottom means you have to get up and reach the controls which I wasn't able to do without getting out of the blanket."
MiHigh Sauna Blanket review: verdict
Minus the sweaty conditions, the quick-but-must-do clean-up process, the upfront cost, and the limited access to the controller, the MiHigh Sauna Blanket is a great step into the world of thermotherapy.
It's easy to use, simple to set up, and coming with all the mood-enhancing effects of a sauna, the wealth of wellbeing benefits far outweighs the sweaty conditions. But that's coming from someone who likes warm conditions.
Just remember to cover up, start on a low temperature and work your way up slowly. And always (always) drink lots of water before, during, and after your at-home sauna session – because things will get sweaty!
Also consider
Higher Dose Infrared Sauna Blanket
If you like your saunas to come with even more benefits, the Higher Dose Infrared Sauna Blanket is best suited to you. Just like the MiHigh Sauna Blanket, Higher Dose's offering ticks all the wellbeing credentials, including promoting glowing skin and improved circulation. But it also comes with crystal therapy, magnetic layers to emit negative ions, and a zip rather than Velcro. Just be aware: all these benefits come at a higher price point. Prices start from $700/£539.
Heat Healer Infrared Sauna Blanket
Want to turn up the heat? Just like its name suggests, the Heat Healer Infrared Sauna Blanket enables you to sweat in temperatures of up to (176F/ 80C). Another difference? It comes with flat and smooth jade and tourmaline stones to help conduct and evenly disperse infrared heat all over your body. And, if you hate sweating but still want to reap the rewards, the Heat Healer recommends placing a towel on top of the stones to catch the sweat. Expect to pay $582/£448.
Becks is a freelance journalist and writer with more than 7 years of experience in the field. She writes health and lifestyle content for a range of titles including Live Science, Top Ten Reviews, Tom's Guide, Stylist, The Independent, and more. She also ghostwrites for a number of Physiotherapists and Osteopaths.
Health has been a big part of Becks' lifestyle since time began. When she's not writing about the topic of health, she's in the gym learning new compound exercises. And when she's not in the gym, she's most probably reading.