MyProtein The Whey+ review
Our MyProtein The Whey+ review explores what you need to know about this protein powder for nutrition enthusiasts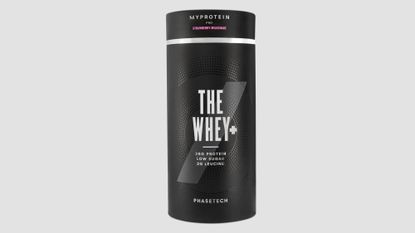 (Image credit: MyProtein)
MyProtein's The Whey+ is a protein powder designed for nutrition enthusiasts. It comes with delayed-release beadlets to gradually deliver ingredients for your post-workout recovery. The beads don't mix in, which we felt was an unusual decision, and the Strawberry Milkshake flavor wasn't as nice as we'd hoped, but if you're looking for a premium muscle-building powder, this is it.
Reasons to buy
+

Blend of muscle-building ingredients

+

Small beadlets for delayed release of certain nutrients

+

0.92oz/26g of protein per serving
Reasons to avoid
-

Beadlets don't mix

-

Only three flavors and one size

-

Contains soy
Get the Fit&Well Newsletter
Start your week with achievable workout ideas, health tips and wellbeing advice in your inbox.
Thank you for signing up to Fit And Well. You will receive a verification email shortly.
There was a problem. Please refresh the page and try again.
If you've been looking for a MyProtein The Whey+ review to help you make sense of the company's PhaseTech beadlets, we've got you covered. This is the first powder to come with these delayed-release beads, but are they worth the price?
Like many of the best protein powders for weight loss, it's a low-sugar powder, delivering 0.92oz/26g of protein per serving. It's also packed with other muscle-building ingredients to help you reach your fitness goals.
But if you take a look at MyProtein's PhaseTech marketing, it's not quite clear what these beadlets are designed to do, and how that impacts your post-workout shake. We've put this premium powder to the test to help you decide if it's right for you.
MyProtein The Whey+ review: price
The MyProtein The Whey+ is only available in the UK and in a single size (37oz/1.05kg) and costs £69.99 for the Strawberry Milkshake and Vanilla Ice Cream flavors. The Chocolate Brownie edition costs slightly less, retailing at £66.99.
MyProtein The Whey+review : nutrition
The nutritional values per serving differ depending on which of the three flavors you opt for. We tested the Strawberry Milkshake powder, so we've listed the nutritional information for this flavor per 1.18oz/33.5g serving below:
Protein: 0.92oz/26g
Carbohydrate: 0.06oz/1.7g
Fat: 0.025oz/0.4g
MyProtein The Whey+ review: texture
In our tests, we mixed MyProtein The Whey+ powder with water and oat milk, and shook the mixture for 30 seconds. It was a little different from the other protein powders we tested (like the Bulk Natural Pure Whey Isolate) in that although it mostly mixed well within about 10-15 seconds, even after 30 seconds the beads containing the timed release elements didn't mix in at all, and were left on the sides of the container.
After drinking, most of them were still left behind. This is by design—MyProtein mentions this on its website—but we found that you could get around this by mixing it into a smoothie in a blender or by combining the protein powder with overnight oats. Apart from the beads, the consistency was smooth (if a touch on the thin side) with no graininess or chalkiness.
MyProtein The Whey+ review: taste
We were a little disappointed with the flavor of this protein powder when mixed with water. We tested the Strawberry Milkshake flavor and had hoped for, well, a strawberry milkshake. The taste was there, but it was a little thin and synthetic with water.
We found it extremely sweet and rather artificial in taste, and discerned a slightly sour aftertaste. It was much improved when we tested it with oat milk, although it was still overly sweet. More successful were the overnight oats that we made.
Although the beads didn't dissolve they didn't sink to the bottom either, so we were able to eat them all and didn't lose out on their benefits. The synthetic flavor was balanced out by the oats and milk. We also tried mixing it into a shake in a blender, which meant all the beadlets got mixed in successfully.
MyProtein The Whey+ review: user reviews
Most reviewers appear to have bought MyProtein The Whey+ because they were intrigued by the delayed release beadlets, only to find that they missed out on the crucial beadlets because they didn't dissolve into the shake.
As one says, "The beadlets don't dissolve or mix so it's like a protein shake with hundreds and thousands mixed in." However, consumers were quite enthusiastic about the flavors. Many conclude that it's better mixed with milk than with water, and one or two complain that it's overly sweet.
MyProtein The Whey+ review: verdict
MyProtein has a reputation for high-quality, mid-range protein products. The Whey+ is one of its first ventures into premium powders, with delayed release beads and plenty of muscle-building nutrients.
It's an expensive option, with premium packaging to match, but it's not going to be to everyone's tastes. We were disappointed that the beads don't mix into the smoothie, but the company says this is part of the design.
But for this price, we were expecting the taste to be exceptional, and it wasn't. It wasn't bad, but when mixed with water, the Strawberry Milkshake tastes artificial and a bit sweet. It's better with oat milk, but still not great.
It's hard to verify MyProtein's claims about the delayed-release beads and whether they really do help with your post-exercise recovery and muscle growth. However, the MyProtein The Whey+ is an interesting option for nutrition enthusiasts.
Also consider
Bulk Natural Pure Whey Isolate
If you find the price of MyProtein TheWhey+ hard to stomach, and just want a no-frills whey powder at a more modest price, try Bulk Natural Pure Whey Isolate instead, which gives a good level of protein without a massive list of ingredients.
Optimum Nutrition Gold Standard 100% Whey Protein
Perhaps the quality of the whey in MyProtein The Whey+ is appealing but you find the three flavors too limiting. If that's the case, we'd suggest you give Optimum Nutrition Gold Standard 100% Whey Protein a try. It's unflavored, so you can add flavor drops or blend it into smoothies or other foods to get all the benefits.
Get the Fit&Well Newsletter
Start your week with achievable workout ideas, health tips and wellbeing advice in your inbox.
Patricia Carswell is a freelance journalist, specialising in health and fitness. She has written for a huge variety of national newspapers and magazines, including Healthy, Top Santé and Women's Fitness, and writes a monthly column for British Rowing's content hub. She's the founder and host of rowing blog and podcast, Girl on the River, where guests have included Sir Matthew Pinsent and multiple Olympian Frances Houghton MBE.
She won Rowperfect's Rowing Blogger of the Year several years in a row, the Endurance Award in the MyProtein Blog Awards and was runner-up in the Sports & Fitness Category in the UK Blog Awards in 2017.
She keeps fit by rowing, walking and swimming, and is at her happiest when on or in the water.