The best bathroom scales: from smart scales to bargain wonders
We pick the best bathroom scales to help you towards your weight-management goals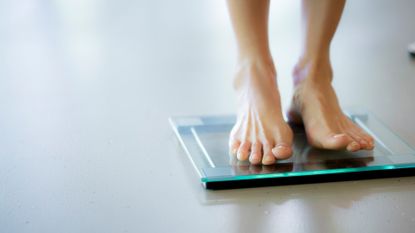 (Image credit: Getty)
Looking for the best bathroom scales? You'll find a great selection of the best on the market in this buying guide.
A good set of bathroom scales is an essential weight-management tool, whether you're looking to lose weight quickly, maintain your current weight or even bulk up.
Although weighing ourselves will never be classed as an enjoyable activity, decent scales can certainly make the process less painful; scrolling through multiple settings, or being bombarded with an onslaught of irrelevant information will only make your goals seem harder to achieve.
So whether you're looking for the best bathroom scales to keep track of multiple parameters or simply searching for scales to use for occasional weight checks, we've made it our mission to find the best available.
Our favourite model – the hi-tech Salter Dashboard Analyser Scale – is a reminder of just how far this humble bathroom essential has come. These lightweight scales are easy to use, with no overcomplicated controls to distract you. Obtaining additional information – such as BMI - is easy, and the option to quickly and simply create profiles for multiple members of the same household allows each person to use these scales in the way which works best for them.
Meanwhile, John Lewis' ocean-themed contender proves that today's scales aren't just weighing machines – they can be bathroom-enhancing objects of beauty, too.
How to choose the best bathroom scales for you
The first consideration when it comes to picking the best bathroom scales is often: digital or analogue? In reality, there's little reason to opt for old-school analogue scales, so for this piece, we'll focus almost entirely on the best digital scales.
Although some brands have made a respectable stab at bringing back analogue scales, daubing them in pastel paint and marketing them as the ideal accessory to add a touch of retro chic to bathrooms, digital scales will almost always out-perform analogue ones. The only advantage is that analogue scales won't need batteries, but that's outweighed by the downsides: analogue scales are often inaccurate (they'll need regular calibration), heavy (due to internal mechanisms) and come with limited features.
Modern bathroom scales come with all manner of advanced features too, such as Bluetooth capability in order to sync wit fitness apps, allowing you to monitor changes to weight and muscle mass more accurately. Some options also allow you to create profiles for multiple users, which is handy if you're trying to track your family's weight.
However, personal trainer Anna Cousins believes it's all too easy to get side-tracked by added extras we won't necessarily use. "The most important thing is accuracy," says Anna. "Sure, being able to check your body water percentage and bone mass is interesting, but for most people, these are merely nice added extras."
Her one exception? A BMI reading. "BMI readouts can be great if you're in the 'at risk' category in the sense of being overweight," admits Anna.
So without further ado, allow us to present our pick of the best bathroom scales...
The best bathroom scales for most people
Specifications
Platform size: 32cm x 28cm x 2.5cm
Reasons to buy
+
Settings for multiple health-related parameters
+
Good value for all the features
Reasons to avoid
-
Requires an app
-
Display could be larger
Salter's scales, which launched in late June 2020, are great for anyone keen to log and track the minutiae of weight loss, whether it's muscle mass, water content or body fat. Unlike other feature-packed models, it's wonderfully easy to use, whether you're focusing on BMI or simply want to know your overall weight.
It will also store the details for 12 separate users, with results shown in individual windows, eliminating the faff of scrolling through the different read-outs. Although you'll need to start by using the Salter MiBody app to input certain data (such as height, gender and DOB) in order to obtain measurements, it's worth it – once you do so, using the scales to track weight loss, and to work towards certain weight loss goals, will become much easier. We liked the extra-large weighing area, too.
In summary? The best bathroom scales for measuring BMI and weight, as well as a host of other parameters.
2. Eufy Smart Scale P1
The best premium bathroom scales
Specifications
Platform size: 28 x 28 x 2.4cm
Reasons to buy
+
Slimline – weighs just 1.5g
+
An extra-large display
Reasons to avoid
-
You'll definitely need the instructions
-
Higher price tag
This stylish bathroom scale does it all – when used with the EufyLife app, you'll be able to track 14 different measurements, including weight, body fat, BMI, bone mass and muscle mass. It can be used with third-party apps (including Apple Health, Google Fit and Fitbit), and the scale's Bluetooth connectivity makes uploading data a breeze. It's incredibly precise too, thanks in part to an ITO coating (an ultra-conductive, transparent finishing treatment) and G-shaped sensors. These auto-calibrating sensors work in conjunction with each other, instantly detecting weight fluctuations of as little as 0.1lb / 0.1kg. You'll be able to log measurements for up to 16 users, and the app makes it easy to browse historical data. If only it could help us resist that last chocolate éclair…
3. AmazonBasics Body Weight Scale
The best budget bathroom scales
Specifications
Platform size: 30 x 30 x 2.3cm
Reasons to buy
+
Great price
+
Extra-large weighing area
Reasons to avoid
-
Feels slightly flimsy
-
Limited weighing features
These sleek black bathroom scales won't clash with the daring bathroom colour schemes, although watch out for the sharp corners – most models have rounded ones these days, and it's weirdly easy to stub a toe on these ones. Annoying angles aside, these scales are ideal for anyone who simply wants to keep track of basic measurements such as weight and BMI (the latter is calculated with the help of four sensors). We particularly like the larger screen, and the ease with which it's possible to toggle between lb and Kg. Lack of additional features aside (and how many of these will you really end up using?), this is a great option for those who simply want to check their weight, and its slim design ensures it will slide into the narrowest of spaces.
4. Salter Curve Smart Analyser Scale
The best hi-tech bathroom scales
Specifications
Platform size: 31 x 34 x 3cm
Reasons to buy
+
Anti-slip weighing zones
+
Stylish, curved design
Reasons to avoid
-
Smaller-than-average weighing area
-
Chunky
This Bluetooth-enabled, pebble-shaped scale, which launched in early July 2020, offers an instant style upgrade for the most basic of bathrooms, and its endless features will inevitably appeal to gadget-lovers, too. Checking both your measurements and progress is easy once you've downloaded Salter's free app, and separate "child" and "athlete" settings enable users to personalise the way they see and track their results. Its compact size makes it a great option for smaller bathrooms, although the display screen is sadly also on the small side, perhaps to make room for the oversized weighing area.
5. John Lewis & Partners Coastal Bathroom Scales
The best bathroom scales for style-conscious consumers
Specifications
Platform size: H1.5 x W30 x D35cm
Reasons to buy
+
Looks stunning
+
Ultra-slim – just 1.5cm thick
Reasons to avoid
-
Limited features
-
The display is on the small side
Yes, we know that it's not all about looks, but in a world of slate grey weighing machines, we're all for an aquatic splash of colour courtesy of John Lewis. No, this won't calculate your body mass, work out your bone density or tell you off for overindulging on the Jaffa Cakes last night, but who says that's a bad thing? After all, it's a sad fact of life that bathroom scales are often the bearers of bad news, and the cheery, royal-blue images of a turtle, crab and a shoal of fish certainly take the edge off weekly weigh-ins.
Get the Fit&Well Newsletter
Start your week with achievable workout ideas, health tips and wellbeing advice in your inbox.
Tamara is based in Surrey in the UK and is a freelance journalist who's equally passionate about cycling, snowboarding and traveling. Tamara's writing has covered workout clothes for women for better fitness sessions as well as covering topics including which bathroom scales to choose. Tamara has also provided expert advice for Fit&Well with tips and tricks for getting the most of a weight-based workout.