Salter Dashboard Analyser Scale review: great features to help you hit your body goals
The Salter Dashboard Analyser Scale is packed with features that make tracking weight, body fat, body water, muscle mass and BMI a breeze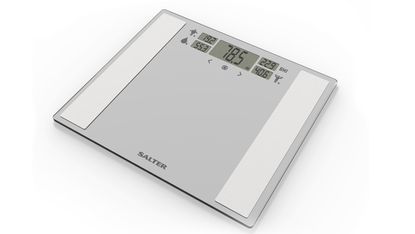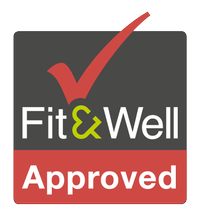 (Image credit: Salter)
These are some of the best electronic bathroom scales we've come across. Creating a user profile is a breeze, and checking the data is easy, thanks to the five separate windows which display all your stats at once. In an ideal world, the four smaller screens surrounding the weight window would be slightly larger, although we've seen much worse. The scale is slimline and light, allowing it to be stashed into the smallest of places when not in use. In a nutshell? A brilliantly-designed scale which is hi-tech, versatile and user-friendly.
Reasons to buy
+

Great value

+

Incredibly easy to set up

+

Multiple sets of data displayed simultaneously
Reasons to avoid
-

Doesn't track progress

-

The smaller display windows can be tricky to read
There's something undeniably intimidating about the Salter Dashboard Analyser Scale – a lean, mean weighing machine which doesn't just count kilos (plus stones and pounds, too) but works out your body fat, body water content, BMI and muscle mass.
The Dashboard Analyser Scale, which requires three AAA batteries and comes with a 15-year guarantee, certainly does it all.
But does it justify the £29.99/$38 price tag - or would this hi-tech set bathroom accessory have us mourning the days of analogue read-outs and manual calibration?
Launched in early 2020, Dashboard Analyser is the latest model in a long line of Salter scales designed to provide in-depth analysis of body composition. And while we're well aware it's possible to snap up a decent digital weighing scale for around £10/$10, they are competitively priced in comparison to other smart scales.
Below I'll dissect some of the stand-out features from my hands-on experience of these smart scales that made them deserving of a spot on our list of the best bathroom scales.
Multiple users
Like many digital scales, The Salter Dashboard Analyser Scales allow multiple users to create separate profiles. There's room for 12 different sets of data.
You can quickly and easily scroll through the different profiles and access each profile's basic information by lightly tapping the arrow symbols on the front of the scale (the choice of the user names – denoted by a "P" and a number from one to 12, afforded a reassuring level of anonymity).
Creating said user profiles is easy, and once the key data (height, age and gender) has been entered, it will flash up when that particular user profile is selected.
Body fat, body water, muscle mass and BMI measurements
Metal strips on the front of this generously-sized scale (the weighing area measures 320 x 280mm) indicate where to place feet, which need to be sock-less.
This is where the magic happens – more specifically, a mild current passes through the body via the feet and the legs. This current naturally flows through lean muscular tissue with greater ease (due to its high fluid content), but doesn't pass through fat quite as easily. The scale analyses the resistance to the current in order to calculate the quantity of muscle, which then allows it to calculate the amount of water and fat present, and displays these results on the smaller displays screens to the side of the main one.
A quick note about the current: if you're having flashbacks to that time you got zapped by an electric fence (we've all been there - right?) then relax. The current is extremely mild – less than 1mA (milliampere). In other words: it's tiny, and you certainly won't feel it. That said, Salter – like any responsible manufacturer of this type of scale – states that the Dashboard Analyser shouldn't be used by anyone wearing a pacemaker.
Calculating your BMI (Body Mass Index) is even easier. BMI is an index of weight-for-height categories, comprising underweight, normal, overweight and obese. This categorisation system is used by medical professionals around the world, and endorsed by the WHO. The scale is able to calculate your BMI using your current weight and your height (which you enter when you create your profile).
Ease of use
There was certainly some trepidation as we entered our data: gender, height and age (we'd include this information here but we'd have to kill you) before stepping on the scale for the big reveal. In under a second, our results filled the five boxes, with weight displayed front and centre in the largest box, and our BMI, body water, body fat and muscle mass calculations displayed in the four smaller boxes. Being able to see all this information simultaneously – rather than having to scroll through – saved significant time and effort.
Trying to lose weight?
Athlete Mode
As much as I'd like to claim I met the requirements for this setting, I can't. When creating a user profile, the options aren't simply male or female, but athletic male, and athletic female.
Athletic mode is designed for use by people who, according to the user manual, are "involved in intense physical activity of approximately 12 hours per week and who have a resting heart rate of approximately 60 beats per minute or less."
This mode was created because athletes are likely to have a lower body fat range and a higher body water range than most people, and this setting allows the scale to take account of that.
To select athlete mode when creating your profile), instead of opting for the generic male or female symbol, you simply choose the one which represents an athlete – the silhouette of a person running at speed - of your gender.
Verdict
I had numerous concerns before putting this scale through its paces.
I thought figuring out what the various calculations actually meant would be a nightmare (top tip: keeping the surprisingly digestible user manual to hand is key to this), was sceptical about the benefit of individual profiles due to the assumption they'd be hard to programme and even harder to access, and wasn't convinced that simply seeing the raw data in the cold light of day would be enough to motivate me.
I was proven wrong on all counts.
The Salter Dashboard Analyser Scale is a brilliantly-priced scale which provides five key metrics quickly and easily. Unlike certain scales, there's not the option to set specific weight loss goals or monitor progress closely, but this doesn't feel like an issue.
All too often we ignore important parameters such as the ones displayed here. But when accessing this information is this quick and easy, it's hard not to feel motivated. When I created a user profile and checked my data for the first time, I was happy with certain parameters and less so with others, and it's impossible not to want to improve the figures which need a little work. This motivation that it provides is the beauty of these scales.
Also consider
If you want to take your weight loss and fitness goals to another level, this is one of the best bathroom scales for the job. It doesn't just measure weight, body fat percentage, body water percentage, muscle mass and BMI, but can be used in conjunction with Salter's MiBody app, allowing you to track your progress and set a wide range of goals.
Salter tends to dominate the world of weighing scales, but this is proof that there are other fantastic options, too. The Body+ displays all of the main metrics and will connect with a bespoke app, although there are plenty of added extras, too. These include a pregnancy tracker and a Baby Mode, designed for the youngest users.
Let's face it. Weighing ourselves can be a joyless task, but this budget digital bathroom scale, which displays weight in stones or kilos, brings a bit of fun to proceedings with a quirky crab design.
Get the Fit&Well Newsletter
Start your week with achievable workout ideas, health tips and wellbeing advice in your inbox.
Tamara is based in Surrey in the UK and is a freelance journalist who's equally passionate about cycling, snowboarding and traveling. Tamara's writing has covered workout clothes for women for better fitness sessions as well as covering topics including which bathroom scales to choose. Tamara has also provided expert advice for Fit&Well with tips and tricks for getting the most of a weight-based workout.