Echelon EX3 Smart Connect Max review: a great home exercise bike option
The Echelon EX3 Smart Connect Max exercise bike offers an all-round great ride experience at home - for less than a Peloton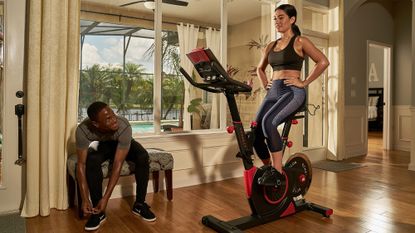 (Image credit: Echelon)
The Echelon EX3 Smart Connect Max is a high quality exercise bike that's ideal for home use. It offers an immersive experience via the Echelon app, with a variety of classes suitable for all fitness levels. It performed well in our testing, and overall is a great way to up your training and get fit from the comfort of your own home.
Reasons to buy
+

Great range of classes

+

Easy to set up and adjust

+

App can be used by up to 5 people

+

Quiet and slimline
Reasons to avoid
-

No in-built screen

-

No off button (plug only)

-

Weight of bike makes it difficult to move

-

Functionality is limited without Echelon Fit app
Welcome to my review of the Echelon EX3 Smart Connect Max exercise bike for Fit&Well.
Having become accustomed to working out at home during the coronavirus pandemic (and having no desire to return to the gym, despite them reopening), I was keen to see what this piece of exercise equipment could offer me. As it turns out, the list includes immersive at-home spin workouts, as well as Zumba, kickboxing and HIIT classes designed to be done off the bike.
Whether you're an absolute beginner to spinning (fast-paced indoor cycling) or a seasoned pro using one of the best exercise bikes for this style of muscular endurance and cardiovascular training, the Echelon EX3 Smart Connect Max provides an abundance of live and on-demand rides to suit all fitness levels via the bike's associated app.
Granted, the home exercise bike market is a competitive one, and your mind has no doubt already drifted to Peloton. So, how did the Echelon EX3 Smart Connect Max perform in testing? Read on for my in-depth review so you can make an informed decision when it comes to whether this is the bike for you.
Echelon EX3 Smart Connect Max: price and features
The Echelon EX3 Smart Connect Max costs $999/ £1,199 for the bike alone. This puts towards the more expensive end of the exercise bike market, but it does ring in a fair bit cheaper than the seemingly omnipresent Peloton (their standard bike retails for $1,895 / £1,750).
Financing is available, as are staggered payments via services such as Split It and Klarna, and shipping is usually available within days (no weeks-long waiting lists here - hurrah!).
Like Peloton, you also need to purchase a subscription to a Echelon United membership plan to get the most out of the bike (without it, only basic metrics will be recorded. The bike also needs to be connected to the Echelon Fit app and Bluetooth for the resistance to register).
Membership gives you access to thousands of live and on-demand fitness classes, and prices range from $29.16 - $39.99 / £24.99 - £39.99 a month, depending on the billing option you choose (two-yearly, yearly or monthly).
The bike can be purchased directly from the Echelon website, as well as a number of third-party retailers. Check out our shopping widget below, which is updated every 15 minutes, for today's best deals.
So what do you get in return for your hard-earned cash? In terms of the bike, there's 32-level magnetic resistance and Bluetooth connectivity, along with a 30-day returns policy and one-year warranty.
However, one key thing to note is that - unlike a Peloton - the Echelon EX3 Smart Connect Max doesn't come with a built-in display, so you'll need to use your phone or a tablet to view and take part in the classes. This could be something to factor in cost-wise if you don't already own a suitable device (more on my experience on that front later).
Meanwhile, the Echelon United membership gives you access to unlimited streaming classes, 14+ daily live classes, scenic rides and thousands of on-demand workouts. Options are varied and not just limited to the bike - there's cardio and boxing classes to raise your heart rate, strength, Pilates and yoga classes to hone and tone your muscles, meditation sessions to help you unwind - plus plenty more.
You can create up to five user profiles from one account, so the whole family can make use of the bike.
Echelon EX3 Smart Connect Max: design and set-up
Slimline and smart, the EX3 is easy to set up and use with fully adjustable handlebars and seat. It can hold weight up to 200lbs/ 136kg. First time users need to pair the bike with your app to make sure it's all working correctly.
Size-wise, the Echelon EX3 Smart Connect Max is small enough to not take over a room, but at the same time very sturdy (the bike itself weighs 104lbs / 47kg) - so much so that despite the wheels at the front I found it quite difficult to move to a different spot on my own. My advice would therefore be to set it up somewhere you plan to keep it long-term. Also make sure you're near a power socket, as you'll need to plug it in for it to work.
Elsewhere, the bike comes with a 13kg flywheel at the back as well as clip-in and cage pedals, meaning you can choose to wear either slip on cycling shoes or regular sneakers. There's also space for two water bottles in easy reach either side of the main frame. Spinning is a sweaty old workout, so you're going to need these!
Below the handlebars you'll find your magnetic resistance dial, which has 32 levels to make your workout easier or harder. But word to the wise: the resistance is noticeably different to that on gym spin bikes. I was happily trucking along at level 14 wondering why it felt so easy (in the gym, 14 resistance would normally feel like cycling through thick mud!), until an Echelon rep told me that up to 15 is beginner level, 15-25 is intermediate and 25 and above is more advanced. If you've ridden a Peloton previously, you might notice the same thing - their resistance dial goes from 0-100.
As I mentioned earlier, one the main design points is the absence of a built-in screen. Instead the console will hold any smartphone or a tablet up to 12.9 inches in size.
Whilst this won't be a problem for most (and the fact that it helps keep the cost down will possibly be a plus-point), I experienced some issues with this.
I initially borrowed my father-in-law's (rather ancient) iPad Mini, but found the app wasn't compatible with such an old, out-of-date model. So just bear in mind that Apple devices need to have the ARM64 chip and be newer than iOS 12, whilst Android devices must be version 6.0 or up.
Next I tried the app on my iPhone but found the screen too small to see what was going on – not to mention cluttered with all the metrics overlaying the actual class. Eventually I borrowed a newer iPad instead from a friend and was finally away.
Echelon EX3 Smart Connect Max: Performance & ride experience
To get familiar with how everything works, it's worth watching the introduction videos. These cover how to use the bike, as well as all the features.
Once you're on the bike, all of the workouts track three sets of data – cadence (speed), resistance and output (effort level). There's also a series of screens that you can either keep in place or swipe away. There's a leaderboard for those with a competitive side, as well as space for heart rate data when paired with an external monitor. I tried it with my MyZone chest strap monitor and it synced nicely (see Fit&Well's list of the best heart rate monitors if you don't already own one).
Somewhat frustratingly, there is no fast forward button for the classes so if the app cuts out for some reason then you have to either restart the ride from the beginning or abandon it altogether. This can be quite annoying if you have a poor Wi-Fi connection or the app has a technical glitch.
Depending on your fitness level or personal goals, you can try out different rides like Power, Endurance, Hill Rides, Speed, Bootcamp and Low Impact, all of which have a different focus. You can also choose a Freestyle Ride and, rather than do a class, watch something on your phone or tablet at the same time.
If you want to do a live class, you can schedule this on the app and 'add to calendar' so you have a reminder ready.
My favorite workouts were the Tabata style ones, where you do short bursts of speed or endurance followed by some active recovery or rest periods. These were good fun and helped build up stamina and strength over time.
I also found myself drawn to the scenic rides – with Covid-19 putting an end to travel, imagining myself cycling along a beautiful beach or up a mountain was great escapism.
Music fans will enjoy the fact the workouts have playlists with the latest music from all genres, as well as old school favorites from the '80s and '90s.
After a workout you can look at your metrics (including calories burnt, your place on the leaderboard etc.) in the Progress tab and also get your results emailed so it's easy to keep track your improvement. If you use Fitbit or Strava, you can sync these apps with the Echelon, too.
The EX3 itself offers a comfortable spinning experience. Like gym spin bikes, you can adjust the seat and handlebars to your height, which was easy enough to do, and the 12.9-inch" screen holder felt nice and secure.
My only bug-bear in terms of the bike's performance was the resistance dial. I found this was not that sensitive and I often had to turn it a few extra twists in order to reach my desired level.
Also, a quick word on what to wear: you will get hot doing a spin class so shorts are a good idea, just not 'short shorts' as I discovered. Don't make the same mistake as me and wear hot pants, which mean your exposed thighs will rub again the seat adjuster bar. Painful!
Echelon EX3 Smart Connect Max: Connectivity
The Echelon EX3 Smart Connect Max is fully integrated and connects via Bluetooth to your smart device, meaning you can track your progress in real time.
Helpfully, it's also compatible with some of the best fitness apps and platforms, such as Strava, Zwift, Apple Health and Fitbit. If you want, you can also connect it to Facebook to share your workout or compete with friends and family.
The large button with the Echelon logo below the device holder lets you know when a Bluetooth connection has been made: it flashes when it's trying to connect, and glows blue when it's all working normally.
I found the connectivity on the EX3 pretty good. As soon as you open the app it connects automatically to the bike and you can select your workout. Looking at the app for the first time can feel a little overwhelming – there's a lot going on there with lists of classes, both live and on-demand, as well as challenges and the Featured tab. But it's fairly simple to get to grips with, and after the first few rides you will find the app easier to navigate.
I did experience one or two times where the connection cut out, but that was probably more due to my poor Wi-Fi than the app not working. Bear in mind that if that does happen, you'll lose the data from the session and will have to restart the class.
Echelon EX3 Smart Connect Max: Verdict
The Echelon EX3 Smart Connect Max is an impressive at-home spin bike that will help you achieve your fitness goals and challenge you to workout harder. Easy to set up, with motivating instructors and endless class options both on and off-bike, it's a great bit of home gym kit.
The app could do with being a little less busy, and you'll need a tablet to get the best out of the experience, but at almost half the price of a Peloton, getting fit in the safety of your own home has never been easier.
Also consider
Peloton
Incredibly popular even before lockdown, with a 22" touch screen and brilliant range of classes, there's a 7-10 week waiting list for the much-hyped Peloton bike. But it's arguably worth it - if you can spare the cash.
JTX Cyclo 5
The JTX Cyclo 5 is an affordable and well-built bike that is compatible with smart apps and has a good resistance range. But its upright riding position doesn't suit everyone.
Get the Fit&Well Newsletter
Start your week with achievable workout ideas, health tips and wellbeing advice in your inbox.
Maddy Biddulph is a freelance journalist specializing in fitness, health and wellbeing content. With 25 years in consumer media, she has worked as a writer and editor for some of the bestselling newspapers, magazines and websites in the US and UK.
She is also a qualified L3 personal trainer and weight loss advisor, and helps women over 40 navigate menopause by improving their physical and mental strength. At Maddy Biddulph Personal Training, she runs one-to-one and small group training for menopausal women who want to get fit to ease symptoms and feel like themselves again.