Smomar sauna blanket review
Our Smomar sauna blanket review looks at why this infrared device may be a great alternative to a traditional sauna, and everything you need to know before purchasing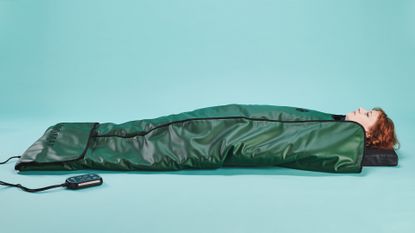 (Image credit: Future)
Lightweight, easy to use and store, the Smomar infrared sauna blanket is one of the most wallet-friendly options on the market. Coming in at $382/£399 with two color options and a complimentary carry case, it was our favorite of all the sauna blankets we tested.
Reasons to buy
+

Comes with complimentary carry case

+

Lightest of those we tested — 12.12lb (5.5kg)

+

Two color options
Reasons to avoid
-

No optional extras

-

Overly-cautious instructions
Get the Fit&Well Newsletter
Start your week with achievable workout ideas, health tips and wellbeing advice in your inbox.
Thank you for signing up to Fit And Well. You will receive a verification email shortly.
There was a problem. Please refresh the page and try again.
The Smomar infrared sauna blanket really sold me on sauna blankets overall. Despite the potential sauna blanket benefits, I wasn't completely enamoured by the experience, but the Smomar didn't have any weird plastic smells, wasn't overly heavy, and was easy and stress-free to set up.
As an option for traveling, the low weight of the blanket means that you can pretty much take it anywhere with you. If you don't want to skip a sweating session, it can be packed up and isn't much of a hindrance to carry. Just remember to pack a towel or two, as well as a pillow, as these products aren't available to buy through Smomar.
Plus, if you're wondering what is an infrared sauna blanket, we've put together a guide on everything you need to know about these wellness products, from how they work to what you need to wear.
Smomar sauna blanket review: price & features
I wasn't aware of the prices when I was testing, so I assumed the Smomar sauna blanket was at the higher end of the price range, as it comes with a complimentary carry case and had a choice of color options (I tested the green version). You can imagine my surprise when I discovered it was the 'budget' option, at $382/£399. For your money you get a free carry case, making it the best option for portability, and it seems to be constructed of high quality materials.
Unlike some brands I tested, the Smomar doesn't have any optional extras; it is simply a sauna blanket that comes with a carry case and instruction manual. However, the brand has curated Spotify playlists available for users to elevate their sweating experience if they so wish.
Unlike some of the others we tested too, the Smomar came with an entire booklet of instructions and health warnings. While some of the advice (such as starting at a very low temperature) seemed overly cautious, it was good to have all the information I needed before I started, and I was able to peruse the instruction manual while the blanket heated up. The only slightly strange advice I found was that they recommend checking with your doctor before use if you have, among other conditions, a mental illness. I wasn't sure how this would affect my use of a sauna blanket, but I figured the purported 'stress reducing' qualities of the blanket would probably help.
Smomar sauna blanket review: Material and design
The Smomar was the same size as most of the other sauna blankets that we tested, at 71 x 71 inches (180 x 180 cm), which seems to be fairly standard, however it weighs only 12.12lb (5.5kg), which was by far the lightest of those we tested. This adds to the portability of the blanket, as once it's in the carry case it's the least cumbersome to move around.
Smomar recommends that someone up to 6'4''(196cm) and 330lb (150kg) can comfortably use the blanket. While the height limit is fairly standard, the upper weight limit seems to be an overall flaw with sauna blankets in general. They just aren't made to fit anybody in a larger body and there is very little available in a range of sizes. Smomar has successfully offered a small range of colors, so perhaps a range of sizes would also be appropriate.
Smomar sauna blanket review: Features
I liked that users could choose the color of their Smomar infrared sauna blanket. The overwhelmingly black-coloured sauna blankets on the market remind me of body bags, which is a little off-putting.
Due to the lightweight style of the sauna blanket, it was easy to set up and put away without having to wrestle. I am a fairly short person, at 5'5"(165cm) and found some of the other brands we tested difficult to maneuver and even more difficult to get in and out of for a sweating session. The velcro strips were convenient to use and gave the blanket a degree of adjustability, as they are quite wide. It was also noticeably easier to plug in than others we tested and would therefore be my recommendation for anybody with fine motor or mobility issues.
Other brands came with a fairly strong smell of burning plastic as they heated up, but the Smomar was thankfully neutral smelling. The ease of setup, lack of strange smells and quick warm-up time (6-10 minutes) was conducive to a relaxing, spa-like atmosphere and I was able to completely settle into the experience and enjoy myself while testing this product.
Smomar sauna blanket review: Temperature
The Smomar is a standard sauna blanket in many ways – with a top temperature of 176°F (80°C), however Smomar recommends you start at a very low 86°F (30°C) and increase by 40°F (5°C) with each usage. Having used several other sauna blankets, and wanting to keep my testing consistent between them, I used the blanket at 158°F (70°C).
The energy consumption of the sauna blanket is really low, at 450-500 watts, making it cheap to run over a 30-60 minute session. This seems to be fairly consistent over sauna blankets in general, making them a cost-effective alternative to traditional saunas, which can use a lot of energy to heat up.
The blanket automatically switches off after 60 minutes, which also seems to be standard, but they recommend that you do not exceed 50 minutes per session, which is a little less than other brands. I wasn't sure if this was Smomar being overly cautious, as they seem to be with temperature settings, but I had tested the others for 45 minutes, so did the same here.
Smomar sauna blanket review: experience
I enjoyed the Smomar experience overall. The lightness of the blanket meant that I didn't feel squashed and could fully relax for my sweating session, which wasn't always the case with other brands.
I saw benefits to my skin after a few uses, which surprised me, but I think the sweating really helped to clear out my pores and improved circulation to the surface of my skin. As someone with very sensitive, troubled skin, this was a nice surprise and I felt very 'glowy' with regular sauna blanket sessions.
I also found my body felt relaxed and that I was calmer after using the Smomar blanket. I think perhaps this was due to the uninterrupted time being still and just focusing on how my body felt, instead of fiddling with something or looking at a screen to distract myself as I would usually do. I listened to music, monitored my hydration and just enjoyed letting the blanket warm the tension out of my body.
Smomar sauna blanket review: User reviews
The reviews on the Smomar website are very positive, with 4.5 out of five overall. Many users claim it offers an affordable and accessible alternative to traditional sauna. A lot of reviews also mention that they had done a lot of research prior to purchase and that Smomar was the best option they found in comparison to others.
Smomar sauna blanket review: verdict
This was the best infrared sauna blanket of all the ones I tested. The fact it was lightweight and easy to move around really sold me, as I don't think unpacking and repacking the blanket should be a workout in itself. If you want the option to purchase a sauna blanket in a color other than black, the Smomar offers a green option that feels more luxurious and naturalistic than other brands.
Also consider
Heat Healer
If the Smomar is not the sauna blanket for you, you might want to consider the Heat Healer, which offers a great option if you are on the taller side. The Heat Healer can accommodate someone up to 6'6 (198cm) and also comes with a free carry case, plus a complimentary pillow.
HigherDOSE
For a higher-end option, the HigherDOSE sauna blanket is a little more expensive than both the Smomar and Heat Healer, but has a handy zip for getting in and out. There are lots of option extras you can purchase too, such as a towel insert, cleaning spray and copper body brush.
Get the Fit&Well Newsletter
Start your week with achievable workout ideas, health tips and wellbeing advice in your inbox.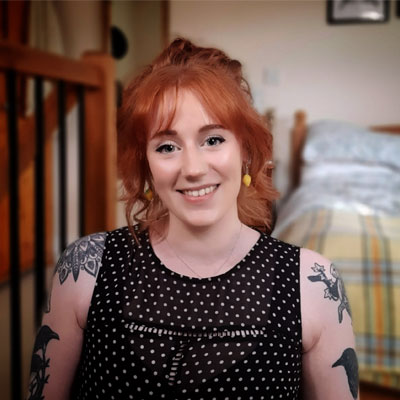 Lou Mudge is a Health Writer at Future Plc, working across Fit&Well, Coach, LiveScience, T3, TechRadar and Tom's Guide. Based in Bath, UK, she has a passion for food, nutrition and health and is eager to demystify diet culture in order to make health and fitness accessible to everybody.
Multiple diagnoses in her early twenties sparked an interest in the gut-brain axis and the impact that diet and exercise can have on both physical and mental health. She was put on the FODMAP elimination diet during this time and learned to adapt recipes to fit these parameters, while retaining core flavors and textures, and now enjoys cooking for gut health.