Sun Home sauna blanket review
We put the Sun Home sauna blanket to the test — here's what we found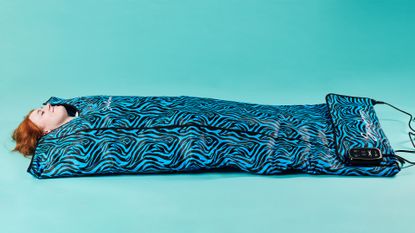 (Image credit: Future)
Light and portal with an attractive design, the Sun Home infrared sauna blanket was one of the best sauna blankets we've tested, trumping many competitors and only falling short of the Smomar due to the premium price.
Reasons to buy
+

Funky design options

+

Well designed carry case

+

Light and portable
Reasons to avoid
-

Takes longer to heat up

-

Expensive

-

No optional extras (e.g a towel)
We were pleasantly surprised when testing the Sun Home infrared sauna blanket. Not only is it a top notch example of the product, but it comes in a range of colors and designs. We tested the blue zebra version, which definitely stood out from the crowd in terms of similar products we've tested.
The Sun Home succeeds where some competitors have failed: there is no strong smell associated with the heating process, the blanket is light and portable and it is easy to set up. Priced at $599, it isn't as budget friendly as other options, but it is still a fraction of the price of a full-sized infrared sauna, like others sold by Sun Home. As with all sauna blankets, the Sun Home lays claim to a host of health benefits, including 'detoxification' and 'cell revitalization'. Although these are benefits we have struggled to verify, the experience of sweating in the sauna blanket was relaxing and I felt energized after my session.
If you're wondering 'what is an infrared sauna blanket?' Or 'what are the benefits of a sauna blanket?', we've broken down the science around why a sauna blanket might be helpful to you.
Sun Home sauna blanket review: price & features
A Sun Home sauna blanket will set you back a whopping $599, which is equivalent to the HigherDOSE, which also comes with an in-depth booklet. However, the range of color options and the fact that Sun Home has experience in making full sized infrared saunas pulled them ahead of most of the competition, making Sun Home one of our favorite sauna blanket brands.
Sun Home offers other infrared products and saunas, but there are no optional extras that you can buy to go with your sauna blanket, unlike the range offered by some competitors. The Heat Healer in particular came with a free pillow and the option to buy a gua sha and a towel insert made for the sauna blanket. However these are things you can pick up elsewhere if you'd like to.
The Sun Home sauna blanket runs at 500 Watts, which is standard for sauna blankets and means it costs very little to run, despite the penetrating temperatures it reaches. If you're concerned about cost of living, a sauna blanket offers a similar relaxing experience to a bath without the cost of water, and is cheaper to purchase than a fully fledged sauna — infrared or traditional.
The controller is easy to use, with options to change duration and temperature. It has a top temperature of 75℃/167F and a maximum duration of 60 minutes. The blanket automatically switches off after an hour (or however long you've set it to run), which is useful if you get so relaxed you doze off.
Sun Home sauna blanket review: material and design
The Sun Home is made from flexible, soft, leathery fabric, which was easy to maneuver in and out of and to get comfortable within. The velcro closure was easy to use and gave the blanket a degree of adjustability depending on the size of the person using it. Sun Home describes the material from which the blanket is constructed as 'non-toxic, low-VOC, waterproof polyurethane.' The carry case is made from durable material that protects the sauna blanket from dust and grime while traveling or in storage.
We noticed that the plug was extremely easy to use, unlike other sauna blankets we tested which can be really stiff and tricky to disconnect. This makes it suitable for those with mobility issues or fine motor problems. If you want a sauna blanket to ease symptoms of arthritis or muscle aches, this might be a good model for you. The instruction manual also states that the plug can be connected to the blanket while it is out of use and stored, which makes it convenient and harder to lose than those that have to be completely disconnected.
The Sun Home is 71" (180cm) by 71" (180cm) when unfolded, which is standard for most of the sauna blankets we've tested. The maximum interior circumference when closed is 65" (165cm) which makes it less suitable for those in larger bodies, although Sun Home said that they had a tester who weighed 375 lbs, as it depends more on a person's dimensions than body weight.
Sun Home sauna blanket review: Features
The Sun Home Sauna blanket has flaps to cover your shoulders to prevent heat loss from the blanket, which was a good feature. It weighs in at 15lbs, making it one of the lighter options available on the market and adding to its overall portability.
The inside of the blanket was smooth and easy to wipe down after use. Sun Home recommended a household antibacterial spray or a vinegar and tea tree solution, but I found that a wet wipe worked well.
The complimentary carry case is slightly larger than the blanket itself, making it easy to unpack and pack away, and it has a drawstring seal which is easier to use than zip options. The carry case also has an adjustable shoulder strap, making it one of the most portable options we tested. Even in the carry case, the blanket is compact and can be easily stored under a bed or on top of a wardrobe and packs into a suitcase if you don't want to use the carry case.
Sun Home sauna blanket review: temperature
The Sun Home has a maximum temperature of 75℃/167F, but we used it at 70℃/158F in order to keep our testing consistent between the various sauna blankets we've tested. It took slightly longer than others we have tested to reach peak temperature, taking closer to 20 minutes to heat up fully. We've found the standard is usually 10-15 minutes. Other brands came with a fairly strong smell of burning plastic as they heat up, but the Sun Home sauna blanket was neutral smelling during use.
Sun Home recommends you wear clothes that will absorb sweat (a shirt, pants, and socks) but we would go a step further and suggest that if you're using the blanket at higher temperatures you might want to lay a towel down or wear thicker, long-sleeved clothing. The inside of the blanket can be uncomfortable against bare or thinly clothed skin beyond 65℃/149F.
Sun Home sauna blanket review: Experience
I enjoyed testing the Sun Home Sauna blanket and managed to get a good sweat on within the 45 minute session. I played myself some music and took sips of water throughout to replace the water lost and felt more calm and relaxed once the 45 minutes were up. I liked how easy the sauna blanket was to get in and out of, but also that the shoulder flaps completely covered me, making it an immersive experience.
I've found that traditional saunas are quite oppressive and have struggled to breathe properly in such a hot, steamy environment, so using a sauna blanket is a great alternative.
Sun Home sauna blanket review: user reviews
User reviews are very positive for the Sun Home sauna blanket, with 204 five star reviews on the Sun Home website, and only two customers ranking it a lower four stars. Users like the quality materials used and praise the blanket for being well constructed. Many had purchased this sauna blanket to aid post-workout recovery, joint and muscle pain, and have also found it has improved their sleep quality.
One buyer said that it solves the problem of small spaces not working for full-sized saunas, and also recommended using a towel to protect exposed skin. "I love the benefits of infrared saunas but didn't have room for one in my house. This blanket solved that problem," the user says. "I just slide it under my bed when not in use. The only discomfort I had was my heels would get too hot resting on the mat but a towel solved that issue. I love this blanket and all the benefits it brings with it!"
Sun Home sauna blanket review: verdict
The premium price that the Sun Home Sauna Blanket carries seems a little steep, considering the features offered by the competition, however we found it to be a really good all round sauna blanket and hard to fault. The issues we had with it were minor and the range of color and design options is an area where most competitors fail.
Sun Home sauna blanket review: Also consider
Smomar
If the Sun Home sauna blanket is a little out of your price range, you might consider the Smomar sauna blanket, which also has two color options and is very similar to the Sun Home sauna blanket in terms of features. Both come with a complimentary carry case and are made of similar material.
Heat Healer
If you're taller, the Heat Healer sauna blanket is good for people up to 6'6" (198cm) and is heavier, which gives you the 'weighted blanket' experience while using it. It also clocks in at a lower price than the Sun Home sauna blanket.
Get the Fit&Well Newsletter
Start your week with achievable workout ideas, health tips and wellbeing advice in your inbox.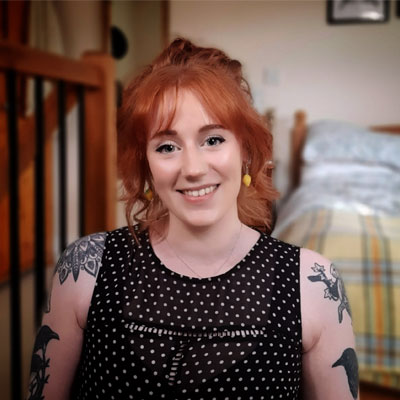 Lou Mudge is a Health Writer at Future Plc, working across Fit&Well and Coach. She previously worked for Live Science, and regularly writes for Space.com and Pet's Radar. Based in Bath, UK, she has a passion for food, nutrition and health and is eager to demystify diet culture in order to make health and fitness accessible to everybody.
Multiple diagnoses in her early twenties sparked an interest in the gut-brain axis and the impact that diet and exercise can have on both physical and mental health. She was put on the FODMAP elimination diet during this time and learned to adapt recipes to fit these parameters, while retaining core flavors and textures, and now enjoys cooking for gut health.