Heat Healer sauna blanket review
The Heat Healer infrared sauna blanket is one of the largest options on the market, with the bonus of a complimentary carry case and pillow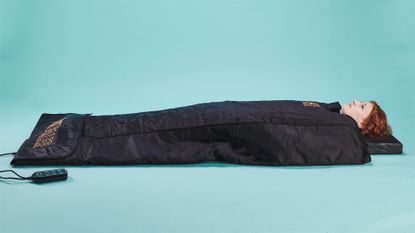 (Image credit: Future)
The Heat Healer sauna blanket offers an option for particularly tall customers who may find other models too small. It is, however, the heaviest of the blankets we tested, which makes it a less viable option for someone with limited mobility.
Reasons to buy
+

Complimentary carry case and pillow

+

Optional extras (gua sha, towel insert)

+

One of the biggest on the market
Reasons to avoid
-

Strong plastic smell when heated

-

Difficult to get in and out of

-

Heavy despite carry case
Get the Fit&Well Newsletter
Start your week with achievable workout ideas, health tips and wellbeing advice in your inbox.
Thank you for signing up to Fit And Well. You will receive a verification email shortly.
There was a problem. Please refresh the page and try again.
The Heat Healer infrared sauna blanket falls in the middle of its competitors in terms of price and comes with a range of optional extras and a complimentary carry case. Unlike other brands, the Heat Healer also comes with a complimentary pillow. Although it is the most height-inclusive, being the one of the largest sauna blankets available on the market, the weight of the blanket makes it the most unwieldy and potentially unsuitable for those who may struggle with strength or mobility.
As a health junkie, I was excited to try out the Heat Healer, but my first experience was marred by the strong smell of heated plastic, which I found overwhelming. The smell does go away after a few uses (or maybe you get used to it), but this was off putting and not exactly conducive to a calm and spa-like atmosphere.
Plus, if you're wondering what is an infrared sauna blanket, we've put together a guide to everything you need to know about these wellness products, from how they work to what you need to wear.
Heat Healer sauna blanket review: price & features
The Heat Healer retails for around $568/£448, which is neither the cheapest nor most expensive sauna blanket option out there. For your money, you do get a free carry case, making this blanket one of the more portable options, as well as a free pillow – something that sets it apart from its competitors. You can also pick up a towel insert for $89/£59 and a stone lymphatic body paddle/gua sha for $89/£59 from the Heat Healer website. This range of optional extras can elevate your experience but aren't necessary to use the sauna blanket properly.
The instructions that came with the blanket were minimal, with a QR code on a single A5 sheet of paper making it more sustainable perhaps, but less accessible for those who may not have much technical knowledge. The essentials were covered by the flyer, with safety instructions and a step-by-step guide, and the QR code takes you to a page with a video and a more detailed guide to setup.
The Heat Healer sauna blanket runs at 550 watts, meaning a 30-60 minute session will only cost you a few cents/pence in electricity. This is a lot cheaper to run than a traditional sauna, which takes much longer to heat up and is more expensive to keep at the optimal temperature.
Heat Healer sauna blanket review: material and design
The blanket is 75" (190cm) long and has a circumference of 69" (175cm), which makes it the biggest on the market, and can accommodate someone up to 6'6 (198cm). The recommended upper weight limit is 300lbs (135kg), and the 69" (175cm) circumference makes the Heat Healer unsuitable for those in a larger body.
The Heat Healer looks very standard for a sauna blanket when closed, despite being slightly larger. It was heavier than other models we tested, making it harder to get in and out of, but the velcro closure was convenient and easy to use. The visible jade and tourmaline stones on the inside of the blanket gave the blanket more of a spa-like, luxury feel, so it felt less like I was sealing myself into a body bag when I got settled.
Heat Healer sauna blanket review: Features
The free pillow is also a massive bonus of the Heat Healer, particularly if you don't want to sweat onto one of your own pillows or find yourself changing a pillowcase every time you use the sauna. I found this blanket to be particularly difficult to plug in; the connection to the blanket was very stiff, which might make it unsuitable for those with reduced fine-motor mobility, who may not be able to set the blanket up alone. It was also the most difficult to pack away of all the blankets we tested due to its weight, and I found it hard to make it fit into the carry case to store it. Considering the blanket seems to be used by many customers to alleviate symptoms of chronic illness, I felt that the accessibility and ease of use of this blanket was an important factor to consider.
Heat Healer sauna blanket review: temperature
The Heat Healer has a top temperature of 176°F (80°C) although the instructions recommend you start at a lower temperature, 158°F (70°C), and work up to the top temperature if you are comfortable doing so. This is fairly daring compared to other brands, some of which recommend you start very low and increase by 40°F (5°C) with each usage (or start on a lower level for those that don't have temperature settings). If you are not used to a sauna blanket, starting at 158°F (70°C) may be a little high, particularly if you are also starting with a 60 min session. Considering the caution recommended by other brands, I wonder if Heat Healer's recommendations are too high, or if other brands are just being overly cautious.
I tried to keep my testing consistent across multiple brands, so I did not exceed 158°F (70°C) as this was the top temperature for other brands, and I used the sauna blanket for 45 minutes at a time.
Heat Healer review: Experience
After getting over the strong plastic smell of the Heat Healer, I settled into the experience and enjoyed a good sweat. It never reached uncomfortable levels of warmth, although I did sweat through my clothes after about 20 minutes. As recommended, I followed the session with a cool shower, which left me feeling refreshed. I felt that the sweating definitely helped improve my skin texture over the week, and I ended each session feeling calm and relaxed.
The Heat Healer takes 10-15 minutes to heat up, which is standard across most brands of sauna blanket. This is a lot faster than a traditional sauna, which can take up to an hour to reach optimal sweating temperature.
The Heat Healer recommends that you start with a 30-60 minute session, and the blanket automatically switches off after 60 minutes. This seems to be standard for other sauna blankets, and handy in case you fall asleep.
The Heat Healer has the standard recommendation that you should wear loose-fitting clothing, including socks, to absorb sweat and to serve as a barrier between your body and the sauna blanket. All the other sauna blankets we tested function in a similar fashion and require you to be clothed to use them. Heat Healer offer the option to purchase a towel insert, but you can just lay down a towel for an extra layer of protection for yourself and the blanket.
Heat Healer recommend that you wipe the blanket down with an antibacterial spray once it has cooled down, and to not fold it up for storage until it is completely cool. They also recommend you store the blanket in its original box, in a cool, dry place and do not place anything on top of it in case you cause damage to the blanket.
Heat Healer sauna blanket review: user reviews
Heat Healer user reviews are overwhelmingly positive, with a lot saying that it helps to soothe symptoms of their chronic health issues, lowers their anxiety levels and helps them to enjoy more restful sleep. Other users say it helps to speed their recovery and soothe sore muscles after an intense workout. Many commented on the higher quality of materials used in comparison to other sauna blankets, giving the Heat Healer a high-end feel that doesn't necessarily reflect in the price.
Heat Healer sauna blanket review: verdict
The Heat Healer is a good sauna blanket, with a standard top temperature, selling for a reasonable price compared to its competitors. Users liked the materials used to construct the blanket and the extras, both complementary and optional. As one of the largest sauna blankets available at the moment, it is particularly good for tall people, although a range of sizes, particularly with options for a wider circumference, may be better to make the sauna blanket accessible to those in larger bodies.
Heat Healer sauna blanket review: Also consider
Smomar
Other alternatives include the Smomar infrared sauna blanket, which also comes with its own carry case, but is a lighter and cheaper option than the Heat Healer.
HigherDOSE
If you wanted to go for something a little higher-range, the HigherDOSE infrared sauna blanket is also a lighter option, although it comes in at $599/£460, making it ever so slightly more expensive.
Get the Fit&Well Newsletter
Start your week with achievable workout ideas, health tips and wellbeing advice in your inbox.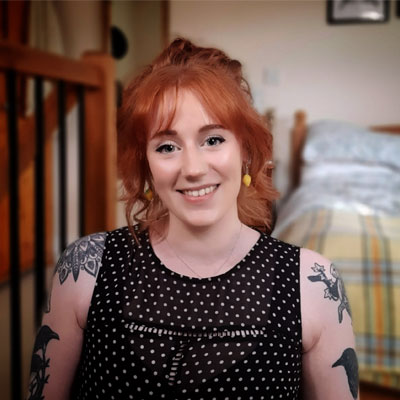 Lou Mudge is a Health Writer at Future Plc, working across Fit&Well, Coach, LiveScience, T3, TechRadar and Tom's Guide. Based in Bath, UK, she has a passion for food, nutrition and health and is eager to demystify diet culture in order to make health and fitness accessible to everybody.
Multiple diagnoses in her early twenties sparked an interest in the gut-brain axis and the impact that diet and exercise can have on both physical and mental health. She was put on the FODMAP elimination diet during this time and learned to adapt recipes to fit these parameters, while retaining core flavors and textures, and now enjoys cooking for gut health.