HigherDOSE sauna blanket review
This HigherDOSE sauna blanket review looks at why this device may be a great alternative to a traditional sauna, and everything you need to know before purchasing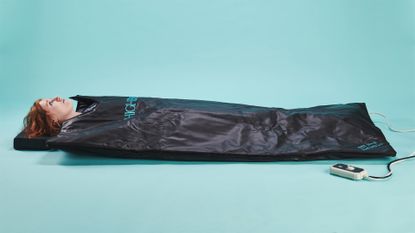 (Image credit: Future)
The HigherDOSE infrared sauna blanket has multiple layers of materials with potential wellness benefits, and provides a relaxing experience. But considering it's one of the more expensive models on the market, we were disappointed that it had no distinguishing features or complimentary extras.
Reasons to buy
+

Zip closure makes it easy to get in and out

+

In-depth instruction manual

+

Multiple layers with potential 'healing' benefits
Reasons to avoid
-

No carry case included

-

Levels of 'toastiness' instead of actual temperatures

-

Only goes up to 158F (70C)
The HigherDOSE infrared sauna blanket is one of the most premium products on the market, coming in at $599/£539. But whilst other models come with a complimentary carry case, the HigherDOSE does not, making it the least portable. In addition to the lack of portability, this sauna blanket does not achieve the high temperature that other brands advertise. The standard for most brands seems to be 176°F (80°C), with the HigherDOSE topping out at 158°F (70°C).
Having said this, as a brand HigherDOSE has the broadest range of infrared products and extras available, and includes several extra layers of materials that competitor blankets don't have. The brand also promises deep relaxation, glowing skin and improved circulation among potential benefits.
I put the HigherDOSE infrared sauna blanket to the test to see if the product lived up to the potential sauna blanket benefits touted by the likes of Lady Gaga and Gwyneth Paltrow.
HigherDOSE sauna blanket review: price & features
For one of the more expensive options on the market, at $599/£539, the HigherDOSE infrared sauna blanket is very middle-of-the-road with most of its features. It weighs 19lb (8kg), which is not the heaviest nor the lightest available. In comparison to other brands, I didn't really understand why the price was so high. You don't get any complementary products with your purchase (for example, a handy carry case), and it isn't any larger or more lightweight than other brands.
As with other brands, the HigherDOSE blanket runs at 450-500 watts, making it low-cost to run. Once you've invested in the initial purchase of the sauna blanket, it definitely becomes a more cost effective option than paying to go to a traditional sauna or trying to run a larger infrared sauna at home. Because it is only heating your body and not an entire room, you can enjoy the sauna blanket without worrying too much about the impact it will have on your energy bills.
HigherDOSE sauna blanket review: Material and design
HigherDOSE is standard when it comes to size, at 71 x 71 inches (180 x 180 cm) unfolded. It has a maximum interior circumference of approximately 65 in (165 cm). Whilst HigherDOSE claims there is no upper weight limit, this small circumference would definitely limit users in larger bodies, who may not be able to use the blanket as comfortably.
I liked that the HigherDOSE had a zip instead of Velcro, but was aware that this removed any degree of adjustability which some other brands have by using wide Velcro strips for closure. Additionally, I found it very difficult to connect the power supply to the blanket itself, as the attachment was very stiff. In fact, this turned into a three-person job during later use. While not everyone may find this an issue, for someone who wants to use the blanket to ease symptoms of arthritis, this might be a sticking point.
HigherDOSE sauna blanket review: Features
HigherDOSE recommend you wear loose, natural fiber clothing, as is standard for these products, however they also sell a towel insert which can be used to separate yourself from the blanket if you'd rather sweat naked. While this is a great optional extra, the insert costs $89/£79, which seems a little steep on top of the price of the sauna blanket itself.
The HigherDOSE infrared sauna blanket had the most in-depth instruction and safety manual of all the brands we tested. As well as basic 'how-to' information, they offer some suggestions on how to elevate your experience, such as taking a 'hot shot' of fresh lemon juice with ginger, or dry brushing your body to activate your lymphatic system before your session.
Compared to its competitors, the HigherDOSE infrared sauna blanket seems to have the most relevant experience with the far infrared technology these blankets use to make you sweat. As well as the infrared sauna blanket, they also make infrared PEMF matts, red light face masks and even full spectrum infrared saunas. They do seem to be appealing to people who already love infrared saunas, which is perhaps reflected in the higher price. They also offer the widest range of accessories, with the aforementioned towel insert, matt toppers, cleaning spray and a copper body brush. They also offer a carry bag for the sauna blanket, but unlike competitors, who offer their carry bags as complimentary extras, this backpack-style case will set you back $99/£89.
HigherDOSE sauna blanket review: temperature
I was put off by the fact you can't select a temperature, and instead are offered levels of 'toastiness' to which the blanket will heat. While this encourages you to listen to your body and perhaps select the level that you feel most comfortable at, it would be good to be able to see exactly what temperature brings on a sweat.
After checking what level came closest to 158°F (70°C) to keep my testing consistent between brands, I settled in for 45 minutes. The instructions advise that you start at a level 4 or 5 and only go up to level 8 if absolutely necessary. I ended up starting on a level 8 as this was 158°F (70°C), the temperature I used when testing other brands. This seems low in comparison to other brands, which tend to go up to 176°F (80°C). It also seems a little low to start with a level 4 or 5 out of 8, when other brands recommend you begin at the temperature this blanket tops out at.
Another reason this sauna blanket seems to be on the pricier end of the sauna blanket spectrum is the several layers of materials within the cover. As well as the far infrared heating zone, the blanket has an amethyst and tourmaline layer, a clay layer, a charcoal layer and a magnetic layer, all claiming to add wellness benefits to your experience. To look at, it is very much like most of the other sauna blankets on the market, but perhaps these hidden layers have hidden benefits. These cannot be backed up with evidence, however.
HigherDOSE sauna blanket review: Experience
I found the HigherDOSE blanket to be somewhere in the middle of all those I tested. It wasn't too difficult to get in and out of and I liked that I could zip myself fully into it, whereas the others had gaps at the top. It felt like I wasn't losing heat around my shoulders and could immerse myself in the experience.
I was able to settle into the sweating session once the blanket had heated up, and if I needed to get out quickly, the zip gave me this option. The heat was really lovely and penetrative, and I felt very relaxed afterwards. As infrared saunas provide quite a dry heat, despite being sweaty I didn't feel sticky or swampy inside it.
HigherDOSE sauna blanket review: User reviews
HigherDOSE users seem to absolutely love the sauna blanket, with over 2000 positive reviews. Users claim that the blanket has the power to relax them, and help with joint pain and inflammation, with some people using it every day. The only complaint users had was the lack of carry case, which makes it hard to take it with you on holiday or business trips.
HigherDOSE sauna blanket review: Verdict
As the most expensive option, I expected the HigherDOSE to offer something that its competitors didn't. While the experience was not obviously different from the others, I did like the instructional materials that came with the blanket as they came with extra recommendations such as using the blanket after exercise or finishing the session with a cold shower.
HigherDOSE sauna blanket review: Also consider
Smomar
For a slightly more cost-effective option, you can check out the Smomar infrared sauna blanket. This comes in a variety of colors, with a free carry case and is the most lightweight of the brands we tested.
MiHigh
Our MiHigh sauna blanket review found this product simple to set up and easy to use. Coming with nine different temperature settings, a controller, and a carry bag, it seems to be a solid entry-level introduction to the world of heat.
Get the Fit&Well Newsletter
Start your week with achievable workout ideas, health tips and wellbeing advice in your inbox.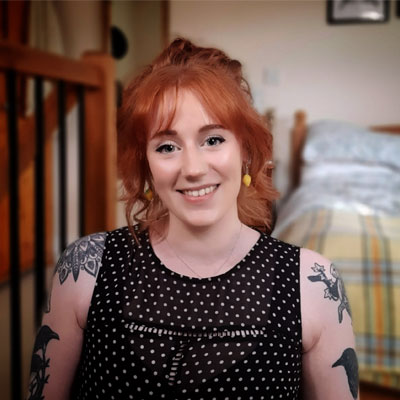 Lou Mudge is a Health Writer at Future Plc, working across Fit&Well and Coach. She previously worked for Live Science, and regularly writes for Space.com and Pet's Radar. Based in Bath, UK, she has a passion for food, nutrition and health and is eager to demystify diet culture in order to make health and fitness accessible to everybody.
Multiple diagnoses in her early twenties sparked an interest in the gut-brain axis and the impact that diet and exercise can have on both physical and mental health. She was put on the FODMAP elimination diet during this time and learned to adapt recipes to fit these parameters, while retaining core flavors and textures, and now enjoys cooking for gut health.