Beats Fit Pro vs Powerbeats Pro: which Beats headphones are best for workouts?
Stuck comparing the Beats Fit Pro vs Powerbeats Pro? We'll help you decide between these workout earbuds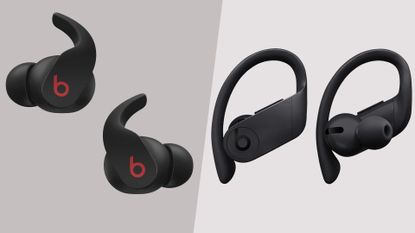 (Image credit: Apple/Beats)
Get the Fit&Well Newsletter
Start your week with achievable workout ideas, health tips and wellbeing advice in your inbox.
Thank you for signing up to Fit And Well. You will receive a verification email shortly.
There was a problem. Please refresh the page and try again.
If you're looking at the Beats Fit Pro vs Powerbeats Pro, it can be hard to decide between Apple's fitness-focused earbuds. Especially because, feature-wise, they're not that different from the Apple AirPods Pro, either.
All three sets are some of the best workout earbuds you can buy right now, but the Beats headphones have a sportier design suited to runs, weight-lifting sessions, and high-intensity exercise.
The Beats Fit Pro are newer; the Powerbeats Pro look more like fitness headphones. But which are going to be the best for your needs? We'll break down this decision, looking at sound quality, features, fit and more.
The Beats Fit Pro come with noise cancellation and a transparency mode but a shorter battery life
For
Noise cancellation
Support for Apple's Spatial Audio
Includes a transparency mode
Against
On-ear buttons more difficult to use
Shorter battery life
Beats Fit Pro vs Powerbeats Pro: price and release date
The Beats Powerbeats Pro are the older of the two sets, initially launching in 2019, two years before the Beats Fit Pro. They're still a modern set of earbuds, as we found in our Beats Powerbeats Pro review, but they miss out on some performance tweaks and newer hardware of the Fit Pro.
This means a comparison of their original pricing isn't entirely fair. The Powerbeats Pro's official pricing is $249/£269, compared to the $199/£219 of the Beats Fit Pro.
As the Powerbeats Pro are older, they're more likely to end up discounted, although Apple doesn't often put its products on sale, so you'll need to hunt around. Helpfully, our on-page tech automatically finds the best prices to help you save time and money.
Beats Fit Pro vs Powerbeats Pro: design and fit
The Beats Fit Pro and Powerbeats Pro may be siblings, but they look about as different as earphones get. The Beats Fit Pro design is likely to appeal more if you are looking for an all-purpose earphone to use for your commute, in the gym, and during runs.
They are small earphones where the exercise-ready stability is provided by a little silicone wing tip that nestles into a recess in your ear cartilage. They also have tips that don't need to dig too far into your ear canal, handy for those who don't like an invasive-feeling earphone.
Beats' Powerbeats Pro are entirely different. The tips can reach further into your ear canal and use stabilizing arms that sit over your ears. We say 'can' because the design means you won't feel the need to push them in as far as they'll go.
Is it a more secure style? Absolutely. How often have we been grateful for that extra stability? Not all that often. If most earbuds fit your ears, you'll not have a problem with either set. But the ear hooks are helpful if you exercise with a hood up or hat on.
We don't think the Powerbeats Pro style is ideal for glasses-wearers, as it means their stems and the earphones' hooks end up competing for the same space over your ear. However, it shouldn't be much of a problem unless your glasses have super-thick arms.
Some may find the Beats Fit Pro's stabilizing fins hurt their ears after a while. This is because while those fins are soft, small movements over a period of hours can cause an ache.
Beats Fit Pro vs Powerbeats Pro: sound quality
Beats became famous for its overpowering bass, but this has been toned down since Apple bought the brand from Dr. Dre. That said, it's not too soft that you miss out on bass during motivational workout songs.
This applies to the Powerbeats Pro and Fit Pro, as their sound signatures are relatively similar. Though, we did find that the Fit Pro have a bit more treble, which can inject some additional life into your tunes.
But if you're passionate about getting audiophile-style audio, you'd be better off with the NuraTrue earbuds instead. The mid-range can seem unloved in both Beats pairs because the bass and treble get most of the attention.
That said, Apple has granted them a vital extra; Spatial Audio. This feature makes it sound as though you're in the room with the music, although you'll need a specific subscription to Apple Music to make the most of it.
The Beats Fit Pro take the audio tech crown, though, as they also support head tracking. This uses motion sensors in the earphones to let the sound move as you turn your head as if it is being played through actual speakers. You're likely to use this at home rather than while exercising, but it's a must-try.
Beats Fit Pro vs Powerbeats Pro: features
The Beats Fit Pro have another huge advantage; active noise cancellation (ANC). There's no cancellation in the Powerbeats, just the passive isolation you get when blocking your ear canals with silicone tips.
While the Beats Fit ANC is not as good as the Apple AirPods Pro, it is hugely helpful for listening while on public transport. It eradicates a lot of low-frequency noise, meaning you don't have to turn your music up to compete, as doing so can eventually damage your hearing.
The Beats Fit Pro also have an excellent transparency mode, which allows some background noise to help you stay aware of your surroundings while exercising or on a run without overpowering your music or podcasts.
But we really liked the on-earbud music controls on the Powerbeats Pro. There's a volume rocker and a physical button for playback control. The Fit Pro have physical buttons, too, but only one per earpiece, which isn't ideal for adjusting the volume.
Neither of these pairs has water resistance to match something like the Jabra Elite 7 Active. They are both rated at IPX4, meaning they are fine with a bit of rain or sweat but should not be rinsed under a tap.
Beats Fit Pro vs Powerbeats Pro: battery life
Despite all their similarities, the Powerbeats Pro have significantly better battery life than the Fit Pro. They can last up to nine hours per charge, compared to six hours in the Fit Pro with active noise cancellation switched on or seven hours without.
However, this isn't met with an increase in total battery life when you factor in the charging case. The Powerbeats Pro case is pretty large but has a lower capacity than the smaller charging case of the Beats Fit Pro.
Beats Fit Pro vs Powerbeats Pro: verdict
For all-purpose use, if listening during exercise is only going to be a small fraction of your time with these earphones, we recommend the Beats Fit Pro over the Powerbeats Pro.
They have active noise cancellation, a much more unobtrusive design, a smaller charging case, and head tracking when using Apple's Spatial Audio feature for the techies out there.
The Powerbeats Pro still make a lot of sense for exercise. Their over-ear loops provide an (at least) slightly more secure fit, too. And they have all-day battery life, which is rare in true wireless earphones.
But Apple's headphones aren't your only choice. We've also compared the Jabra Elite 75t vs 85t, helping you decide between the company's two top workout-focused earbuds.
Get the Fit&Well Newsletter
Start your week with achievable workout ideas, health tips and wellbeing advice in your inbox.
Andrew is a freelance contributor to Fit&Well. He has written about health and fitness for more than a decade, specializing in consumer tech. When not testing fitness tech for Fit&Well he writes about fitness for Forbes and contributes to publications including WIRED, TechRadar, Stuff, Trusted Reviews and others. Andrew runs to keep fit, and can often be round jogging around the parks of South London with several wearables and a heart rate strap attached. He also enjoys indoor cycling, using a turbo trainer and platforms like Zwift to get some kilometers in while avoiding London's busy streets.