What is biohacking - and how can it help boost health and wellbeing?
We examine three ways in which biohacking can help you take control of your wellbeing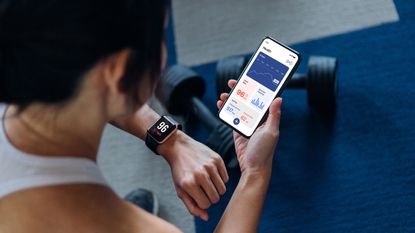 (Image credit: Getty Images)
You may have heard rumblings of biohacking for a few years now, however 2021 is the year that it will become the new normal.
Biohacking sounds like we've fast forwarded into a sci-fi movie. But in terms of technology we're already in the future, with smart tech controlling and recording our every move, providing feedback about how we sleep, how we move and even what we eat.
Biohacking is simply using some of these tools to adjust our biology for what works for us - an approach to optimizing or boosting our health by experimenting with diet and supplements, such as the best supplements for joints, functional testing and even sleep.
Why biohack?
"Biohacking can help people take their health that extra step further to optimise their energy, focus, productivity and wellbeing, "says Clarissa Lenherr, nutritionist at bioniq.
We are constantly bombarded with news, notifications and suggestions about what's good for us – while our lifestyles start to suffer. Isaac Garcia, a personal trainer at Puente Romano Beach Resort agrees: "If we look around us, we will realize that the world is increasingly out of balance. There's more illnesses, greater fatigue, stress, insomnia and pain.
"When your body finds the balance between the physical, emotional and energetic, you feel a state of continuous ecstasy without having euphoria, the same energy when waking up as when going to sleep."
He adds: "You can stay focused and active longer and need less time to recover."
And while some extreme bio-hackers spend thousands on upgrading their genetic makeup or micro-dosing for better focus - simple biohacking really doesn't have to be that complicated.
What's more, for many biohacking helps give a sense of control over their own health and wellbeing. However, be sure to consult with a medical professional before making any major changes to your diet or lifestyle.
Biohacking and diet
You don't have to start a fad diet, do a juice cleanse or starve yourself to biohack your diet – it's about being smart. And changing your diet isn't just about losing weight, either.
"Whether you are looking to improve energy levels, banish brain fog, boost performance or maintain a youthful complexion, cleaning up your diet is one of the best places to start," says Lenherr.
So where to begin? Lenherr explains: "Some of the things to tick off the list include eating enough protein, drinking plenty of water (1.5-2 liters daily), reducing sugar and alcohol consumption, and filling your plate with color and fibre from plant-based foods."
Lenherr also recommends intermittent fasting, which she says is linked with improved blood blood pressure and cholesterol levels, decreased levels of inflammation, and enhanced weight loss.
"If you want to introduce fasting to your diet, start slowly and see how your body tolerates it," she advises. "Begin with a 12 hour fast and increase the hours every few days until you get to 16.
Introducing supplements into your diet can also be beneficial, helping to "optimize our nutrient levels and avoid nutritional deficiencies," says Lenherr.
This is usually best done in collaboration with a medical professional or nutritionist. But to discover more on how supplementation can help with specific concerns or issues, see our guides to the best supplements for joints, the best menopause supplements, and the best vitamins for women over 50.
Biohacking and technology
Our phones and social media may make us feel as though we are more connected than ever and know more about our bodies, but they're addictive and can be time waster. What's more, a 2018 study proved that depression and loneliness can be caused by the overuse of social media.
So, when it comes to using technology and social media to improve our wellbeing, we need to be smart.
Lenherr says good sleep is one of the easiest ways to biohack your lifestyle. "Good sleep, both quality and quantity, helps to boost mood, improve energy levels, support the immune system, optimize weight loss and reduce cravings, as well as contributing to overall digestive and cardiovascular health."
But how can we use tech to get better sleep quality? One clever device is the Oura ring, which tracks your sleep patterns and how your activity levels and rest impacts your sleep.
It's also important to consider how not to use tech, with Lenherr advising the complete removal of phones from the bedroom. She also recommends "keeping the last hour of the day for non-work-related activities, reducing sugar and alcohol consumption - particularly three hours before bed time - and stopping caffeine consumption by 2pm."
Meanwhile, the best fitness trackers can play a pivotal role when it comes to using technology to improve our health and general fitness. They no longer simply analyze basic data such as steps and heart rate - some also provide data for blood oxygen levels, period tracking and our sleep patterns. If used to our advantage and put to work in making changes to our lifestyles, this data can be very beneficial to the wellbeing of our bodies.
Biohacking and functional testing
Not as scary as it sounds – functional testing just means tracking factors such as blood levels, food intolerances and your fitness levels. These tests will give you a better overall picture of your health - and knowledge is power.
For example, Lenherr explains how blood tests can start to give you a more detailed understanding at your body.
"A comprehensive blood test can include markers such as C-reactive protein (CRP), which shows inflammation levels in the body, vitamin and mineral status, hormones, and cardiovascular health markers beyond just total cholesterol, for example by analyzing beneficial vs non-beneficial cholesterol levels."
She adds that blood tests can also establish if we are absorbing nutrients from our diet, assess whether supplements are doing their job, find out if we are eating too much or too little of something, and potentially spot disease progression or chronic illness before it becomes serious.
Get the Fit&Well Newsletter
Start your week with achievable workout ideas, health tips and wellbeing advice in your inbox.
Sarah is a freelance journalist who writes about fitness and wellbeing for the BBC, Woman&Home and Tech Radar. During lockdown she found her love of running outside again and now attempts to run around 50 miles a month. When it comes to other fitness, she loves a sweaty cardio session – although since she's been working out from home she's sure her downstairs neighbors aren't too happy about it. She also loves to challenge herself - and has signed up to do hiking holidays, intense bootcamps and last year she went on her dream activity holiday: paddle boarding around deserted islands in Croatia. On her rest days, she loves to recover with a simple yoga flow session – the perfect antidote to her active fitness schedule.