Cycling shoes vs running shoes: what's best for bike-based workouts?
When it comes to working out on two wheels, a pair of spinning shoes is worth investing in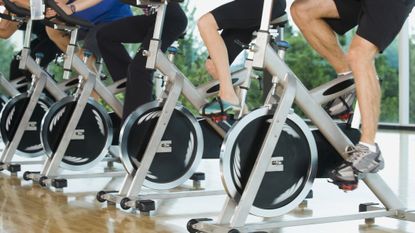 (Image credit: Getty Images)
Whether you're a spin class regular or you've just invested in one of the best exercise bikes and are keen to get the most out of it, one question fellow cyclists often have is whether they need to invest in a pair of specialist spinning shoes.
Whilst regular sports shoes such as running shoes can do just fine for bike-based workouts, there's a wealth of benefits to be gained from owning cycling shoes - including improved performance, reduced risk of injury and - in the case of anyone attending spin studios - better hygiene.
So if you're considering getting a pair of spin shoes, read on to discover how they differ from other shoes - and why they can make all the difference to your rides.
How do cycling shoes differ to running shoes?
Generally speaking, regular sports shoes typically have a flexible and cushioned sole. They're also usually lightweight, which enables a range of movement and makes them perfect for activities like walking and running.
Conversely, cycling shoes are more rigid, firm and heavier. They also feature cleats, which attach to the sole of the shoes and allow you to clip-in to the pedals. This alls brings benefits, as Alana Murrin, Head of Ride at cult cycling studio Psycle London, explains.
'Spinning shoes have a harder sole - often made out of hard plastic, fiberglass and carbon fibre where the cleat is attached.'
This helps to ensure that the force of the stroke is more evenly spread across the foot, Murrin says.
On the flip side, she adds: ''Trainers have a softer sole; they will often wrap around the pedal and the straps above the foot. Keeping the foot in the pedal will apply uncomfortable pressure on the foot, particularly when weight- or resistance-bearing.'
you're looking at something a bit more rigid and firm that will clip into pedals to ensure your feet don't slip out of place. Slip into a pair and you will notice the difference straight away, as they are a lot heavier than a regular pair of sneakers.
Cycling shoes: pros
More powerful pedal stroke
If adding resistance to your bike in class or riding outdoors up steep hills is your idea of hell, then you will be pleased to know that investing in a pair of cycling shoes helps you expend less energy when pedalling.
Murrin reveals: 'Investing in proper spinning shoes allows you to add more resistance on the bike, as well as giving you more control over your leg speeds.'
Rest assured that when wearing a pair of spinning shoes, they won't slip out of place. The cleats clip in securely, helping to prevent injury and reduce the amount of time spent worrying about your feet accidentally slipping out of the pedals.
'The ride itself will feel more supported and streamlined, compared to wearing a regular pair of trainers,' Murrin adds.
Improves form and performance
'With cycling shoes, you can adjust the cleats on the sole of the shoe to suit your own body,' says Murrin. 'This helps to align your knee, hip and foot through the pedalling motion, resulting in a smoother ride and injury prevention.'
Murrin adds: 'Expect a more energy-efficient, safer and physically effective ride.' Shoes that don't clip into a bike pedal overwork your muscles, due to the fact that you are constantly pushing your feet, which results in increased energy loss from pedalling.
Many spinning studios supply shoes for their classes - but, with the world in the midst of a global pandemic, suddenly there is even more reason to invest in your own pair.
Although it is reassuring to know that spinning studios have upped their game even more since the pandemic with vigilant shoe cleaning in process after classes, owning your own is the ultimate peace of mind.
Cycling shoes: cons
If, like many, you feel you often require assistance to attach your cycling shoes to the pedals, never fear - it will get easier with practice.
'Initially it takes a bit of getting used to clipping in and out of the pedal, but once you get more comfortable and efficient, the ride itself will feel really supported and streamlined,' Murrin advises.
Are the pedals compatible?
There's nothing worse than investing in a new pair of spinning shoes only to turn up to class to find they don't fit the pedals. Failure to prepare is preparing to fail, so it's best to do your homework before you invest.
'Check with the studio to see if your preferred shoes are compatible on their pedals,' advises Murrin - or else, check which system your home exercise bike uses.
There are two types of system:
Heel types: SPD style cleat
'First is the SPD-style cleat, which is a two-hole system in the sole of the foot,' Murrin says.
'This system is often used in gyms and studios. The cleat is flush with the sole of the shoe making it a lot easier to walk around in the shoes. They can be tricky to clip in and out of pedal initially, due to the smaller size of the cleat.'
'The Delta system is a three-hole system in the sole of the foot,' Murrin continues.
'These cleats will be much larger than SPD, making it a little trickier to walk around but slightly easier to clip in and out of the pedal and they may improve energy transfer due to the size of the cleat.'
If you are still able to visit your local spin studio, bear in mind that cycling shoes can be quite heavy to carry while commuting.
Cycling shoes vs running shoes: Final Thoughts
After factoring in all of the above, it's plain to see why many people prefer a cycling shoe versus a pair of regular running shoes for their bike-based workouts.
If you are serious about working out on two wheels and want to up your game while using less energy, then spinning shoes are the way forward. However, if you are more of a part-time cyclist then a good pair of sports shoes will still do the trick, just not at the same level. You should also exercise extra caution in order to avoid injury.
For the final word, Alana Murrin has it spot on: 'Apart from the obvious compatibility, it really boils down to personal preference and comfort.'
Get the Fit&Well Newsletter
Start your week with achievable workout ideas, health tips and wellbeing advice in your inbox.
Kirsty is an accomplished journalist specialising in the wellness industry. She has previously written for titles including Grazia, Popsugar, Metro.co.uk, Elle UK and the Sunday Telegraph. You'll find her running around Windsor Great Park at 6am most mornings (before her toddler, Clementine Lilac, wakes up), followed by a virtual barre class with the team at Psycle London – where that barre burn is just so addictive. Kirsty loves to stock up on new activewear; because, let's face it, you can never have too many pairs of sculpting leggings. She's always keen to try/endure the latest workouts to come to London. Kirsty also enjoys rustling up nutritious family meals and indulging in her newfound hobby: flower pressing.