Fitbit Charge 5 vs Inspire 3: which fitness tracker should you buy?
We're comparing the Fitbit Charge 5 and Inspire 3 to help you choose the right fitness tracker to hit your goals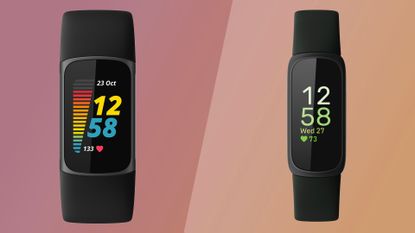 (Image credit: Fitbit)
If you're looking at the Fitbit Charge 5 vs Inspire 3, it can be difficult to tell the two apart. There are a few visual differences, but both fitness trackers monitor your sleep, count your steps, and track your workouts.
Technically, the best Fitbit models available right now are the top-of-the-range Versa 4 and Sense 2 smartwatches, but these are larger and have features you might not need, like built-in speakers and an Apple Watch-style design.
However, the Charge 5 and Inspire 3 look more like traditional fitness trackers; slimline, bracelet-style designs with small displays to keep on top of your daily activity.
Aside from the aesthetics, there are several significant differences between the Charge 5 and Inspire 3. To help you find the right tracker for your needs, we've compared the Fitness Charge 5 vs Inspire 3 on price, features, and performance.
The Fitbit Charge 5 is a bridge between the company's fitness trackers and smartwatches. It comes packed with features like stress tracking and heart health monitoring, but if you're looking to record your workouts and steps, you'd be better off with the cheaper Inspire 3.
For
Stress and heart health tracking
Larger display
Built-in GPS
Against
Seven-day battery life
EDA and ECG sensors don't work in the background
The Fitbit Inspire 3 is an excellent option if you're only interested in tracking your daily exercise and sleep. You won't need to recharge it as often as the Charge 5, and it has the same core features. However, the Charge 5 isn't much more expensive, but has health tracking features.
For
Tracks steps, sleep, workouts, and heart rate
Classic slimline design
10-day battery life
Against
Lacks advanced sensors
Plastic design feels cheap
No support for Fitbit Pay
Fitbit Charge vs Inspire 3: price and release date
The Fitbit Charge 5 was released in October 2021 and currently retails at $149.95/£129.99, while the Inspire 3 went on sale almost a year later in September 2022 for $99.95/£84.99.
The Fitbit Charge 5 bridges the gap between the Inspire 3 (a modernized version of Fitbit's classic fitness tracker) and the fully-featured Fitbit Sense smartwatch, which costs $299.95/£269.99.
Although the company generally refreshes its lineup each year, as of early 2023, there's no sign of a Fitbit Charge 6, so the Charge 5 remains the most up-to-date edition in the Charge range.
The same is true of the Inspire 3, although that could change when Fitbit launches its 2023 updates in the fall. However, Google's acquisition of Fitbit could mean a push towards Google-branded Pixel devices instead (more on that later).
Fitbit Charge vs Inspire 3: design
The Charge 5 and Inspire 3 both look like classic band-style fitness trackers. The Inspire 3 is slightly slimmer at 18.6mm wide, while the Charge 5 is chunkier at 22.7mm wide and sits somewhere between a fitness tracker and a smartwatch.
The Charge 5 is also a more premium-look device, with an aluminum border around the display. Meanwhile, the Inspire 3 keeps the cost lower with a plastic body that does feel cheaper. If you're after a more stylish tracker, the Fitbit Luxe is a great alternative to the Inspire 3.
The Inspire 3 and Charge 5 have high-quality color touchscreen displays, so your fitness data and phone notifications will be easily readable no matter which wearable you choose. The Inspire 3 does have capacitive buttons on the side, though, for navigating menus.
The best way to summarize the design of the Charge 5 is that it's like the Inspire 3, but more. This holds true with the features, too.
Fitbit Charge vs Inspire 3: features
The most significant difference between the two fitness trackers is that the Charge 5 has a built-in GPS, while the Inspire 3 does not. So, with the Charge 5, you can accurately track your pace and distance while on a run without needing a live connection to your phone.
Whether this is a deal-breaker depends on the type of activities you usually do. If you're a regular runner, leaving your phone behind might be worth the additional cost of the Charge 5. But if you prefer home workouts and walks, the Inspire 3 might work best.
The Charge 5 also has a few health-focused features that set it apart; the EDA and ECG sensors. The EDA sensor monitors your sweat levels as a proxy for stress, while the ECG can alert you to and record irregular heart rhythms that you can discuss with your doctor.
These are interesting, but they don't do this quietly in the background; you need to place your fingers over the tracker for 30 seconds for the ECG and two minutes for the EDA scan. So unless you're mainly looking for these features, the Inspire 3 could be a better option.
Otherwise, the Charge 5 and Inspire 3 can do what you'd expect of a Fitbit tracker; monitor your heart rate, record blood oxygen levels (SpO2), and track your exercise, including workouts and other activities.
The Fitbit Charge 5 currently has another advantage over the Inspire 3, in the form of Fitbit Pay. You can make payments by tapping your fitness tracker at the checkout to head out without a wallet or phone. But we wouldn't advise buying it solely for this reason.
Fitbit Charge vs Inspire 3: Fitbit and Google
Before we look at the performance of each tracker, there's something else to consider. Google recently purchased Fitbit and has integrated its devices into the Google range of products. This has led to a few unexpected changes at the time of writing.
Google has a collection of tech devices under its Pixel line, like the Pixel smartphones and earbuds. In late 2022, the company unveiled the Pixel Watch, a smartwatch with Fitbit fitness tracking. It looked like a premium smartwatch with fitness features to compete with the Apple Watch.
But then Google started to remove critical features from Fitbit devices to make them exclusive to the Pixel Watch. Our sister site TechRadar noted that this includes dropping Google Assistant support from the Versa 4, closing in-app communities, and restricting on-device music storage.
These changes have been done with little warning and affected people who had already bought Fitbit devices. Google also plans to close Fitbit accounts and transition everyone to a Google account by 2025, so there'll likely be other changes.
This shouldn't affect the core function of the Fitbit Charge 5 or Inspire 3. Still, it's a factor when considering the Charge 5, as the standout features on offer, like integration with Fitbit Premium, health metrics, and stress management tools, could face the same fate.
Fitbit Charge vs Inspire 3: performance
If you're after a low-key, easy way to keep track of your fitness, sleep, and heart rate, then you could choose the Charge 5 or Inspire 3 and get what you need. Both devices uphold Fitbit's reputation for accessibility, and with Fitbit Premium, you can get actionable advice based on your data.
This $9.99/£9.99 a month service offers video workouts and mindfulness sessions and is needed if you want to see long-term trend analysis of the stats recorded by your Fitbit. This includes personal ranges for stats like heart rate and oxygen saturation to help you monitor changes.
It's not an essential part of either tracker, but it can make the data more useful in the longer term. In more practical considerations, the Inspire 3 can last up to 10 days between charges, while the Charge 5 should see you through a week.
However, as our Fitbit Charge 5 review found, neither tracker is an ideal choice if you're a fitness enthusiast working out most days or going on long runs to hit a new personal best. There are no on-watch workouts, and you get better heart rate accuracy on the Garmin Venu 2 Plus.
Fitbit Charge vs Inspire 3: verdict
The Fitbit Charge 5 is the more capable fitness tracker if you put the Charge 5 vs Inspire 3. It has a built-in GPS, contactless payments, a larger display, and a premium part-metal design.
It's also not a substantial price increase from the Inspire 3, so it could initially seem like the obvious choice. But that doesn't mean it's a clean sweep for the Charge 5.
The Inspire 3 is the latest version of the classic fitness tracker that made Fitbit famous. It doesn't have smartwatch features, but it covers all the basics and does them incredibly well at a budget-friendly price. And its battery lasts longer than the Charge 5, too.
Andrew is a freelance contributor to Fit&Well. He has written about health and fitness for more than a decade, specializing in consumer tech. When not testing fitness tech for Fit&Well he writes about fitness for Forbes and contributes to publications including WIRED, TechRadar, Stuff, Trusted Reviews and others. Andrew runs to keep fit, and can often be round jogging around the parks of South London with several wearables and a heart rate strap attached. He also enjoys indoor cycling, using a turbo trainer and platforms like Zwift to get some kilometers in while avoiding London's busy streets.