Fitbit Inspire 3 vs Inspire 2: is it worth upgrading to the latest model?
These budget Fitbit models are relatively similar – so is it really worth buying an Inspire 3 rather than the cheaper Inspire 2?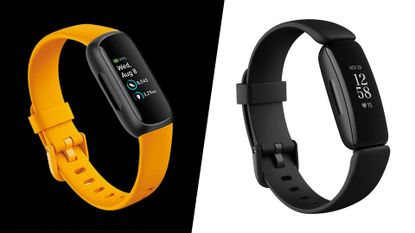 (Image credit: Fitbit)
The Fitbit Inspire 3 and Inspire 2 sit side-by-side, sometimes literally, on shelves as two of Fitbit's most affordable bands. But which of these two fitness trackers comes out on top?
No surprise here, the Fitbit Inspire 3 is superior in a few key ways, offering a brighter, cleaner display. But the Fitbit Inspire 2 is much cheaper and usually comes with a longer trial of the Fitbit Premium platform.
But which is the best Fitbit (opens in new tab) fitness tracker for you? We're comparing Fitbit Inspire 3 vs Inspire 2, pitting the two models against each other on price, design, features, and performance to help you decide between the two popular wearables.
The Fitbit Inspire 3 is the latest take on the company's slimline fitness tracker. It's not much different aesthetically, but the Inspire 3 gains a color display and a blood oxygen monitor. Not much, but it's still a budget-friendly option.
For
Color display
Slightly thinner than the Inspire 2
Blood oxygen monitor
Against
More expensive than Inspire 2 for minor upgrades
The Fitbit Inspire 2 is a back-to-basics fitness tracker for those put off by the smartwatch features of the Charge lineup. Track your sleep, steps, and workouts and keep tabs on your heart. There's not a lot between the two models, except the Inspire 2 is often cheaper.
For
Alerts for unusual heart rhythms
Usually cheaper than the Inspire 3
Tracks steps, sleep, and workouts
Against
Black and white display
Lacks the Inspire 3's always-on display
Price
Released earlier this year, the Fitbit Inspire 3 usually costs $99.95, while the older Inspire 2 model is typically priced at $79.95.
Which represents better value? It depends on your needs, but given that both budget trackers pack in similar features (heart rate tracking, sleep monitoring and a 10-day battery life) we'd be tempted to go for the cheaper option.
Design
These fitness bands look quite different, considering the constraints of band design. The casing is a little more built-up at the sides in the Inspire 3, on the left, below. The Inspire 3 is also slightly thinner than the Inspire 2, at 11.75mm thick to the older band's 12.9mm.
This is all window dressing next to the display upgrade, though. The Inspire 2 has a basic monochrome OLED screen, the Inspire 3 a full color OLED with more pixels, making text look a lot cleaner and sharper.
The Fitbit Inspire 3 also gains an "always on" mode, meaning the display stays lit all day, rather than waiting for a wrist flick gesture to light up. It will halve battery life, at the least, but makes the Inspire 3 a much better watch than the older model.
Both bands will automatically shift brightness when, for example, you go outdoors, but the Inspire 3's screen is brighter. You'll be grateful for that during sunny workouts outside. However, both displays are pretty tiny, and only take up a small chunk of the front.
Neither Inspire has any physical buttons. They use the touchscreen and pressure-sensing points in the sides, meaning you squeeze the casing to register an input.
Features
The Inspire 2 and Inspire 3 offer the same fitness tracking basics. They have an optical heart rate reader on the back and use a motion sensor to judge how many steps you take each day.
Neither has a GPS chip, to let them pinpoint your location, but both can hook up to your phone over Bluetooth to take that data and make maps of your runs/walk and offer accurate distance data.
The Fitbit Inspire 3 adds SpO2 readings. This is where red and infrared LEDs in the heart rate reader on the back are used to estimate your blood oxygenation. This is more of a health feature than a fitness one, as are high and low heart rate notifications. These buzz you if your Inspire 3 notices an elevated heart with no obvious cause.
The Inspire 3 earns some extra health points, but both watches support Fitbit's irregular heart rhythm notifications feature. This will alert you if the tracker notices possible signs of atrial fibrillation.
Both watches can also record your heart rate variability overnight, and will keep track of temperature changes. Despite being relatively low-end, the Fitbit Inspire bands have quite a breadth of health features.
More interested in fitness than health? The Fitbit Inspire 2 and 3 have automatic workout tracking for walks and runs, and support 20 workout modes. These include classics like running and yoga as well as more specialized entries like Bootcamp and Spinning. A lot of them record the same data, but it's a useful labelling tool for your workout history.
And if you subscribe to Fitbit Premium you'll get advanced stat insights over time, as well as video workouts and meditation sessions. You'll also get a Daily Readiness score, which suggests whether you should go for a workout or not each day. Most Fitbit purchases come with up to six months free access to the platform, but check before you buy. The older Inspire model usually comes with 12-months free access to Fitbit Premium, whereas the newer design only offers six months – which is something to take into consideration when weighing up your options.
Performance
The Fitbit Inspire 2 and 3 are both rated for 10 days of use between charges, despite the use of a more advanced and brighter screen in the newer model. Either one offers a delightfully low-fuss experience. Of course, you can choose to dramatically lower the Inspire 3's battery life by using the always-on screen mode — not an option in the Inspire 2.
And the stats? An Inspire 2 or 3 is not going to offer the heart rate tracking accuracy of a Garmin Fenix 7 or Apple Watch Series 8, but budget trackers rarely do.
You can see the watch's recording of your heart rate, during and after exercise, but Fitbit is more interested in what it calls Active zone minutes — how long you spend in the fat burn zone or the cardio/peak heart rate zone. Either tracker is going to give you a solid idea of how hard you worked in a particular exercise, which is a handy way to gauge your workout load.
Verdict
The Inspire 3 definitely looks a bit better than the older model. Its sharper, brighter and more colorful display is more pleasant to look at and it has an always-on mode that makes the Inspire a far better watch.
If you're less bothered about a clear, colorful screen, save your money and get an Inspire 2. This will give you a longer trial period on Fitbit Premium and it offers most of the same basic features.
Andrew is a freelance contributor to Fit&Well. He has written about health and fitness for more than a decade, specializing in consumer tech. When not testing fitness tech for Fit&Well he writes about fitness for Forbes and contributes to publications including WIRED, TechRadar, Stuff, Trusted Reviews and others. Andrew runs to keep fit, and can often be round jogging around the parks of South London with several wearables and a heart rate strap attached. He also enjoys indoor cycling, using a turbo trainer and platforms like Zwift to get some kilometers in while avoiding London's busy streets.