Fitbit Inspire 3 vs Inspire 2: is it worth upgrading to the latest model?
Trying to decide between the Fitbit Inspire 3 and Inspire 2? We'll help you choose the right budget tracker for your goals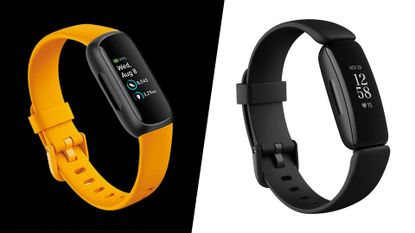 (Image credit: Fitbit)
Get the Fit&Well Newsletter
Start your week with achievable workout ideas, health tips and wellbeing advice in your inbox.
Thank you for signing up to Fit And Well. You will receive a verification email shortly.
There was a problem. Please refresh the page and try again.
Comparing the Fitbit Inspire 3 vs Inspire 2 can be a tricky task. Put the two side-by-side, and it can be hard to tell the difference between Fitbit's most affordable fitness trackers.
No surprise here, but the newer Fitbit Inspire 3 is superior in a few ways, offering a brighter, easier to read display. But the Fitbit Inspire 2 is much cheaper and can track of all the essentials, like heart rate, steps, workouts, and sleep.
But which is the best Fitbit fitness tracker for you? We're comparing Fitbit Inspire 3 vs Inspire 2, pitting the two models against each other on price, design, features, and performance to help you decide between the two popular wearables.
The Fitbit Inspire 3 is the latest take on the company's slimline fitness tracker. It's not much different aesthetically, but the Inspire 3 gains a color display and a blood oxygen monitor. Not much, but it's still a budget-friendly option.
For
Color display
Slightly thinner than the Inspire 2
Blood oxygen monitor
Against
More expensive than Inspire 2 for minor upgrades
The Fitbit Inspire 2 is a back-to-basics fitness tracker for those put off by the smartwatch features of the Charge lineup. Track your sleep, steps, and workouts and keep tabs on your heart. There's not a lot between the two models, except the Inspire 2 is often discounted.
For
Alerts for unusual heart rhythms
Usually cheaper than the Inspire 3
Tracks steps, sleep, and workouts
Against
Black and white display
Lacks the Inspire 3's always-on display
Fitbit Inspire 3 vs Inspire 2: price
The Fitbit Inspire 3 (released in late 2022) usually retails for $99.95, while the older Fitbit Inspire 2 (released in 2020) is often around $60. However, the Inspire 2 is no longer available through the Fitbit Store.
It hasn't been officially discontinued—and it's still listed on the UK store—but as an older model, it is likely on its way out. This means it'll be out of support, may not get the latest features or updates, but will likely be on sale at various retailers.
Which represents better value? It depends on your needs, but given that both budget trackers pack in similar features (heart rate tracking, sleep monitoring, and a 10-day battery life) we'd be tempted to go for the cheaper option.
Fitbit Inspire 3 vs Inspire 2: design
These fitness bands look quite different, considering the constraints of band design. The casing is a little more built-up at the sides in the Inspire 3. The Inspire 3 is also slightly thinner than the Inspire 2, at 11.75mm thick to the older band's 12.9mm.
This is all window dressing next to the display upgrade, though. The Inspire 2 has a basic monochrome OLED screen, the Inspire 3 a full color OLED with more pixels, making text look a lot cleaner and sharper.
The Fitbit Inspire 3 also gains an "always on" mode, meaning the display stays lit all day, rather than waiting for a wrist flick gesture to light up. It will halve battery life, at the least, but makes the Inspire 3 a much better watch than the older model.
Both bands will automatically shift brightness when, for example, you go outdoors, but the Inspire 3's screen is brighter. You'll be grateful for that during sunny workouts outside.
However, both displays are pretty tiny, and only take up a small chunk of the front. Neither Inspire has any physical buttons. They use the touchscreen and pressure-sensing points in the sides, meaning you squeeze the casing to register an input.
Fitbit Inspire 3 vs Inspire 2: Fitbit and Google
Before we dive into the features of each fitness tracker, we need to talk about Google. The search company acquired Fitbit in 2022, and has started to integrate the fitness tracking brand into its own watches and wearables.
For instance, the Pixel Watch launched with Fitbit tracking built-in, along with many other smartwatch features, like Google Assistant for voice commands. However, Google then removed Assistant from the Fitbit Versa 4 to make the feature exclusive to the Pixel Watch.
As out sister site TechRadar noted, this is by far from the only change Google has made to the Fitbit ecosystem. The internet giant has also closed in-app communities, removed challenges, and restricted on-device music storage on Fitbit watches.
Generally, these are smartwatch features found on the Versa and Fitbit Sense. However, it's still worth keeping in mind before you make a decision between the Inspire 3 and Inspire 2.
Any changes Google makes shouldn't affect the core function of either tracker, but it may alter the way you interact with the data. The company hasn't detailed any further plans, but it's likely it'll continue merging the two brands, as it also plans to close Fitbit accounts and transition everyone to a Google account by 2025.
Fitbit Inspire 3 vs Inspire 2: features
The Inspire 2 and Inspire 3 offer the same fitness tracking basics. They have an optical heart rate reader on the back and use a motion sensor to judge how many steps you take each day.
Neither has GPS built-in, so you can't track your location with either Inspire alone, but both can hook up to your phone over Bluetooth to take that data and make maps of your runs/walk and offer accurate distance data.
However, one upgrade the Inspire 3 has on its predecessor is a blood oxygen (SpO2) monitor. This is more of a health metric than fitness one, but can be a useful indicator of a potential issue that you can bring up with your doctor.
The Inspire 3 earns some extra health points, but both watches support Fitbit's irregular heart rhythm notifications feature. This will alert you if the tracker notices possible signs of atrial fibrillation.
Both watches can also record your heart rate variability overnight, and will keep track of temperature changes. Despite being relatively low-end, the Fitbit Inspire bands have quite a breadth of health features.
However, each Inspire tracker automatically tracks your walks and runs, and can record up to 20 styles of exercise. And you can get extra insights and analysis of your data if you subscribe to Fitbit Premium (plus access to on-demand virtual workouts).
Fitbit's core fitness tracking features are present on each Inspire, but the Inspire 3 has the edge if you're hoping to monitor certain aspects of your health too. It's not comparable to the Apple Watch (which has more advanced health features), but it's also a lot cheaper.
Fitbit Inspire 3 vs Inspire 2: performance
There's not a lot of difference between the two trackers in terms of battery life; both reach up to 10 days between charges. However, the Inspire 3 has more features and a bright color screen, so it technically has better battery life.
Of course, you can choose to dramatically lower the Inspire 3's battery life by using the always-on screen mode—not an option in the Inspire 2. And the stats? An Inspire 2 or 3 is not going to offer the heart rate tracking accuracy of a Garmin Venu 2 Plus or Apple Watch Series 8, but budget trackers rarely do.
You can see the watch's recording of your heart rate, during and after exercise, but Fitbit is more interested in what it calls Active Zone Minutes—how long you spend in the fat burn zone or the cardio/peak heart rate zone.
Either tracker is going to give you a solid idea of how hard you worked in a particular exercise, which is a handy way to gauge your workout load. We did find that the Inspire 2 got a bit itchy on the wrist, but there's a lot of factors that could cause that, like warm weather and drying sweat.
Fitbit Inspire 3 vs Inspire 2: which should you buy?
The Fitbit Inspire 3 has a slightly more modern design that its older counterpart. There's also a brighter, easier to read, color display that you won't find on the black and white Inspire 2.
And, unusually, it doesn't impact the battery life, as you get up to 10 days off charge with each tracker. The Inspire 3 has a few extra features, like blood oxygen monitoring, but unless you really need them, it's not worth the money.
But before you add the Inspire 2 to your basket, it's worth keeping in mind that the older tracker has disappeared from the Fitbit Store and is likely on its way out of support.
Plus, the Google/Fitbit merger means its increasingly unlikely you'll get extended support, making the Inspire 3 the better choice in the long run. If you're worried about this, we've compared the Apple Watch vs Fitbit in case you want an alternative.
Get the Fit&Well Newsletter
Start your week with achievable workout ideas, health tips and wellbeing advice in your inbox.
Andrew is a freelance contributor to Fit&Well. He has written about health and fitness for more than a decade, specializing in consumer tech. When not testing fitness tech for Fit&Well he writes about fitness for Forbes and contributes to publications including WIRED, TechRadar, Stuff, Trusted Reviews and others. Andrew runs to keep fit, and can often be round jogging around the parks of South London with several wearables and a heart rate strap attached. He also enjoys indoor cycling, using a turbo trainer and platforms like Zwift to get some kilometers in while avoiding London's busy streets.