Garmin vs Polar: which is really worth buying?
Torn between Garmin vs Polar? We delve into each brand and will help you decide which is better for you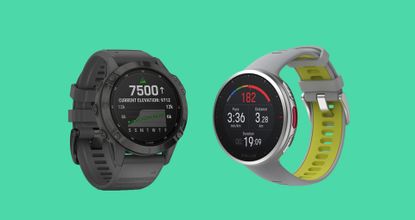 (Image credit: Garmin, Polar)
Deciding between Garmin vs Polar when purchasing a running watch is no easy feat, especially since they're both highly rated brands. Both offer fitness trackers that can greatly benefit your training and performance, whether you're a seasoned runner or just starting out. But the market is saturated with various different models that it's tough trying to find which is right for you.

Garmin has a running watch for just about anyone, amateur or professional, offering up basic beginner-friendly models, everyday smartwatches with fitness tracking abilities, and some show-stopping advanced multi-sport watches. The sheer number of top-quality watches released by them explains why they frequently appear in our best running watch guide.
Meanwhile, we'd say Polar has a more simplified portfolio of fitness trackers with fewer bells and whistles attached to them. But they build watches made for helping athletes thrive in their training. They also place a particular emphasis on recovery, which is something many runners easily forget to prioritize.
Whichever brand you opt for, Garmin vs Polar, a fitness watch from either will help you track your training, performance, recovery, and general health in their own ways. To make your decision easier, we've looked into the unique features and functions of Garmin and Polar watches to help you decide which suits your training habits and lifestyle best.
Garmin vs Polar: models, price, and compatibility
When you search for Garmin watches online, you'll be inundated with various different model names, and lots with the same name but a 'Plus' or an 'X' at the end, just to confuse things. Through testing for reviews, Fit&Well is pretty well versed in identifying the various different Garmin models and we think the following four series are the main contenders: Vivo, Venu, Forerunner, and Fenix.
The Vivo series from Garmin make great entry-level fitness trackers. So if you're new to running or perhaps just new to using a fitness tracker then starting out with a Vivomove Sport ($179.99/£159.99) or Vivoactive model ($349.99/£259.99) is a great shout. Not only are they much more affordable fitness watches on the market but they are both stylish and lightweight. You will find as you progress up through Garmin models to more advanced sports tracking options, the bulkier and less sleek they tend to become.
The Venu watches technically fall under the Vivo series but after testing one out for this Garmin Venu 2 Plus review, we think this watch deserves its own spotlight. You will pay around $449.99/£399.99 for this wearable, It's more expensive but still costs considerably less than more advanced Garmin fitness trackers. This multifunction GPS tracking device has a much higher-end design and boasts a bright and crisp 1.6"/43mm AMOLED screen.

Then you have the Forerunner series designed by Garmin. The Forerunner is a great series to consider if you're looking to learn a bit more about your training and use a watch that's really focussed on tracking activities over being an attractive smartwatch. The Forerunner 45/45S will suit beginners, meanwhile, if you're a running pro or ready to take your running up a notch, the Forerunner 945 is one to consider. Our testing of the Garmin Forerunner 735XT revealed that it's fairly similar to the latter but has features and functions suited to triathlete training.

The Garmin Fenix series is one to watch (excuse the pun). A Fenix model will cost you considerably more, for example, the Fenix 6 is priced at $599.99/ £529.99, but this series is known for its feature-rich models. They offer better battery life and are designed for adventure as much as they are for tracking some serious training and recovery metrics.
With Polar, there are fewer series to wrap your head around. Starting off with the Polar Unite, this watch falls in a similar bracket to the Vivo/Venu series by Garmin, the Unite is a simple sport tracking watch, with less features to offer but is more stylish for everyday wear. The Polar Ignite features integrated GPS, and various sports modes and you can keep tabs on other elements of your health.
Polar also accommodate the outdoorsy/more adventurous runners and activity seekers. The Polar Grit X provides helpful navigation tools, extended battery life, and more in-depth feedback such as its FuelWise feature, which helps make sure you are fuelling your body with adequate amounts of carbs depending on your chosen distance or workout intensity.
Finally, the Polar Vantage models are flowing with training and recovery metrics. When testing the Polar Vantage V2 we were able to see typical stats such as time, distance, and calories burned on top of things like our average and max cadence, and whether or not we were burning carbohydrates or body fat while wearing the watch.
You can connect both Polar and Garmin wearables with iOS, Windows, and Android devices either via Bluetooth or USB. They both have separate apps you can connect to that will show you your stats in greater depth. Polar uses an app called Polar Flow, while Garmin refers to its Garmin Connect app. In our experience, the Garmin Connect app is a touch more user-friendly than the Polar Flow app. They both offer pretty seamless connectivity but some of the more recent Gramin releases have added the option to connect via WiFi.
Amazon Prime Early Access Garmin deals:
Amazon Prime Early Access Polar deals:
Garmin vs Polar: display
Why does display matter on a running watch? Well, it makes a real difference reading your stats on a clear watch screen, especially when you're trying to read your watch while on the move.

Garmin and Polar both have sleek and readable screen displays. You could say Polar watches have a cleaner appearance. Using the Polar Flow app you can switch up the six-screen function on your Polar device. Also, it's worth pointing out that all Polar watches use touchscreen technology.
Whereas, many Garmin devices are still operated via old-school buttons. Even the models that do feature a touchscreen typically still include the three iconic Garmin operational buttons.
Certain Garmin models make viewing your screen much easier with a sunlight-readable display. This just means you can read your screen much easier in daylight, especially when tracking activities under beaming sunlight. We loved this screen visibility while testing out the Garmin Instinct 2S Solar abroad.
Garmin vs Polar: battery life
Weighing up battery life is a tricky one to nail down in such a small section of this article as it varies from model to model but we'll highlight the important factors here.

First of all, the battery life potential that you will require in a fitness tracker will vary depending on the frequency of your training and the distances you cover while running.

Thankfully, both Garmin and Polar design their watches to last at least a few days before needing to be charged (extensive GPS usage may affect this). The same can't be said for most Apple Watches that tend to need charging daily, which we experienced while testing the Apple Watch Series 7.

We mention GPS above as this is something known to drain battery quickly in all fitness trackers. The same can be said for watches with high-quality screen displays. However, Polar Vantage models are known to last for up to 30 to 40 hours on GPS mode, this will suit adventurers and marathon runners in particular. Garmin win this battle though, the Garmin Enduro is said to last up to 70 to 80 hours in GPS mode.
More and more Garmin models now feature solar charging capabilities, this is a bit of a game changer if you get enough exposure to sunlight wherever you live. Garmin's Enduro model is the top guy for reliable battery life, the clue is definitely in the name here. This watch's power glass technology means your device can recharge itself when exposed to sunlight.
The best advice when weighing up battery life is to base your decision on the model instead of the brand as this is where it really varies.
Garmin vs Polar: activity tracking and heart rate monitoring
If you've owned an Apple Watch or Fitbit before, you might have felt limited in the activity tracking department, or at least lacking more detailed feedback from your watch. Whereas, Garmin and Polar pride themselves in offering extensive activity tracking and recovery features.

Garmin watches offer popular pre-set training profiles such as running, cycling and swimming, and more. Its more advanced sports tracking models give you the option to track scrolls and scrolls of additional activities like hiking, surfing, and golfing. Some may say there are too many activities available to track but it's very inclusive for those who enjoy more rogue sports and have no way of tracking their performance otherwise.

Garmin coach is a really great feature on most Garmin watches that can help motivate experienced runners to reach their targets and help shape effective training plans for beginners. Garmin watches also offer VO2 max estimations, blood oxygen measurements, running dynamic analysis, and training status plus recovery estimates. Most newer Garmin models have something called Body Battery built into the device's system to measure your energy levels according to your training and recommend your recovery time between workouts. The Elevate v3 optical heart rate sensor, which features on more recent Garmin wearables, gets pretty awesome reviews regarding its accuracy.
Polar trumps Garmin when it comes to recovery features. Training Load Pro, Recovery Pro, Sleep Stages Plus, and Nightly Recharge are a few features proving how much Polar value helping athletes to sufficiently rest and repair between runs. Polar has an excellent reputation for its watches' heart rate monitoring accuracy. Heart rate monitoring is the main concept behind the Finnish brand's beginnings. This isn't a massive surprise, after all, it was a Finnish professor who invented the first battery-operated fingertip heart rate monitor.
Garmin vs Polar: Verdict
So we've touched on the important features but which one is right for you when it's Garmin vs Polar?
The good news is, you can't go far wrong with either brand. They have both risen to fame in the fitness tracking industry for their reliable and durable watches that genuinely help people improve their fitness and health. There is no denying that Garmin have the biggest collection of watches on offer. Albeit, this can be slightly overwhelming trying to find the right model for you, Garmin have a fitness tracker for all running abilities and match a variety of budgets with its vast collection of watches.
If you take a more casual approach towards running but still want to log your sessions and monitor other areas of your health while wearing your watch then you can't go wrong with a watch from the Vivo series. Or if you're reading this and looking to take your training up a notch, or give triathlon a go, you should check out the Forerunner series. For hardcore runners or those with a bigger budget, a Garmin Fenix is an elite fitness tracker crammed with tracking features and functions. Overall, Garmin battery life does not disappoint and it will be a bonus if you fancy one of the solar charging options.
Anyone who is looking for a simpler search process after reading this article should favor Polar. There are fewer options, but the Finnish brand doesn't skimp on accuracy, or stylishness for that matter. The Polar Vantage series will go above and beyond to track multiple elements of your training and recovery. Meanwhile, the Polar Pacer is a great entry-level device for any newbies to running. Polar thrives on providing accurate heart rate monitoring, serves up good battery life, and the recovery tracking and reporting features can undoubtedly enhance your training.
A fitness tracker can be a superb asset to any runner's training. We recommend writing down a max budget, summarizing what you want to track with your watch according to your training frequency, and consider what other bonus features you'd like to utilize before making your exciting purchase.
Get the Fit&Well Newsletter
Start your week with achievable workout ideas, health tips and wellbeing advice in your inbox.
Jessica is an experienced fitness writer with a passion for running. Her career in journalism began in local news and she holds a Masters in journalism. Jessica has previously written for Runners World, penning news and features on fitness, sportswear and nutrition.
When she isn't writing up news and features for Fit&Well covering topics ranging from muscle building, to yoga, to female health and so on, she will be outdoors somewhere, testing out the latest fitness equipment and accessories to help others find top products for their own fitness journeys. Her testing pairs up nicely with her love for running. She recently branched out to running 10Ks and is trying to improve her time before moving on to larger races. Jessica also enjoys building on her strength in the gym and is a believer in health and wellness beginning in the kitchen. She shares all of this on her running Instagram account @jessrunshere which she uses for accountability and for connecting with like-minded fitness lovers.