I tried the Garmin Instinct 2S Solar running watch and it was a game-changer, I just wish it looked different
In this Garmin Instinct 2S Solar review, we uncover the nifty new features Garmin has added to the Instinct fitness watch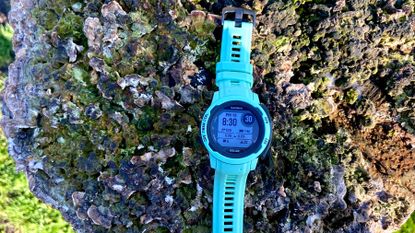 (Image credit: Future)
The Garmin Instinct 2S Solar is a rugged running watch built for those who love training outdoors. If you're looking for certain training metrics and sport modes found in some of the more expensive Garmin options, but for a smaller cost, this is a watch to consider. The watch comes in two sizes, varying colors, and an upgraded display resolution.
Reasons to buy
+

Waterproof (up to 10 ATP)

+

Impressive battery life

+

Lightweight

+

Good GPS tracking
Reasons to avoid
-

Chunky looking design

-

Won't suit tighter budgets
The Garmin Instinct 2S Solar watch is very clearly an outdoorsy, rugged running watch at first glance. This is further confirmed with the mention of 'solar' in its name which refers to the watch's ability to supposedly last forever using solar power. Though it's not the cheapest running watch available, Garmin has kindly borrowed various premium features from its more expensive Fenix line and channeled it into the slightly cheaper Instinct 2S Solar.
The Garmin Instinct 2S Solar holds a wealthy list of functions included in some of the other best running watches available on the market right now...and plenty more. Extra training performance features such as VO2 max estimates (great for runners and cyclists alike), race predictions, recovery time recommendations, and suggested workouts are all key features of this watch. You can choose between two sizes, and both have the solar option alongside the visually pleasing crisp and clear screen display. I don't love the chunky-looking design of it, but I do receive many compliments from people when I wear this watch in the 'Neo Tropic' shade, so I can't speak for everyone.
Garmin Instinct 2S Solar review: price & features
As with most big brand wearables, the various different series and models can get confusing. So just to clarify, in this Garmin series there is the Instinct 2 Solar, standard (non-solar), Surf, Tactical, and Camo editions. For this review, I tested out the Instinct 2 Solar in the smaller size (40mm). Both the smaller (40mm) and larger (45mm) Garmin Instinct 2S Solar watch will cost you $449.99/£389.99 at full price.
This steadfast watch will see you through any run with its extremely competitive battery life, steadfast build, and handy multi-sport mode. It offers a clean and crisp screen display despite it not having a color display like other Garmin models. Advanced sleep tracking has been added to the Instinct 2 Solar meaning you can monitor how well you are sleeping between training. Plus this watch allows you to track your heart rate 24 hours a day. Considering you are getting features included in the Garmin Fenix for around a $100 cheaper, you can't fault this credible running watch.
Garmin Instinct 2S Solar review: design
This Garmin running watch looks right at home in the outdoors and is very clearly a device for tracking various forms of sports performance and detailed health metrics. If you prefer a sleeker design that is less chunky and more subtle then you might not fall in love with the aesthetic of this running watch. The color you go for plays into this; for example, the Graphite option is black in color and more sophisticated looking. Whereas, I tested out the Neo Tropic shade, which has a very fun and bright look, gaining a fair few compliments from strangers.
This is a nice lightweight watch in my opinion and has been built for durability, so not once during testing did I worry about any risk of damage. It's been a few weeks of wearing it and there are absolutely no signs of scratching or marks.
The watch strap on the Garmin Instinct 2S Solar is generous in length so it could fit over clothing—not that this is best advised for running as the material will most likely interfere with your workout tracking. But it will accommodate all wrist sizes and includes two belt bands to ensure the excess length stays tucked in and out the way.
In terms of inside the watch face, once I started navigating my way around I noticed that you can see more than one widget on the screen. The same goes for the activity profile list where you can view more than one activity profile at one time. This is handy, slightly reducing button clicking. There are five buttons in total which I found easy and convenient to use. I have tested running watches that are almost all touch screens like the Huawei GT-3 and actually find buttons more practical to navigate where I want to on the watch.
The charging port for the Instinct differs from other Garmin models, like the crocodile style clip charger for the Garmin Forerunner, but this of course comes with the watch. I haven't found myself requiring the charger with this Solar charging device, but I have been blessed with sufficient sunshine recently so this has clearly helped.
Garmin Instinct 2S Solar review: screen
Garmin has upped the display resolution on the Instinct 2S Solar and I definitely appreciated this when wearing the watch. Even though I was testing the smaller model it still has an impressive display of 156x156 pixels. The lines are significantly smoother on the watch graphics, and the same can be said about the fonts. I found the screen easy to read when in direct sunlight, which makes a world of difference trying to run and check your time as you squint from the sun.
Garmin Instinct 2S Solar Review: data tracking
The Garmin Instinct 2S Solar comes with a generous selection of the same training and performance feedback features that you can find in the more expensive Garmin Fenix and Garmin Forerunner watches. I enjoyed making the most of the upgraded heart rate sensor during my testing. I didn't ever find this to be noticeably off or fail to show up. The watch can track just over 40 activities which is less than some of the pricier Garmin models can, but the average runner (myself included) doesn't cross-train across excessive amounts of activities. I didn't get to try all the activities it can track (this would be near impossible) which includes things like skiing, golfing, and mountain biking.
However, as I tested this when I was abroad, I did enjoy using the new multi-sport mode on the Instinct 2S Solar to track a cycle, run and swim altogether. I even enjoyed testing the watch out during a yoga session. However, for anyone keen to try this too, I'd recommend adding in yoga poses to the watch via the Garmin app first or else it can't offer much feedback.
Living in London means I am constantly surrounded by built-up areas, therefore GPS tracking is never that great. In saying that, during testing, the watch did pick up my location around ten minutes into my first test run but it never managed to map my runs in the city that accurately.
Data tracking in the gym was really reliable. I tested out the watch while running on one of the best treadmills, during a weights session, and on the rower. I enjoyed using the run pace feature as this meant I could insert my training goals prior to a run and receive real-time feedback as I ran.
The advanced 24-hour health tracking in this watch expectedly promised advanced sleep tracking. I'd say from my testing that this running watch provided me with useful on-screen analysis of my sleep and bedtime behavior. I mostly care about seeing how many hours I got, but for those who would like to see more data, you do get to see a sleep score that breaks down your sleep stages. This looks at how much time you spent awake, in REM sleep, light sleep, and deep sleep.
Garmin Instinct 2S Solar review: battery life
If you opt for the Solar option of the Instinct 2S you can get up to 51 days of battery life—this is if you can get yourself out in the sun for a few hours every day. You can also get up to 28 hours of GPS recording time on this running watch. I thoroughly enjoyed not having to charge this watch and found it a really reliable companion for all my activities. If raking through a drawer full of unidentifiable charging cables isn't your idea of fun, then you will rarely find yourself doing this wearing the Garmin Instinct 2S Solar.
Garmin Instinct 2S Solar review: verdict
As a running watch, the Garmin Instinct 2S Solar most definitely has my mark of approval. I really don't have a stand-out negative comment to make against this rugged wearable. It delivers on essential running and running training features, it feels lovely and light to wear 24/7, and I know I don't need to worry about damaging this watch. Plus, I can use it to track heaps of other activities.
The screen display is great, it's simple enough to navigate around the watch after one read of the instructions, and it offers 24/7 health tracking as well as heart rate monitoring. The solar charging feature is pretty awesome and I think the watch on a whole is a great sports performance tracker for runners of all abilities.
Also consider:
The Garmin Instinct 2S Solar running watch is a very high-performing activity and health tracker but there's certainly other options out there. Perhaps you don't view solar charging as essential, or maybe you want a slightly more subtle looking wearable for your wrist. If so, check out some of our other top running watch recommendations below.
Polar Vantage V2
You can take a read of our Polar Vantage V2 review, which proved to be our top running watch. Though this Polar running watch only offers seven days of battery life it's a great contender for those who love seeing an abundance of training analytics. Not only does it offer a slightly sleeker design than the Instinct 2S Solar but it also boasts great GPS abilities.
Garmin Enduro
The Garmin Enduro is an expensive buy but its wealth of metrics and data on offer will win over the hearts of many running stat junkies out there. It's a little different with a velcro strap as opposed to a rubber one making it easier to adjust quickly plus it has a color screen which is nice on the visuals in our opinion. Find out more in our Garmin Enduro review.
Get the Fit&Well Newsletter
Start your week with achievable workout ideas, health tips and wellbeing advice in your inbox.
Jessica is an experienced fitness writer with a passion for running. Her career in journalism began in local news and she holds a Masters in journalism. Jessica has previously written for Runners World, penning news and features on fitness, sportswear and nutrition.
When she isn't writing up news and features for Fit&Well covering topics ranging from muscle building, to yoga, to female health and so on, she will be outdoors somewhere, testing out the latest fitness equipment and accessories to help others find top products for their own fitness journeys. Her testing pairs up nicely with her love for running. She recently branched out to running 10Ks and is trying to improve her time before moving on to larger races. Jessica also enjoys building on her strength in the gym and is a believer in health and wellness beginning in the kitchen. She shares all of this on her running Instagram account @jessrunshere which she uses for accountability and for connecting with like-minded fitness lovers.