Garmin Forerunner 735 XT review: the multisport watch for accurate running stats and more
This Garmin Forerunner 735 XT review will walk you through everything you need to know before deciding whether this watch is for you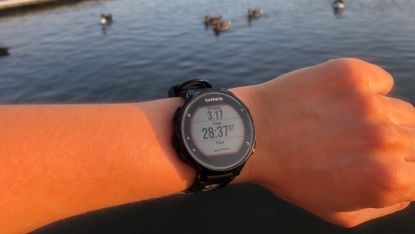 (Image credit: Future)
A top contending running and triathlon watch that is lightweight, has a reliable battery life, and offers advanced training and performance metrics. Not only will this watch be your new informative training partner but it doubles up as a smartwatch, notifying you when your receive texts and calls. If you can't be bothered to transfer your watch activities to your Strava, this watch does it for you automatically.
Reasons to buy
+

Acquires GPS signal promptly

+

Reliable battery life

+

Easy to navigate

+

The display is easy to read, even in the sun
Reasons to avoid
-

Unable to download music to the watch

-

Easy to lose/break the watch strap holder

-

Inaccuracies with the heart rate monitor
In this Garmin Forerunner 735 XT review, we discuss all of the important specs included in this advanced sports watch, helping you decide if it is the right fitness watch for you.
Despite the fact that the Forerunner 735 XT has been around since 2016 it is still deemed as a contender for the best running watch by many, including me who purchased this back in 2019. This Garmin was also designed to specifically track cycling, running, and swimming, making it a great entry-level sports tracker for anyone looking to get into triathlon. As a runner, I have tested the watch extensively as a running watch but this review includes everything you need to know about the other sport modes too.
The lightweight, waterproof design includes GPS tracking for various different sports (not just triathlon activities). The watch offers an optical heart-rate sensor during your training as well as during your day-to-day. Your daily activity is tracked with the Forerunner 735 XT letting you know things like how many steps you have taken and your number of calories burned. Meanwhile, this watch is your best friend for interval training or for monitoring advanced activity metrics. It ticks a lot of boxes for us but is it the right running watch for you?
GARMIN FORERUNNER 735 XT REVIEW: PRICE AND FEATURES
The Garmin Forerunner 735 XT (opens in new tab) can be bought for $399.99/ £299.99 and since it is an older Garmin model you're more likely to find this being sold for less from certain outlets like Amazon.
The watch is aimed at multisport athletes looking for advanced tracking metrics for their training as well as reliable GPS tracking and the Forerunner 735 XT does this. Though the watch doesn't necessarily feel like it costs a few hundred dollars it certainly delivers as an accurate sports watch. Lasting me over three years, and counting, the level of durability is enough to justify the price.
The watch also syncs up with Strava so that your training activities automatically add to your Strava profile. This requires zero effort from you, other than the training of course, and if you do want to change details you just have to nip into the Strava app on your smartphone to add anything like photos or notes.
However, if you are just looking for a more basic daily activity tracker minus all the advanced features included in the Forerunner then I would consider opting for a more budget-friendly option such as the Fitbit Versa 3 offers various health and fitness tracking features and doubles up as a smartwatch but retails for a middle ground cost of $229/ £199.
GARMIN FORERUNNER 735 XT REVIEW: DESIGN
Weighing in at 44g there is no arguing that this is a pretty lightweight fitness wearable. It is definitely the kind of watch you will forget is on your wrist at times. This factor is especially important as you might want to wear the watch 24/7 to monitor heart rate and sleep. This is something I personally noticed when returning to my trusty Forerunner 735 XT after testing more weighty watches such as the Huawei GT3 smartwatch.
It's the design that makes it so versatile when it comes to tracking multiple sports, especially the fact that it's waterproof for swimming. This also makes up for the plastic watch straps on this Garmin which aren't overly sophisticated in terms of appearance. But after all, you are paying for an accurate sport tracker and not a showy watch.
I have one small niggle with the design of this watch. This is that the little loop that holds the strap down tore in two meaning the remainder of the watch strap flaps when I wear it. I have had a lot of usage out of this watch over three years so I wasn't mad about this small part breaking. I have had friends with this watch say they have lost this part of the watch from it falling off. But you can buy replacement loops.
GARMIN FORERUNNER 735 XT REVIEW: SCREEN
The Garmin Forerunner 735 XT's screen isn't a touch screen which I think is ideal when you have to change settings or scroll down the various screen options to see your stats during a run or other activity. I have tested touch screen wearables before and found this takes my focus away from running. Plus, sweaty hands don't bode well with touch screens.
The watch face has a color display that is clear to view in sunlight. For the three years I have owned this watch there are no visible scratches or marks on this screen, this is a testament to the chemically strengthened glass material used for the design of this model.
GARMIN FORERUNNER 735 XT REVIEW: DATA TRACKING
If you are a keen runner like me then you will enjoy the all-important stats tracked on-demand. As well as this, all of your data is easily synced up to summarise your run right after you finish.
You can track both indoor and outdoor runs. The main difference being the outdoor run mode uses the GPS tracking mode to track your route and distance. Note for any treadmill runners, indoor runs can't track your run so when running on the treadmill the watch can only give time, heart rate, and a rough estimation of your distance based on your stride length.
Though I haven't used this watch for any major cycle sessions or for serious swimming the watch offers sport modes specific to these activities. Note, regardless of where you swim, the built-in heart rate monitor on the watch is disabled so you need to use an external heart-rate monitor to read heart-rate data during swimming.
If you wear the Garmin 24/7 you can track your heart rate all day and all night - this helps plan your workout routine to avoid overtraining and to optimize performance. After every workout, the watch gives you a recommended recovery time based on your heart rate and the intensity of your training
As someone who values rest and sleep, the sleep-cycle monitoring function on this watch comes in handy. You get the chance to analyze the quality of your sleep based on heart rate and movements which show the deep sleep you get and how your sleep pattern varies day by day.
GARMIN FORERUNNER 735 XT REVIEW: SPORTS MODES
With the Garmin Forerunner 735 XT being a triathlon-inspired watch, you can probably guess what the key sports modes are on this wearable, but Garmin takes this further and includes outdoor and indoor settings for each sport. Using the up and down buttons on the watch, you can easily navigate yourself down the list of sport modes which include, run, indoor run, bike, indoor bike, pool swim, open water, and triathlon. The last option is really athlete-friendly because it tracks your swim, cycle, and run with transitions in between.
You can also add different multi-sport profiles for your training with transitions turned on or off. Plus, you can also create custom activity profiles for sports that don't have presets in the watch by default.
GARMIN FORERUNNER 735 XT REVIEW: PERFORMANCE
I've extensively tested and used this watch and it's definitely as reactive as any athlete would wish for when tracking activities. On runs, I find this watch reacts promptly to changes in pace and isn't tainted by sudden spikes which is important for accuracy. If reliability is anything to go by, I always pick this watch up to use for my training and to test against other watches.
Another big bonus is that I never have issues with battery life. One thing I am not wholly convinced on, however, is the accuracy of the heart rate tracker. Despite that, when it is off, it is at least consistently off. And what I mean by this is that when I am at my peak of training my heart rate is at a good level and when I'm out of season it is higher, as I would expect.
I haven't found the heart rate monitor accurate during tests of a weight training session in the gym but this watch isn't designed to track resistance sessions and it's not a make or break for me personally.
GARMIN FORERUNNER 735 XT REVIEW: BATTERY
In testing the Garmin Forerunner 735 XT didn't disappoint. It functions as a daily general activity tracker for a week or over and if using heart rate and GPS it can last for 14 hours. People say this is just shy of an Ironman, which is pretty impressive.
I find myself charging it weekly and most of the time this is before it tells me to. I am someone who likes to know for sure that I will have enough battery in my watch to see me through a run no matter the distance.
GARMIN FORERUNNER 735 XT REVIEW: CONNECTIVITY
The Forerunner 735 XT is compatible with both Android and iPhone and has a very seamless setup process, it doesn't present any unwanted tech hurdles for those who hate referring to big wordy manuals. Once paired up you can receive notifications for calls and messages, you can also utilize smart features such as checking the weather or calendar on your watch.
Unfortunately, you can't play music through this Garmin model as the watch doesn't have storage for this or compatible music technology. However, I normally bring my phone out with me on runs (using a little armband), and wearing the Forerunner 735 XT means I can use the watch to control my music rather than try to play about with my phone mid-stride.
GARMIN FORERUNNER 735 XT: USER REVIEWS
The watch scores an average of 4.6 on Amazon with some users marking it down for inaccurate heart rate recordings and some water leak issues with the model. Aside from that there are an abundance of 5 star reviews including lots of triatheletes praising the Forerunner 735 XT for being a reliable multisport watch.
The watch also scores an average 4.6 over on Google reviews. Here, most users report that they find this watch to be worth the money. There is a general consensus that battery life has proved no issues for athletes who use the watch. Some people have reported issues with the watch breaking underwater so this is something to take into consideration. Garmin doesn't recommend diving with this watch or high-speed watersports.
Some more amateur runners, cyclers or swimmers report that the watch functions can seem a bit over the top, but they also say that they found themselves getting to the stage of using and understanding the advanced metrics of this model sooner than expected. Therefore, this Garmin model can be a great stepping stone into taking your fitness ability and knowledge to the next level.
GARMIN FORERUNNER 735 XT: VERDICT
The Garmin Forerunner 735 XT is great for sport enthusiasts. It is the right watch for you if you want a hardcore fitness tracker that will train through the elements with you giving your up-to-speed advanced performance data. Whether you want to take your running to the next level or want to try your first triathlon event, this watch will see you through. It is a useful watch even when you are training less and still want to see your daily activity as well as benefit from the smartwatch features included in the Forerunner 735 XT.
ALSO CONSIDER
GARMIN ENDURO
Fit&Well ranks the Garmin Enduro watch as a great premium watch. This watch is perfect for adventure-loving runners. Those who don't mind splashing out on a watch with advanced GPS tracking with excellent battery life will find themselves paying $799.99/£699.99 for this fitness tracker.
POLAR VANTAGE V2
The Polar Vantage V2 offers the same metrics and features as other running watches yet this one is operated via touchscreen. This watch includes a running training app that carries out tests on things like your leg performance letting you know your level of fatigue which should help inform your rest periods. This running watch is suited to most people and retails for US$499.95 (opens in new tab)/£364.27 (opens in new tab).
Jessica is an experienced fitness writer with a passion for running. Her career in journalism began in local news and she holds a Masters in journalism. Jessica has previously written for Runners World, penning news and features on fitness, sportswear and nutrition.
When she isn't writing up news and features for Fit&Well covering topics ranging from muscle building, to yoga, to female health and so on, she will be outdoors somewhere, testing out the latest fitness equipment and accessories to help others find top products for their own fitness journeys. Her testing pairs up nicely with her love for running. She recently branched out to running 10Ks and is trying to improve her time before moving on to larger races. Jessica also enjoys building on her strength in the gym and is a believer in health and wellness beginning in the kitchen. She shares all of this on her running Instagram account @jessrunshere which she uses for accountability and for connecting with like-minded fitness lovers.