Polar Vantage V2 review: Our top running watch pick
The Polar Vantage V2 multisport watch is packed full of amazing features and next-level analytics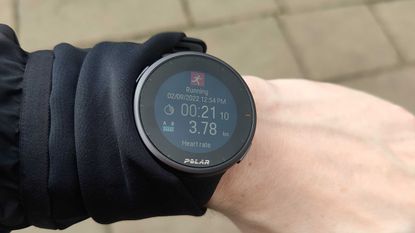 (Image credit: Matt Evans)
Whether you're just into running as a hobby or a die-hard triathlete, it's a must-buy. Other fitness watches have more attractive displays and better battery, but few can offer the sheer level of useful detail the Polar Vantage V2 has to offer.
Reasons to buy
+

All the analytics you need, and more

+

Loads of different training modes

+

Can recommend how to train based on your body's needs

+

Sleek design and premium feel
Reasons to avoid
-

Battery life could be better

-

Over-tuned for casual use
This is Fit&Well's Polar Vantage V2 review. We'll be testing out the features, design, screen, data tracking, sports modes, and loads more in order to determine how the premium multisport watch measures up. To save you a little bit of time, here's the quick version: this is the best running watch, period.
It's packed to the brim with more technology than you could ever want and will suit whether you're a devoted distance runner, a weekend 10k-er, or you like to mix things up with swimming, cycling, and, to a lesser degree, indoor activities like yoga and strength training.
Casual exercisers might find there are too many gadgets and gizmos to ever get enough use out of, at which point you may be better off going for a less premium option such as the Polar Ignite 2 or even a proper smartwatch from Apple or Samsung. But the excellent Vantage V2, combined with Polar's advanced suite of features and the easy-to-use Polar Flow app, is worth the price of admission.
Polar Vantage V2 review: Price and features
Let's start with the basics. The Polar Vantage V2 is priced at $499.95 in the US or £449.99 in the UK, although you can often find deals shaving around $50 off the RRP.
The wrist-worn wearable is described as a "premium multisport watch" aimed at helping fitness enthusiasts train and recover smarter. To that end, it's got stacks of sports modes, which we'll come to later, as well as all the usual fitness tracking features such as heart rate, calories burned, and advanced sleep tracking. The sleep support comes with a "nightly recharge" metric (again, which we'll come to later) as well as in-depth analysis and a basic surface-level sleep score.

Like many watches, the Vantage V2 offers breathing exercises with Polar's Serene function, reminders to drink more water, and refuel with more carbohydrates (the latter is smart-detected based on how hard you're training). You can operate music and media from your phone on the watch, and it's water-resistant to 100 meters.
For serious fitness enthusiasts, you can take fitness tests to calculate how well your legs have recovered after a demanding session, running and cycling power index tests, race-specific tests, and orthostatic tests, which look at heart rate variability to determine how well your body manages your training load. I can't think of a feature I'd want this watch doesn't have.
Polar Vantage V2: Design
The Polar Vantage V2 comes in four colorways: Black and Black, Black and Green, Silver and Gray-Lime, and Red. We had the Black and Black model to test, and it looks excellent. It's a large watch (no one's missing it on your wrist) but it's light for its size at 52 grams. The metal casing and premium-feeling textured wristband stop it from feeling like a cheap child's toy in the way some all-plastic fitness watches do.
It's got five touch-sensitive buttons: one for the light and the lock when held, one for the menu, two arrows to navigate up and down rather than a scrolling Apple-style wheel, and finally that big, distinctive red "OK" button. It initially felt over-tuned, but after a few days with it, I've grown to like the setup.
Finally, it's hard to talk about design without mentioning the Polar Flow app. I love the presentation of data here, front-loading the most basic information you want and allowing you to see your daily, weekly and monthly achievements at a swipe. All the dedicated data is there in the menu function, allowing you to drill down into specifics as and when you like.
Polar Vantage V2 review: Screen
The Polar Vantage V2 boasts a 1.2" screen with an extra (roughly) 0.25-inches of bezel on all sides. Told you it was large. The screen itself is a snazzy always-on color display comprised of Gorilla Glass with anti-fingerprint coating, with a 240 x 240 display resolution.
It's not as crisp or ergonomic as an Apple Watch, and while some of the different analog and digital watch faces available are eye-catching, they're not as pleasing to the eye. Many of the watch "hands" are still sporting jagged pixels. However, the innards of the watch are so good that it barely matters: the data is presented succinctly and it was never going to outshine Apple in this department. When it comes to the display, this is function over form.
Polar Vantage V2 review: Data Tracking
Now we're talking. The Vantage V2 is absolutely stuffed with passive data tracking, and not just your typical smartwatch fare like resting heart rate, sleep tracking, and calories expended. Each of those metrics goes into great detail, always with an eye on not just showing you these stats, but applying them to your training and recovery.
For example, the Polar Flow app breaks down your sleep into light, deep, and REM cycles like many of the best fitness watches do. But it also offers you a "nightly recharge" score, taking into account how hard you've trained and how well your sleep has contributed to your recovery. If your nightly recharge is listed as "compromised", you'll know to do some supportive work the next day, like stretches or yoga, rather than more intense cardio sessions.

It's the same with your heart rate, which offers you a "cardio load" statistic based around the same principle. The watch's goal is to take those stats and present them as a holistic package, offering a complete picture of your current state of training and overall health. It's so much better than just offering you data on your previous night's sleep or day's calorie burn, as many competing watches do, with no context on what to do with all that information.
Polar Vantage V2 review: Sports Modes
As we've already declared Polar Vantage V2 the top running watch, we have to talk about running. You get a frankly enormous level of detail about your runs, including not just time, distance, routes, and calories, but the altitudes you climbed, your average and max cadence (in steps per minute), organizing your heart rate, pace, and power expended into zones, and showing your likely sources of energy expended, whether you were burning carbohydrates or body fat.

There's a large amount of specific sports profiles on the Polar app, from the usual (strength training, swimming, cycling, yoga) to the esoteric (roller skating, wheelchair racing, separate profiles for treadmill running), and you save your favorites (up to 20) to the watch. It's an efficient system, as you're only likely to be using four or five on a really regular basis.
While you do still get plenty of good metrics from these sports profiles, the ones we've tried (strength training and yoga) are using the same language as running, so it can't provide any advanced metrics other than time, calories burned, heart rate zones, calories, and energy sources. We weren't expecting the same level of detail as we were in the running profiles, but still, it's worth a mention. However, swimming will also offer you strokes per minute, or per length of the pool. Cycling can offer you similar metrics as running, and some of the testing modes, such as Hill Splitter and Race Pace, are great for elite exercisers and serious runners and riders. This is going to be great for triathetes.
One of my favorite functions is FitSpark. It takes all the analytics detailed in the "data tracking" section above and recommends you strength, cardio or supportive workout options based on the watch's calculations about what your body needs. It will then guide you through these suggestions with little animations on the watch. I tried the supportive 23-minute stretching workout and was pleasantly surprised how comprehensive it was, although taking instructions from a watch was a little weird at first.
Feel free to ignore these suggestions and stick to your prescribed training plan – but this smart functionality offers great guidance if, for example, you've been overtraining recently. Your poor sleep might dictate you need to do a supportive core workout rather than another long cardio session, helping you to benefit longer-term.
Polar Vantage V2 review: Performance
To test the Vantage V2's performance, we tried it on a run with its built-in GPS compared to a baseline app using GPS on my phone, MapMyRun. As you can see from the pictures below (the one on the left being MapMyRun, and the one on the right being the Polar Flow app), the difference was a 0.06km in distance ran, a two-second difference in duration of the run, and five in calories burned.
That's very accurate, accounting for the difference in devices. And given Polar's impressive suite of features, I'm more inclined to believe the watch than MapMyRun. I'm satisfied with its accuracy and will continue using it.
Polar Vantage V2 review: Battery Life
Polar says the Vantage V2 has up to seven days of battery life in watch mode, and 40 hours of workout time. This was actually one of the areas I was dissatisfied with; from a full charge, the Polar Vantage V2 was down to around 60% in two days, with two sub-one-hour training sessions. After another 36 hours or so, I got a "battery critical" message.
That always-on display seems to eat the battery a little: it lasted me around four days, with three short workouts in there. Not the worst battery life in the world, but it's nowhere near that seven-day peak Polar promised, which makes me dubious about its 40-hour training mode claims.
Polar Vantage V2 review: Verdict
It's amazing. It's absolutely my favorite fitness watch. It has lots of features that aren't strictly necessary for casual fitness fans, but for a dedicated runner who likes to supplement their cardio with other activities, it's a great buy. Other fitness watches have more attractive displays, but few can offer the sheer level of useful detail the Polar Vantage V2 has to offer.
Trail runners, triathletes, weekend warriors, gym rats… you'll all find something to love about this watch. The battery life, lack of attractive watch faces, and UX compared to an Apple Watch are relatively minor quibbles: if you're a fitness fan, it's one of the best out there.
Get the Fit&Well Newsletter
Start your week with achievable workout ideas, health tips and wellbeing advice in your inbox.
Matt Evans is an experienced health and fitness journalist and is currently Fitness and Wellbeing Editor at TechRadar, covering all things exercise and nutrition on Fit&Well's tech-focused sister site. Matt originally discovered exercise through martial arts: he holds a black belt in Karate and remains a keen runner, gym-goer, and infrequent yogi. His top fitness tip? Stretch.