Gym bag essentials: 7 must-haves to take to your workouts
Not sure what to pack? These gym bag essentials will ensure you're fully equipped, from microfiber towels to water bottles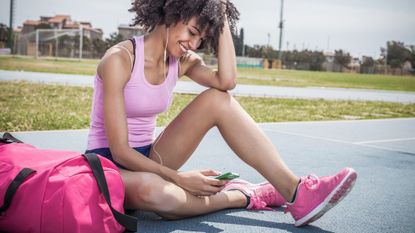 (Image credit: Getty Images)
Forgetting to pack your gym bag essentials can prove not only frustrating, but if it results in skipping gym class, or not enjoying your workout as much at the very least, it could put you on a rocky road to fitness failure.
Okay, that sounds a little dramatic. But what we're getting at is: if you're fully prepared when you head to your gym or studio class, you're likely to enjoy it more and keep up with your commitments, ensuring they remain a steady part of your wellness routine. The best workout clothes for men and best workout clothes for women are obviously a must, but what about all the other essentials you might need?
Check our handy guide below, which includes suggestions of products to fill your backpack or hold-all.
1. A gym bag
Okay, a pretty obvious one, but the first rule of packing your gym bag essentials is having a gym bag to put them in. This is totally down to personal preference, but we'd recommend going for a good quality brand with lots of zip pockets to safely store all your workout essentials.
Lululemon has some great duffel options, whether you're a yoga nut or not. You can't go wrong with Nike, either.
2. Workout clothes
You can't go far in the gym without some of the best workout clothes unless you're happy to work out in jeans or chinos or your underwear. Under Armour has an excellent range of well-priced sportswear options. Another favorite, especially for yoga, is Alo. For more ideas, check out our guide to the Black Friday workout clothes deals for a smorgasbord of the latest top bargains to shop to fill your gym bag.
It's also worth checking out one of our favorite and most versatile accessories by BUFF, a neckwear item that doubles up as a headband. Perfect around the neck if you're too cold or around the head if you're too hot.
3. BPA-free water bottle
A pretty obvious gym bag addition, especially if you're a sweater, is a good quality water bottle.
Keeping hydrated during exercise is paramount. According to the experts at BUPA, we can lose as much as a liter or two an hour while exercising, and since water plays a vital role in every bodily function, this is not something you want to leave behind.
Check out our guide to the best water bottles to find one. Top options should be BPA-free plastic or stainless steel, with some packing insulation to keep your water cool for hours.
4. Microfiber towel
Not every gym is fancy enough to have its own towel service, so to ensure you're not cut short and left mopping your brow with your sleeve mid-workout, invest in good quality, travel-size towels. We recommend the microfiber variety, mostly because it's highly absorbent and thus won't leave your gym bag soaking wet post-gym sesh.
We love the Trespass Wickerman Bamboo Sports Towel, not only because it's lightweight, but the bamboo fabric helps eliminate odor. Win win!
5. Noise-cancelling workout earbuds
A solid pair of earphones are a must-have when hitting the gym floor. But don't just take our word for it. It's been well documented that blasting music into your ears can help improve performance. Take the 2010 study by the Research Institute for Sport and Exercise Sciences for example, where scientists noticed cyclists work harder while listening to faster-paced music.
Unsure of where to start? Our best workout earbuds buying guide has all the answers. We recommend something with active noise-cancelling such as the Jabra 75T, which will block out the general hustle and bustle of the gym and leave you to focus on what really matters. Your next set.
6. Protein powder & shaker
Protein has been scientifically proven to aid weight loss and build muscle, making it an essential purchase for your gym bag to keep you fuelled post-workout.
The old theory of the "anabolic window" in which you had a set amount of time to consume protein post-workout, is largely redundant now. However, if you're going to the gym straight to work or out to play, there's a lot to be said for packing a few scoops of protein powder and a shaker straight in your gym bag.
The protein supplement market is a minefield, with thousands of products to choose from. Thankfully, our Black Friday protein deals will tell you everything you need to know about the powders on offer and help you pick the best brand for you.
7. Anti-sweat kit
Taking your sweaty post-workout gym clothes home with you is never pleasant, especially if you're a super sweater or have been to hot yoga...or both! Recognizing this, some brands are now selling bags made especially for your stinking gym clothes AKA a "sweat bag".
This Orlandi sweat bag is an antibacterial and water-resistant zip bag for storing workout gear on the go. Dreamy. Add in a fabric refresher to finish the job such as Kair's Finishing Spray, which helps freshen up clothing between washes.
You're going to need a Plan B if you've got post-gym plans but your studio doesn't provide shower facilities. Enter HyperGo full-body wipes. These are all-natural and 100% biodegradable wipes, one square foot in width, created especially for a post-workout cleanse. The ideal way to freshen up when you've just left a liter of sweat on the gym floor.
Lee Bell is a London-based journalist, copywriter, specializing in all things tech and lifestyle. He is also a qualified personal trainer. He started his journalism career a decade ago as a reporter covering the latest gadgets and innovations at tech tabloid The Inquirer. Lee went freelance in 2016 to broaden his expertise, moving into news, reviews and feature writing for a host of national print and online lifestyle titles such as GQ, Forbes, Esquire, Men's Health, Wired, The Metro, and The Mirror. He has an insatiable appetite for travel, Dharma yoga, and the odd outdoor challenge.