Walking shoes vs running shoes
What are the main differences between walking shoes vs running shoes? We spoke to the experts to find out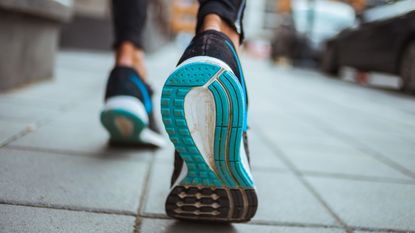 (Image credit: Getty)
Get the Fit&Well Newsletter
Start your week with achievable workout ideas, health tips and wellbeing advice in your inbox.
Thank you for signing up to Fit And Well. You will receive a verification email shortly.
There was a problem. Please refresh the page and try again.
Walking shoes vs running shoes: what's the difference? The force the foot hits the ground for starters. Runners impact the ground with three times their bodyweight with every step – compared with only one and a half times their weight for walkers.
That means that the best shoes for walking aren't going to be suitable for runners, with both groups having very different needs when it comes to cushioning, support, stability and design of their shoes.
Podiatrist George Hill, from Fleet Street Clinic, says: "Walking shoes are different from running shoes as they are designed for different ways of moving. Walkers tend to strike first with their heels and roll through the step. Whereas runners strike in the midsole and often need more shock absorbers to soften the impact."
George Hill is an HCPC registered podiatrist specializing in sports and exercise and the impact they have on our lower limbs. During his career, George has built a wealth of experience helping patients with lower limb conditions, bio-mechanical problems, and providing expert advice for better foot health.
When it comes to the main differences between walking shoes vs running shoes, you'll find everything you need to know below, including important information around cushioning, sizing, flexibility and whether or not you can walk in your running shoes.
And if you're on the hunt for a new pair of shoes, be sure to check out our guides for how to choose walking shoes and how to choose the right running shoes for you, both of which come packed with lots of helpful information that will have you comfortably pounding the pavement in no time.
Cushioning
Here's the thing: the forces on the body during walking and running are very different, with runners hitting the ground with a lot more impact than walkers. Because of that, runners need more cushioning in the heel and forefront to prevent foot pain and injuries.
By contrast, walkers don't really need as much cushioning, and in fact, this can add extra weight, so it's down to the individual whether they want a heavier shoe that lessens the impact on the feet and legs, or a lighter one that allows them to walk faster.
Celebrity osteopath Anisha Joshi says: "When it comes to cushioning, there's no hard and fast answer to this as it depends what you prefer in a running shoe: more padding leads to the impact force being absorbed more, but this will also mean less feeling or awareness for the runner and typically a heavier shoe, whereas a thinner shoe allows for more contact with the ground and more flexibility.
"Being able to feel how your feet are hitting the ground when running and walking will help identify discomfort faster and is likely to help prevent injury as you will correct yourself."
Sizing and toe box
When it comes to sizing and the toe box (the part of the shoe that covers and protects the toes), you need to try on the shoes with the style of socks you plan to wear them with.
Anisha says: "You wouldn't wear a pair of tights with walking boots so don't try them on wearing them! With time, good boots will mold to your feet so don't worry if they feel a tad tight to begin with, just make sure you have room for thick socks."
In a running shoe there should be a 1cm gap between the longest toe and the top of the shoe. This is because when you are running your weight distribution means that the toes spread out and consequently need more space to move.
Flexibility
"Depending on where you are walking, flexibility can be really important," says celebrity osteopath Anisha. "If you are walking an easier route, then flexibility can be beneficial as it will allow your foot to move more and you will walk more naturally, easing pain.
"If you are walking a harder route, then flexibility can be less desirable as you will need more support. Check out your route before you choose which shoes to wear and ask for recommendations if you are struggling to choose."
In running shoes, it's more important for the sole of a running shoe to be flexible in order to adapt to the terrain you're running on. A stiff sole could cause more aches and pains to occur. If you're going to be tackling particularly technical terrain, it's well worth investing in a pair of the best trail running shoes.
Heel drop (height)
Sports brands like Nike, Adidas, Asics and Saucony put a lot of time and money into their running shoe designs and engineering, and that's why sneakers tend to have a built-up heel for stability.
Runners strike the ground with different parts of their foot – either the forward bit of their heel, the midsole or the ball of the foot, so there are lots of theories about which heel to toe drop ratio is most appropriate. The best thing to do is try the running shoes on in the store and see what feels most comfortable for you.
Walkers, on the other hand, tend to strike with their heel and roll through the step so they don't need a heel drop. Anisha adds: "When choosing a walking boot you won't necessarily be taking into account heel drop, as long as the shoes are comfortable and you feel supported in them then they will probably be okay."
Heel counter
A heel counter is the back part of a shoe, usually a small plastic insert that helps reinforce the heel cup and increase support. So what do you need to look out for in a heel counter for walking shoes vs running shoes?
"Just make sure your foot feels secure within the shoe," says Anisha. "If you feel yourself sliding around in the boot or trainer then maybe size down, and if you feel it rubbing then try a different size or design of shoe."
Midsole
The midsole is one of the most important parts of any running or walking shoe, and can provide shock absorption, extra cushioning and flex support. You'll find it sandwiched between the sole (known as the outsole) and the upper sole (anything above the midsole, located on the outside of the shoe or boot).
"The midsole provides shock absorption so it's important to consider what purpose the shoes you are buying will serve. Lack of absorption may lead to a feeling of increased pressure on your joints and may result in aches and pains," warns Anisha.
As the midsole is important for shock absorption it's more important in running shoes, due to the impact in this area when your foot hits the ground at pace.
Insole support
Adding insoles to your shoes can help with conditions like plantar fasciitis (pain on the bottom of your foot, around your heel and arch) and ankle instability, which can both hinder you from experiencing the benefits of walking.
"It's important to get custom-made insoles as this will provide support for your foot in the correct areas," says Anisha. "Make sure that if you are going to use insoles you have space in the shoe, as adding an insole to an already tight shoe will increase pressure on your foot."
Whether you are walking or running it's equally important to ensure the insole is correct. It ensures that your gait supports your whole body when you are exercising.
Walking shoes vs boots
Walking shoes and walking boots do very different jobs, so if you're a lover of the great outdoors, it's well worth investing in both. If you're particularly fond of tackling technical terrain, a good pair of walking boots is essential.
"Walking boots are great as they provide added ankle support but this also stops your ankles from being free to move naturally," Anisha tells Fit&Well. "Walking boots are preferable for longer distances or uneven terrain as you may need extra support and this may be a point where your muscles and joints aren't ready for the load placed upon them."
For those more gentle walks where the terrain isn't particularly intense, Anisha recommends you swap over to a pair of walking shoes.
"Walking trainers are considered better for short distances as they allow free movement of the joints and that is great for overall lower limb joint health."
Can you run in walking boots and walk in running trainers?
"Running in walking boots would definitely be tricky as they are heavy and the type of sock you wear in each shoe may differ. Alternatively, walking in trainers would work for a short distance on less challenging terrain as your shoes should support you enough, but for a longer distance or harder terrain you could end up with an increase in pain discomfort," says Anisha.
The muscles in your calf and shin attach into the ankle and foot. Walking in trainers for a long period of time can mean that the muscles in the calf or ankle are unsupported and this can lead to irritation of these muscles or ligaments and predispose to injuries like Achilles Tendinopathy or plantar fasciitis.
"Everyone has different feet so find the shoes or boots that make you feel the most comfortable and secure, and make sure you have options! If you are running every day then you probably don't want to wear the same shoes. Basically, each shoe serves a different purpose so make sure that it works for you."
Get the Fit&Well Newsletter
Start your week with achievable workout ideas, health tips and wellbeing advice in your inbox.
Maddy Biddulph is a freelance journalist specializing in fitness, health and wellbeing content. With 25 years in consumer media, she has worked as a writer and editor for some of the bestselling newspapers, magazines and websites in the US and UK.
She is also a qualified L3 personal trainer and weight loss advisor, and helps women over 40 navigate menopause by improving their physical and mental strength. At Maddy Biddulph Personal Training, she runs one-to-one and small group training for menopausal women who want to get fit to ease symptoms and feel like themselves again.