WaterRower vs Concept2 rowing machine: which model is worth your money?
We put the WaterRower vs Concept2 to find out which comes out on top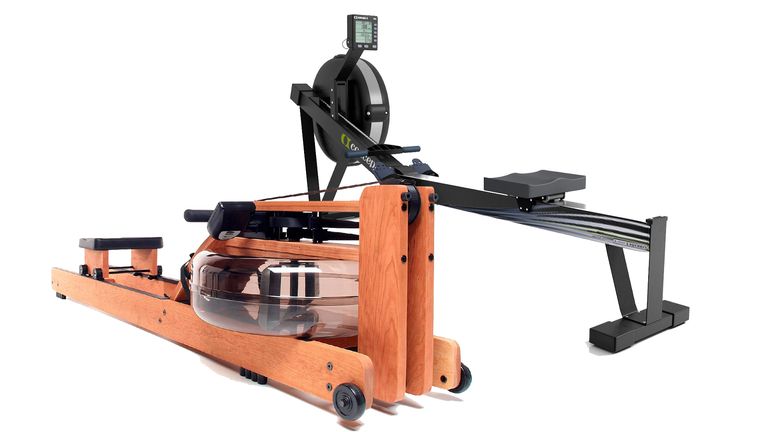 (Image credit: Water Rower)
By Lee Bell
We're putting the Water Rower vs Concept2 rowing machine head to head here to see which one is worth your money.
If you're looking to invest in one of the best rowing machines, or you're scouring the Cyber Monday rowing machine deals for a bargain on one of our best options, you might have found there's two models in particular that really seem to fly out of warehouses: the WaterRower and the Concept 2 Model D.
These two sought-after rowing machines are the Concept2, a more traditional air-driven rower that is so popular you might have spotted it at your local gym, and the WaterRower, a more luxury machine that uses water to not only look cool as hell, but serve up some gut-wrenching resistance at the same time.
Of course, each of these rowers have their own strengths and weaknesses. The WaterRower looks great with its beautiful polished wood and water tank, but the Concept 2 is is a resounding favorite with many for its magnetic resistance and advanced technology. Undeniably, each of these rowers brings something different to the table, offering their own set of advantages for any potential rowing machine devotee. But which one is the best? That's the main question here. If you can't make up your mind, don't fret - we've got your back.
Here's a rundown of the two machines' best features as we pit them head to head for design, features, performance, and price to find out which one takes the top spot.
Water Rower vs Concept 2: Top deals and alternatives
XTERRA Fitness ERG600W Water Rowing Machine | was $799.99 |  now $389.99 at Walmart
XTERRA Fitness ERG600W Water Rowing Machine | was $799.99 | now $389.99 at Walmart 
HALF PRICE WATER ROWING MACHINE ALERT: A huge $400 off the XTerra water rowing machine, with the impellers' active motion through the tank creates the similar peaceful sounds to actually rowing on the water. It's not quite the Water Rower in terms of brand or design, but it shares the same method of resistance and legacy at 1/3 the price.
WaterRower Rowing Machine Ash | Now $1,160 at Amazon
WaterRower Rowing Machine Ash | Now $1,160 at Amazon
The proper branded WaterRower is a thing of beauty, all exposed wood and glass. It's practically an art installation, and while it's available at $100 less on Amazon than the WaterRower site, we've got our eyes peeled for last-minute Cyber Monday discounts.  
Concept 2 Model D | now $1,024 at Amazon
Concept 2 Model D | now $1,024 at Amazon
Concept 2's black model D indoor rowing machine is a little bit more accessible than the WaterRower, with a quick-disassembly mechanism allowing for easy storage. It remains a favorite in CrossFit gyms everywhere.
WaterRower vs Concept2: Design
The first thing you should know is that the Concept2 rower comes in three different variants (Model D, Model E and the Dynamic), whereas the WaterRower is just one standard model. The reason for Concept2's staggered offering is just to cover all ranges of user accessibility. We'll focus on the standard variant, Model D, for now, though.
Its designs might look a little dull compared to WaterRower, but Concept2 has been making waves (sorry) in the rowing machine industry for over 40 years, so it certainly knows how to put together a good quality machine. This is why many commercial gyms love using this brand's Model D rower, as it's known for its reliable, high-quality design.
Measuring 61x137cm, the Concept2 will fit into most living areas comfortably and if space is a major concern, it features a quick-release frame lock mechanism that makes it easy to disassemble and store away. Like the best treadmill models, which often come with a folding mechanism, the Concept 2 has home storage in mind.
The WaterRower is not quite as versatile when it comes to design and storage, however. Measuring 51x56.5x209cm, it's not only much longer than the Concept2, but it isn't dismantle-able, if that's even a word? On the plus side, the WaterRower is aesthetically gorgeous and an undeniably stunning piece of equipment, which by far makes up for its somewhat cumbersome size. Crafted from sustainable hardwood sourced from the Appalachian Mountains, it's definitely something you'll want to show off to your friends...or admire yourself using in the mirror during lockdown.
WINNER: So who wins design? Well, this one will have to be a draw, as it all comes down to preference.
Water Rower vs Concept2: Features and performance
The Concept2 is a fan rower, meaning that it relies on air for its resistance. While this creates a super smooth and somewhat authentic rowing experience, it will cause a considerable amount of noise during a workout - especially if you're really going for it with good rowing machine form. So, if you're planning to do lots of rowing and you're in a shared house, or you live in a studio with your significant other, then this might not be the rower for you because of the wailing noise of the fan is guaranteed to cause some upset.
In terms of performance monitoring, all Concept2 rowing machine models come with an exercise tracking device known as the PM5. This device is super easy to operate, and will display and record your distance, speed, pace, calories, and watts as soon as you get rowing. There's also wireless connectivity, which allows you to sync your PM5 data up to Concept2's own ErgData app and heart rate monitors. This innovative bit of kit certainly has the edge over WaterRower's equivalent offering.
The cheapest, entry-level WaterRower model, the A1, ships with an A1 monitor so that you can successfully monitor workouts. It measures time, distance, speed, intensity, and stroke rate but - unlike the Concept2 - it doesn't record heart rate. There is another feature, however, called workout programs, which allows you to set an exercise for a specific length of time.
In terms of resistance, the Concept2 has fan cages that are numbered so you can set the resistance level with a damper lever to a particular value between one and 10. These establish how much air is drawn into the cage on each stroke. The higher the damper setting, the more air can be drawn into the flywheel housing, which creates more resistance and, as a result, requires more work to accelerate it on the next stroke, in turn upping the intensity level of your row. It's a simple idea that not only allows you to easily customize the difficulty of your workout, but works effortlessly.
As mentioned earlier, the WaterRowers uses a water drum to create the resistance you need to get all hot and sweaty. This provides a beautifully smooth operation that mimics the natural feeling of gliding through water - an ideal quality for those that like to row outdoors and want to replicate that at home when the weather's playing up. There's no customizable resistance here though like you find on the Concept, it's simply a matter of the harder you rower the higher the resistance will become. While this is a nice idea, we do prefer to have more control over the intensity of a workout.
WINNER: As for the tech and the features on offer as well as the customisable resistance, the Concept2 takes the biscuit over the WaterRower.
Water Rower vs Concept2: Price
So, the big one: price. How do these two beasts compare? Well, there isn't that much difference here, to be honest.
In the US and the UK, the Concept 2 can currently be picked up at Amazon for around $1,200. In the UK, you can get one on GymKitUK for £995.
At a similar price, the WaterRower Club Rowing machine costs around $1,260 at Amazon, and its official UK one for £849.
WINNER: When it comes to price, these machines are pretty much neck and neck so it'll all come down to personal preference.
Water Rower vs Concept2: Verdict
While they're similar in price, the WaterRower and the Concept2 are two very different machines. While the latter is fan-based, meaning it relies on fans for resistance, the former water-driven machine features a water drum and paddles for a more natural rowing experience that is much quieter, too.
The Concept2 has better tech in the form of an onboard workout monitor and customizable resistance, but the WaterRower, in our opinion, is way more beautiful to look at, but because it offers a good, all-round rowing experience for a decent price.
Lee Bell is a London-based journalist, copywriter, specializing in all things tech and lifestyle. He is also a qualified personal trainer. He started his journalism career a decade ago as a reporter covering the latest gadgets and innovations at tech tabloid The Inquirer. Lee went freelance in 2016 to broaden his expertise, moving into news, reviews and feature writing for a host of national print and online lifestyle titles such as GQ, Forbes, Esquire, Men's Health, Wired, The Metro, and The Mirror. He has an insatiable appetite for travel, Dharma yoga, and the odd outdoor challenge.