7 reasons indoor cycling is a brilliant workout
Jump on an indoor exercise bike to see huge fitness gains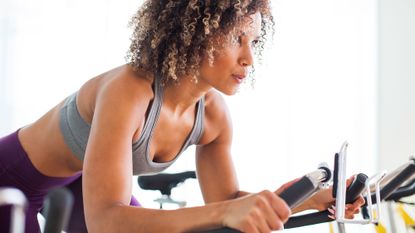 (Image credit: Getty Images)
Cycling has experienced a huge boom during the 2020 lockdown, with bike sales in the UK increasing 63% year on year between April and June, according to the Bicycle Association. Meanwhile, the American cycling industry saw sales reach $1 billion in April - up 75% year-on-year, according to market research organisation NPD.
But as summer moves to winter and the temperature drops in the northern hemisphere, riding outside is not always the most appealing option.
This is where indoor cycling comes into its own. Purchasing one of the best exercise bikes or turbo trainers is an investment, but one that can pay huge dividends to your health - not only because it's one of the best exercise machines to lose weight.
And it's certainly a trend that is on the rise. During the height of the pandemic, indoor cycle sales were up 1,150% year on year. And when Wattbike released its new Atom bike in July 2020, it helped sales jump 300% year-on-year for the March to July period.
Sam Begg is a triathlon coach who works with Wattbike, and he has a wide range of experience of indoor cycling training and its benefits.
"Cycling in general is an excellent way to keep fit," he says. "It's low-impact, can strengthen and tone the legs and core and release feel-good endorphins to boost your mood."
Read on to discover seven reasons it's time to make indoor cycling a core component of your home workout regime.
1. It burns a tonne of calories
There's no denying that an hour's session of indoor cycling is a tough, high-cardio workout where you end up melting into a pool of sweat. In comparison to most other sports, it can burn more calories than most other indoor workouts.
"Working hard in an indoor cycling session can burn up to 850 calories in an hour, while using an elliptical trainer for the same intensity and duration would burn around 600 calories," says Sam. Meanwhile, a comparable weightlifting session would burn just 250 calories.
2. Indoor cycling doesn't just work your legs
Cycling on an indoor trainer targets the leg muscles, particularly the quadriceps, calves and glutes. However, you also get a workout for your upper body and core, particularly the abs and triceps.
You'll also see gains in your VO2 Max, which is your body's maximal oxygen uptake. Put simply, it's a measure of your aerobic fitness in terms of how long you can sustain high-intensity workouts. The longer you do indoor cycling sessions, the more your VO2 Max will improve.
"You'll also improve your muscular endurance, heart health and burn fat," says Sam.
3. You'll see results quickly
"You can expect to notice performance improvements, such as a lower heart rate and improved muscular endurance, after just three indoor cycling sessions," Sam advises, adding: "After around two weeks of regular sessions, you'll begin to notice muscular definition and toning."
4. Indoor cycling fits around your schedule
"It's incredibly easy to fit a full session into your lunch hour or between meetings when you use an indoor trainer, and you don't have to go through the hassle of planning a route," Sam says.
What's more, if you're near a screen, there's also the option of taking it steady on the bike while catching up on your favourite box set or the latest movie on your streaming service - helping you to tick off a workout and work through your save-for-later list. Win, win.
5. You'll improve your mental health
You can expect to experience psychological gains – otherwise known as the endorphin high – immediately after your workout session. If you continue to train regularly, numerous studies have shown that this can help to aid the symptoms of depression and anxiety.
It can also positively impact your periods of rest. "The evening after an indoor cycling workout, you're likely to be able to sleep better," says Sam.
6. Indoor cycling is low-impact
Cycling is a minimal-impact sport, which massively reduces the injury risk to your leg joints such as the ankles and knees. It's the perfect sport if you're recovering from injury caused by other sports (we're looking at you, running...) or if you have any recurring issues with any muscles or joints.
7. You're in control of all conditions
Not only do you have full control over the environment you ride in (we'd recommend not turning up the heating beforehand and, instead, buying an industrial-sized fan), and can ride in shorts and a short-sleeve jersey in the depths of winter, but indoor cycling also removes any dangers posed by inconsiderate - or simply plain dangerous - drivers.
"You have complete control over the conditions when you're cycling indoors, and there are no up or downhills, so every pedal stroke counts," says Sam. You control the bike's resistance levels, so you can choose to crank it up to replicate tough hill climbs, or lower the resistance and create a longer, steady ride to build endurance.
Get the Fit&Well Newsletter
Start your week with achievable workout ideas, health tips and wellbeing advice in your inbox.
Howard is a freelance health and fitness journalist and copywriter. He has written for publications including ShortList, Runner's World, Trail Running, Women's Running, Red Bulletin, Wareable and Cycling Weekly. He enjoys nothing more than lacing up his trail shoes and heading out to explore new trails. He's run ultramarathons everywhere from the French Alps and Canadian mountains to the Welsh coast and Peak District. When not running, he's usually found hitting his local MTB singletrack trails or on a quest to find the country's best cinnamon bun.